Chicken Meatballs With Parmesan is a comfort meal that can be low carb and keto-friendly ~ or subtly carb-a-Licious ~ with just a few differences and can change out how you like them.
This is my type of meal. I couldn't stop thinking about it ever since I purchased the ingredients for them. It's been some time since I've created meatballs with ground chicken, and I love how it lightens them up.
What is about these chicken Parmesan meatballs low-carb and keto friendly?
Meatballs most frequently contain breadcrumbs within the mixture, which helps to give the meatballs a looser, more appealing texture. I've substituted almond flour (you also can use Parmesan cheese) for the crumbs.
Tomato sauce is usually filled with hidden sugars. I'm using a brand that I really like that has no added sugars in it, Rao's. I also like the Arrabbiata spicy version, which adds spice to my casserole dish.
I serve these meatballs all by themselves, with a green salad on the side, so there are no more added carbs in this meal. Meatballs created in this fashion are an excellent way to get a delicious high-protein meal and are also very satisfying if you're cutting off carbs.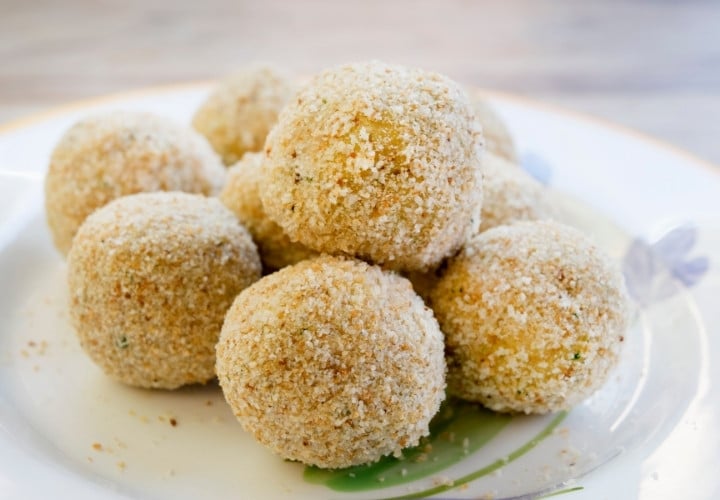 How to freeze chicken meatballs?
When you're done with forming the meatballs, put them on a parchment baking sheet and place in the freezer for two hours or till they are frozen and firm. Move to a zip lock bag and take away any excess air as you zip it. To thaw the meatballs, move the frozen meatballs to the fridge and leave them overnight.
How to Reheat Chicken Parmesan Meatballs?
I've found that these meatballs reheat fantastically with no textural changes that we get with beef. Smaller servings are reheated in the microwave. For larger portions, cover with foil and reheat at 350F till warm through.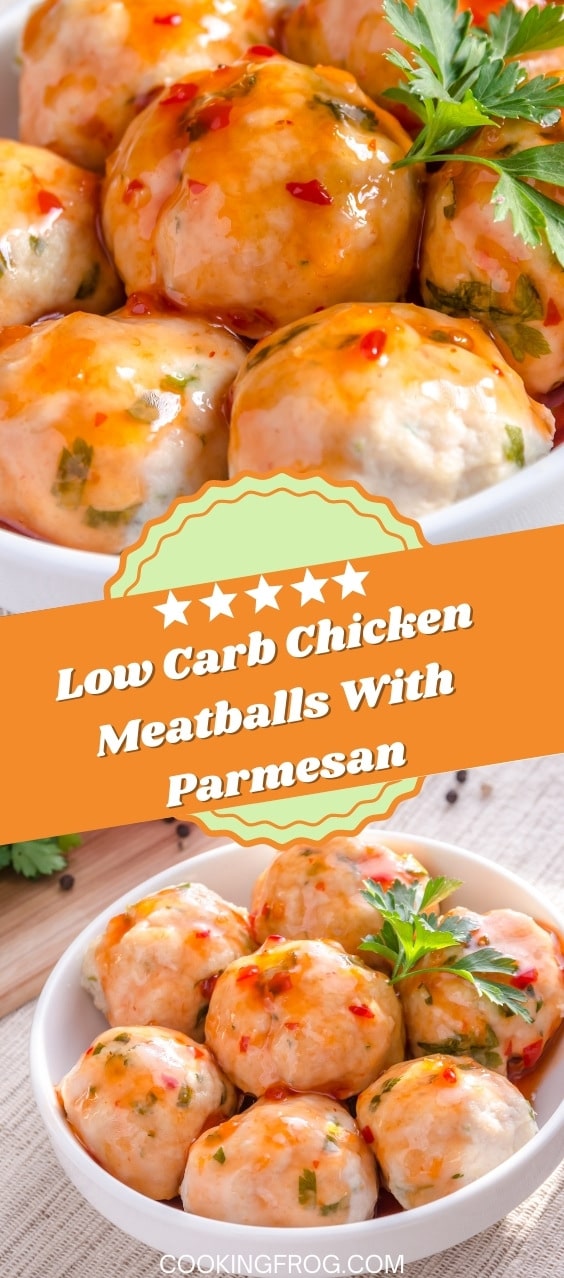 Ingredients
For the meatballs
2 pounds of ground chicken
2 lightly beaten eggs
1/2 cup almond meal and more for the rolling
2 tsp of Italian seasoning
1 tsp of salt
1 tsp of black pepper
1/2 cup of onion, grated
2-3 of minced garlic, or more to your liking
1/2 cup of whole milk ricotta cheese
1/2 cup of grated Parmesan cheese
olive oil
Casserole
32-ounce jar of Rao's Marinara Sauce or other no sugar added tomato sauce.
2 cups of mozzarella cheese, shredded.
How to make Low Carb Chicken Meatballs With Parmesan
Heat up the oven to 400F
Place all the chicken meatballs ingredients (except the oil) into a big bowl.
Mix gently but thoroughly, ensuring all of the ingredients get equally distributed.
Scoop out 1/2 cup, and form round meatballs.
The mixture is going to be very moist, and that's fine, don't worry.
Place the chicken meatballs in a single layer on a larger baking dish, cover using plastic wrap, and refrigerate for an hour, or nightlong if you wish to create these ahead. (turn oven down to 350F or preheat if you make them for the next day. )
Gently brush the bottom of a large baking pan with olive oil.
Roll the meatballs in bread crumbs and arrange them in a single layer in your pan. Brush the tops freely with olive oil.
Bake the meatballs uncovered for about twenty minutes.
Add your sauce to the pan and return back to the oven for additional twenty minutes.
Top freely (to your liking) with the cheese, and return back to the oven till it melts nicely.
You'll be able to run it under the broiler for extra browning, however, observe so they don't burn. Enjoy!!!
Notes:
To make classic carbonated chicken meatballs, substitute bread crumbs for the almond meal.
If you've liked this recipe, please check this Slow Cooker Swedish Meatballs Best Recipe.