So what do the Eastern states miss apart from "In-N-Out" burgers? The famous boiling crab. It's so hard to resist eating with your bare fingers like a savage. And this Boiling Crab Shrimp Copycat Recipe will take you straight to Boiling Crab.
Now, for anyone that does not know this Western fast food chain, Boiling Crab specializes in all kinds of shellfish in a remarkable blend of Southern seasonings, lemon, butter, and garlic.
You order your portion in pounds and get to choose between a good range of dips and side dishes. You will then get your order in a plastic bag, and once this hits the table, the devouring starts.
Pin the image below if you like this Boiling Crab Shrimp Copycat Recipe!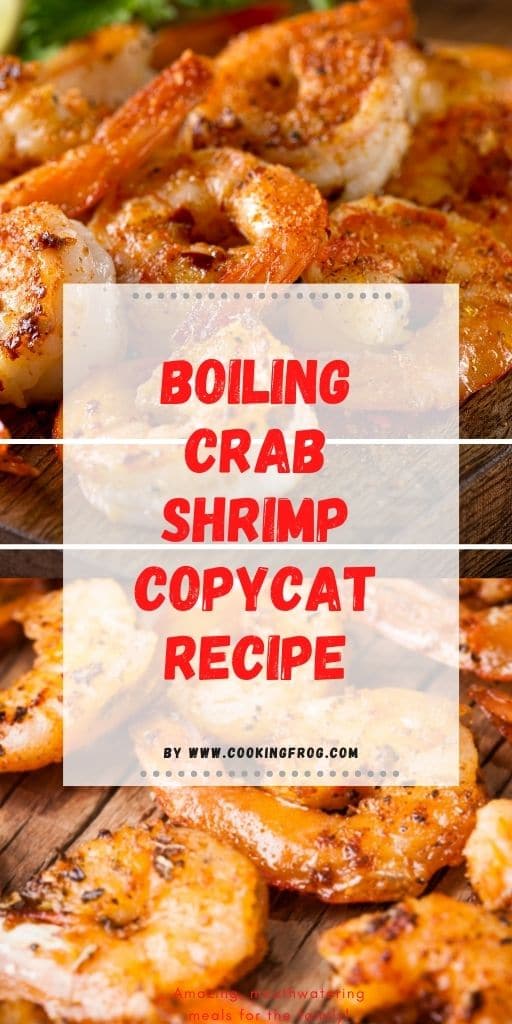 Boiling Crab Shrimp Copycat Recipe
It's time to make this fantastic Shrimp copycat recipe from Boiling Crab. Once you make it you'll see just how easy it is and you'll want to make it all the time.
Ingredients
4 lbs./2kg shrimps (or other crustaceans),
3 heads garlic, peeled and minced,
4 sticks butter (unsalted),
4 tbsp old bay seasoning,
2 tbsp paprika,
2 tbsp cayenne pepper,
2 tbsp lemon or black pepper,
2 tbsp hot sauce (preferably Louisiana),
2 tbsp white sugar,
Extra Ingredients (optional):
2 ears of corn
2 chorizo sausages, sliced
1 ½ tbsp Louisiana sauce
2 limes (or one per person)
Salt-Pepper
For The Fries
4 small potatoes
1 tsp old bay seasoning
1 tsp garlic salt
Other utensils:
1-gallon food storage bags
Masking paper, newspaper, or single-use tablecloth
Instructions
Fill a big pot with water and bring to a boil.
Chop the potatoes into medium fry sticks, halve the lemons, and finely slice the chorizo.
Process the garlic in a food processor.
For The Shabang Sauce
In a small bowl, combine the old bay seasoning, cayenne, and lemon pepper.
Melt the butter in a different skillet over medium heat (as you may realize this is not the cleanest recipe out there but it's absolutely delicious).
Combine the minced garlic and seasonings.
Once the garlic is cooked for a couple of minutes, stir in the Louisiana sauce and sugar.
Reduce the heat to low and allow to simmer until shrimp and the sides are cooked.
You may cover at this point the dining table with newspaper or a single-use tablecloth to stop dirt and grease.
SHRIMPS/SHELLFISH PREP:
Halve the lemon and add to the pot with the water.
Once you reach a boil, allow the shrimp to cook for 2-3 minutes. You may do this in a few batches by spooning or straining out the cooked shrimp.
Take care not to overcook the shrimp because the shell will be next to impossible to remove if you cook it for too long.
You may use the same beef stock to cook the corn and the chorizo.
Distribute the shrimp, corn, and chorizo into separate food storage bags (the size of a gallon), one for each person.
PREPARATION OF FRIES:
Place the fries in a deep fryer and bake at 400F/200C until golden brown.
Coat the fries with the old bay seasoning and garlic salt in a mixing bowl.
LAST STEPS:
Once everything is cooked, split the sauce evenly into each pre-estimated bag with the shrimp, corn and chorizo sausage.
Seal the gallon bags and toss well until everything is nicely combined and coated with the sauce.
Make sure that each person has a small bowl to make their own combos of limes, salt, pepper and dips to dip their shrimp in, based on their personal taste.
Once you have prepared all the bags, now it's the perfect time to dive in and get dirty!
And the beauty of this is that once you finish, you can just roll these papers and toss them to the bin.
If you've liked this recipe be sure to check this Seafood Boil Sauce with Garlic butter!