Are you a fan of Buffalo Wild Wings? If so, you're in for a nice surprise! We're about to dive into the delicious world of the Henny Hustle cocktail, a fan favorite from this popular restaurant chain. This guide will not only give you a step-by-step recipe but also some fun variations.
Buffalo Wild Wings
Buffalo Wild Wings is a casual dining restaurant and sports bar with a significant presence in the United States, Canada, India, Mexico, Panama, the Philippines, Saudi Arabia, and the United Arab Emirates. The restaurant is known for its Buffalo wings and sauces. It also has a long list of drinks. The Henny Hustle stands out because it is easy to make and tastes great.
The Henny Hustle: What's the Fuss About?
The Henny Hustle is a delicious drink made with Hennessy cognac, Triple Sec, Lemon Sour, and Strawberry Puree. This cocktail is famous for how well its tart and sweet flavors go together, and the smooth finish from the cognac makes it even better. Usually, it's served in a glass with soda water, frozen strawberries, and a lemon wheel for decoration.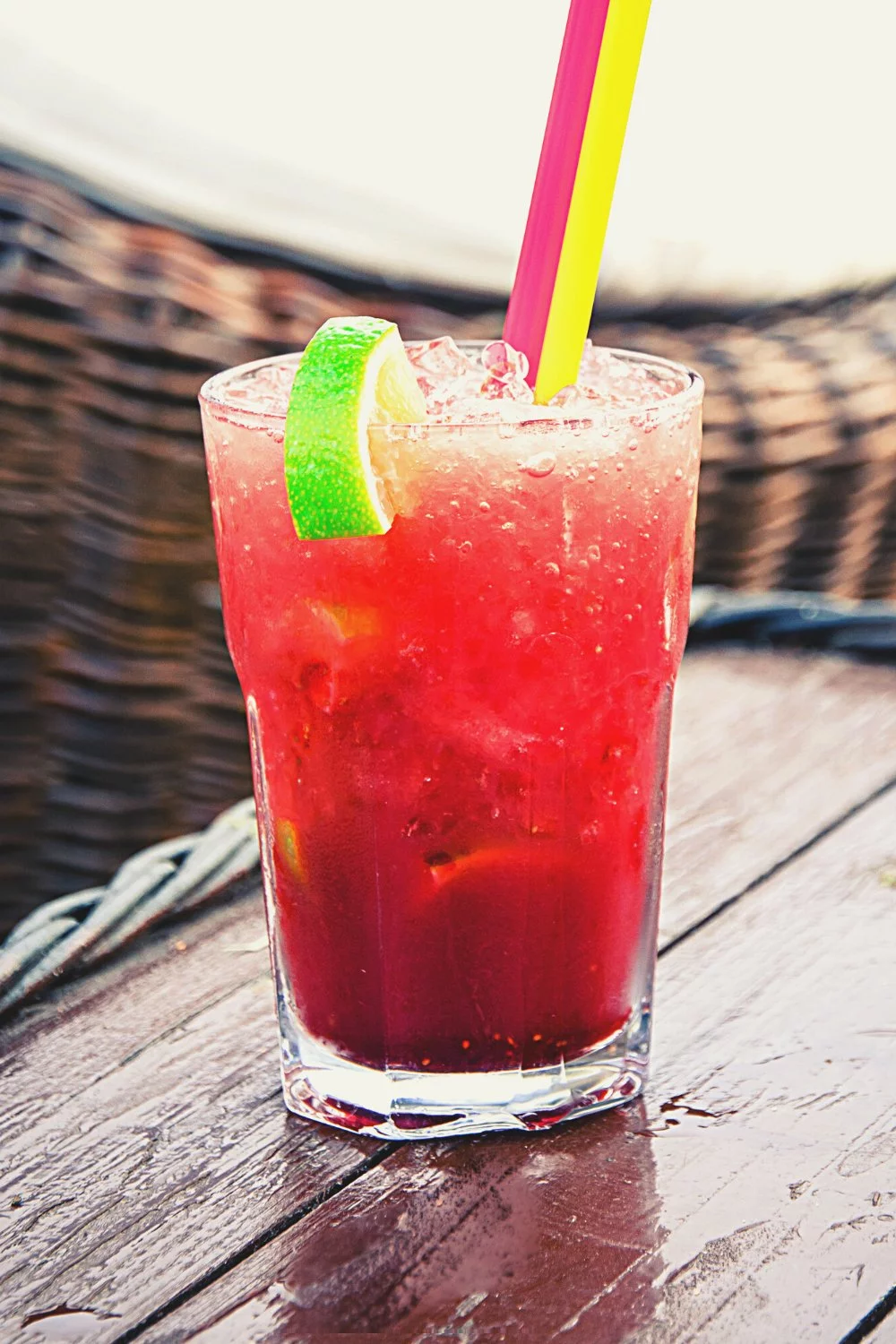 Henny Hustle Cocktail Recipe
Here is how to make the Henny Hustle drink at home. You'll need a cocktail shaker, a rock glass, and a straw.
Ingredients
1 oz. Hennessy Cognac
5 oz. Triple Sec
2 oz. Lemon Sour
5 oz. Strawberry Puree
1 oz. Frozen Strawberries
Ice
Soda Water
Instructions
Start by chopping the frozen strawberries into small pieces. Set these aside for later.
Fill a cocktail shaker halfway with ice cubes.
Add 1 oz. of Hennessy Cognac, 0.5 oz. of Triple Sec, 2 oz. of Lemon Sour, and 0.5 oz. of strawberry puree into the cocktail shaker.
Shake together all the ingredients for about 20 seconds to mix them well.
Put the mixture into a glass.
Top off the drink with soda water and the chopped-up frozen strawberries. Finish with a lemon wheel.
Henny Hustle Variations
Even though the classic Henny Hustle is a delight on its own, adding different flavors can lead to some interesting discoveries. If you're feeling adventurous and want to put your own spin on this Buffalo Wild Wings classic, here are a few ideas. Each one adds a unique twist to the original recipe, giving you and your guests a new taste experience. Let's check out these exciting variations:
Spicy Henny Hustle: If you like spicy drinks, add a small slice of jalapeno or a dash of hot sauce to your Henny Hustle. The spice will give it a surprising kick and go well with the original recipe's sweet and fruity tastes. Just follow the original recipe, but add your jalapeno or hot sauce when you shake up the ingredients.
Henny Hustle with Tropical Twist: If you like tropical flavors, try adding a splash of pineapple juice to your Henny Hustle. This will add a delicious tropical twist to the drink. Just put the pineapple juice in with the other ingredients.
Berry Henny Hustle: Switch out the strawberry puree for raspberry puree for a berry twist. This change will give you a different berry taste that is just as tasty and refreshing. Just switch out the strawberry puree in the first batch for raspberry puree.
Citrus Henny Hustle: If you like citrus flavors, squeeze some fresh orange juice into your Henny Hustle and add a splash of lime juice. This will add a nice citrusy twist to the cocktail. Just add the juice from the orange and lime to the original recipe.
Had a great time making this Henny Hustle drink? If it tickled your fancy and you're itching to show it off, why not enrich your Pinterest board with a new splash of color? Before you know it, your fans will be mixing their own Henny Hustles, and they will have you to thank for their newfound mixology skills.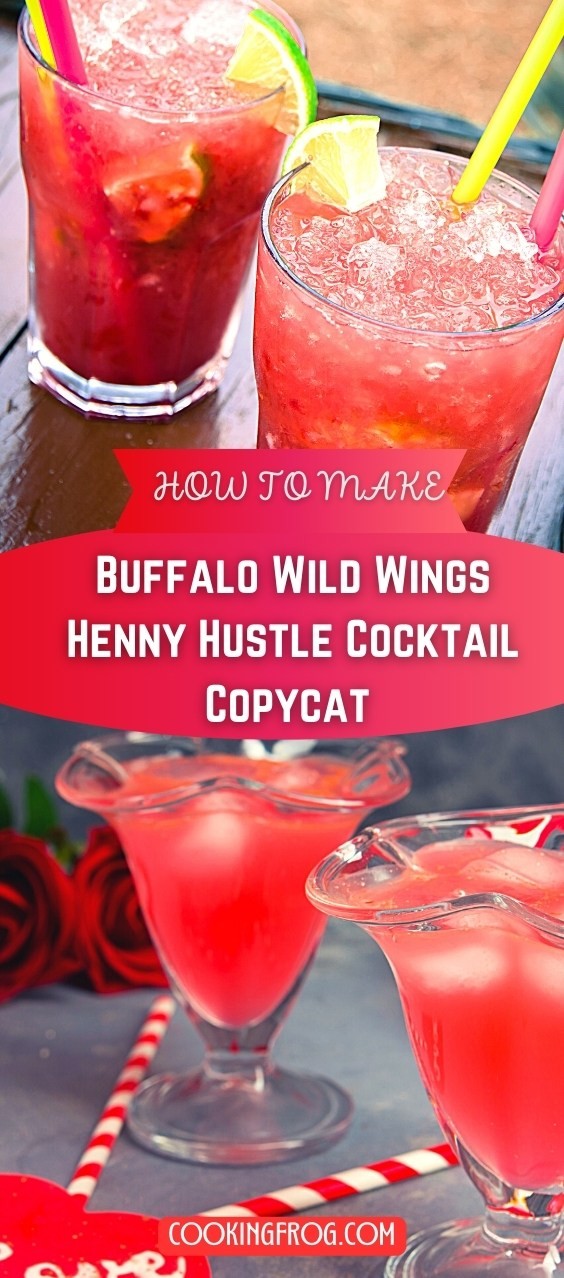 More Delicious Cocktail Recipes
FAQs
What is the Buffalo Wild Wings Henny Hustle?
The Buffalo Wild Wings Henny Hustle is a recipe for a drink that combines Hennessy cognac, Triple Sec, Lemon Sour, Strawberry Puree, and Frozen Strawberries. It is known for having an ideal balance of tart and sweet flavors and a smooth cognac finish.
What are the ingredients in the Buffalo Wild Wings Henny Hustle?
The Henny Hustle from Buffalo Wild Wings has Hennessy cognac, Triple Sec, Lemon Sour, Strawberry Puree, and Frozen Strawberries. These ingredients are combined and topped with soda water and a lemon wheel.
What is the best way to serve the Buffalo Wild Wings Henny Hustle?
The Buffalo Wild Wings Henny Hustle is best served in a chilled rocks glass with a lime wedge on top and a small plate or coaster. It's also best with some appetizers.