Like tropical cocktails? If so, you're in for a special treat! Kenny's Cooler, Texas Roadhouse's signature cocktail, is a delicious mix of tropical flavors that will take you right to a beachside paradise.
What is Texas Roadhouse Kenny's Cooler?
Texas Roadhouse Kenny's Cooler is a signature cocktail served at Texas Roadhouse, a famous chain of restaurants in the US well known for their steaks prepared in the Texan and Southwestern cuisines. This cocktail is a refreshing blend of tropical flavors and is perfect for sipping on a hot summer day or any time you're in the mood for a sweet, vibrant treat.
This cocktail, named after country music star Kenny Chesney includes coconut rum, peach schnapps, blue curacao, sweet and sour mix, and lemonade. It's the perfect drink for a hot summer day or whenever you want a sweet, colorful treat.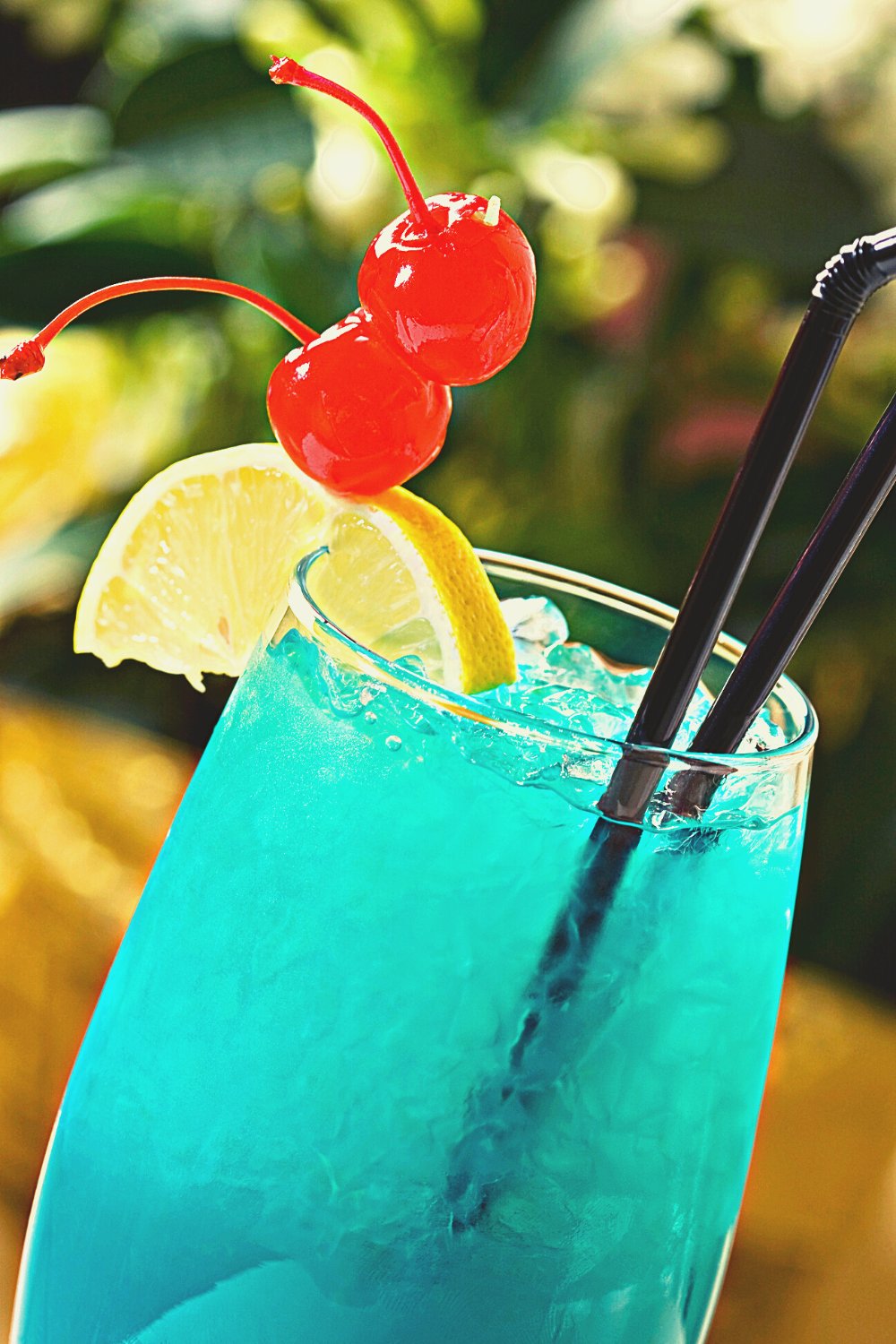 Kenny's Cooler Cocktail Taste
The drink's bright blue color comes from the blue curacao, which is a liqueur made with the dried peel of the laraha citrus fruit, which grows on the island of Curacao. The coconut rum gives it a tropical flavor, and the peach schnapps makes it taste sweet and fruity.
The tangy taste of the sweet and sour mix and lemonade balances out the sweetness of the other ingredients. The orange slice and a maraschino cherry on top of Kenny's Cooler give it a tropical feel.
Texas Roadhouse Kenny's Cooler Recipe
Kenny's Cooler is a delicious cocktail easy to make at home. Tropical flavors and gorgeous blue color make it a hit at parties and the perfect treat for a quiet evening. This tasty and refreshing cocktail brings the taste of Texas Roadhouse to your home.
Ingredients
1.25 oz of Coconut Rum (preferably Chair Bay Coconut Rum)
0.75 oz of Peach Schnapps
0.5 oz of Blue Curacao
0.5 oz of Mr. & Mrs. T Sweet & Sour Mix
6 oz of Lemonade (Minute Maid Lemonade)
Ice Cubes, crushed
Garnish: Orange Slice and Maraschino Cherry
Instructions
Get your tools ready: Get a shaker, a strainer, a glass, and a straw.
Add ice: First, put some ice in your cocktail shaker.
Mix up the ingredients: Pour the coconut rum, peach schnapps, blue curaçao, sweet and sour mix, and lemonade into the cocktail shaker.
Shake it properly: Shake all of the ingredients together for about 15 to 20 seconds to incorporate them well.
Serve: Fill a glass with crushed ice, strain Kenny's Cooler into the glass, garnish with an orange slice and a maraschino cherry, put a straw in the glass, and enjoy your own Texas Roadhouse Kenny's Cooler at home!
Kenny Cooler Cocktail Variations
While the authentic Kenny's Cooler is a lovely cocktail on its own, you can also experiment with some variations to suit your preference. Here are a few ideas:
Tropical Twist: For a tropical twist, add a splash of pineapple juice or mango juice. You could also add a tropical touch with a slice of pineapple or a sprig of fresh mint.
Fizzy Cooler: For a fizzy version of Kenny's Cooler, replace some lemonade with lemon-lime soda or citrus-flavored sparkling water.
Frozen Kenny's Cooler: To make a frozen version of this drink, blend the ingredients with a lot of ice until they are smooth. This is perfect for those sweltering summer days.
Berry Delight: Add a splash of raspberry or strawberry syrup for a Kenny's Cooler with berry flavor. You could also add fresh berries as a garnish for an extra burst of flavor.
Spicy Cooler: Add a small slice of jalapeno or a dash of hot sauce to your Kenny's Cooler for a unique twist. The heat will balance out the sweetness and add an unexpected kick.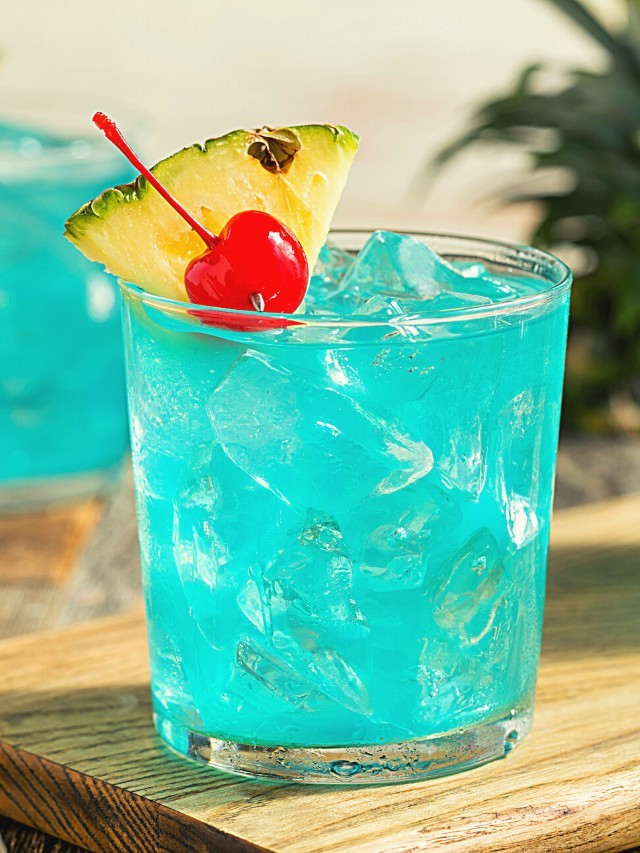 More Cocktail Recipes:
Pink Whitney Drink Recipe (+ 10 Variation Ideas): A delightful cocktail made with pink lemonade-flavored vodka. It's adaptable and can be used as a base for different cocktail variations.
Peanut Butter Skrewball Whiskey Cocktail Recipe: A distinctive cocktail that incorporates the rich, creamy flavor of peanut butter with the smooth, warming sensation of whiskey.
Homemade Strawberry Hennessy Recipe: A fruity and refreshing mixture of Hennessy cognac and fresh strawberries. Ideal for summer parties or when you're in the mood for a sweet and fruity cocktail.
Buffalo Wild Wings Henny Hustle: A delicious blend that brings the taste of Buffalo Wild Wings right into your home. This cocktail is a refreshing treat that's sure to impress. It's made with Hennessy, Triple Sec, Lemon Sour, and Strawberry Puree.
Orange Crush Cocktail Recipe: A citrusy and refreshing cocktail made with fresh orange juice, vodka, and a splash of Grand Marnier. Ideal for hot summer days when you're craving something refreshing and citrusy.
Luxardo Cherries Homemade Recipe: Make your own gourmet cocktail cherries at home with this recipe. Luxardo cherries are known for their rich flavor and deep color, adding a touch of complexness to your cocktails.
Espresso Martini With Baileys: Immerse yourself in the silky charm of this Espresso Martini with Baileys. It's the ideal sip for relaxing after a feast, the sweet punctuation to a love-filled date night, or a lovely surprise to make Valentine's Day a touch more unique.
Liked our recipe for Texas Roadhouse Kenny's Cooler? Well, don't make your Pinterest board feel like it's missing out. Pin the image below to share this tropical treat with your followers.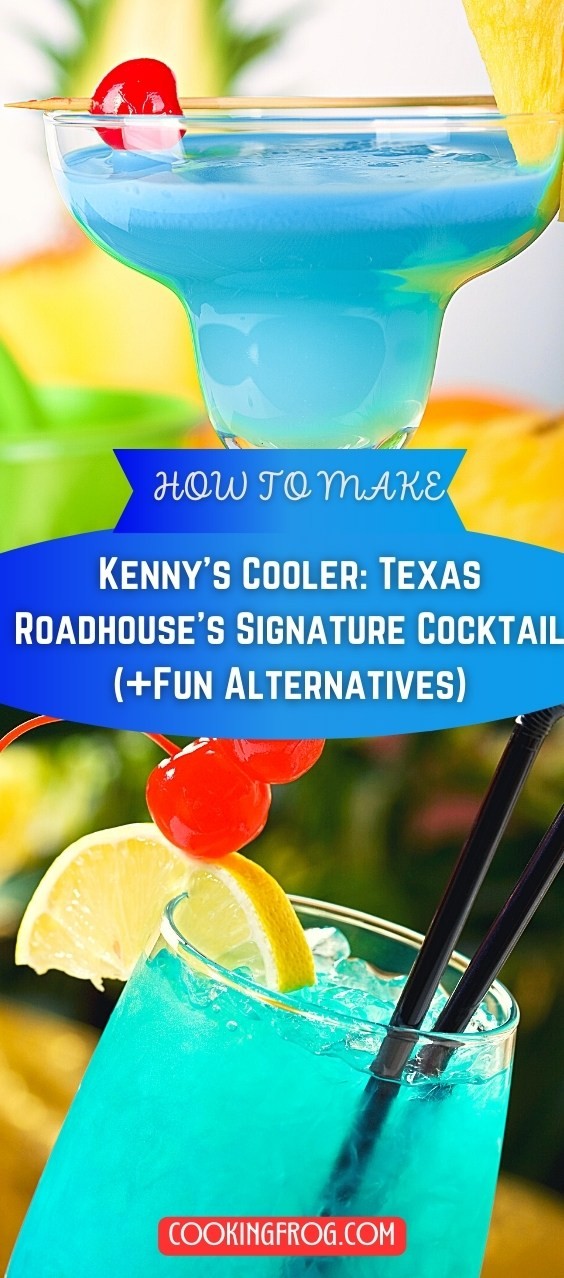 FAQs
How much alcohol is in Kenny's Cooler?
Kenny's Cooler has about 26% ABV (Alcohol By Volume). The main alcoholic ingredient is Blue Chair Bay Coconut Rum.
Can I Substitute Or Add Any Ingredients?
Yes, you are welcome to try out different kinds of alcohol and fruit juices. You could change it up by adding sparkling water or lemon-lime soda. You could also try different kinds of rum or schnapps for a different flavor. See the section above on Kenny Cooler cocktail variations.