We have a Peanut Butter Skrewball Whiskey Cocktail recipe so that you can enjoy a nice whiskey cocktail with your friends or during the holiday season. If you're looking for some new cocktail recipes, this peanut butter whiskey and chocolate liqueur are perfect for you.
Last week we tried some whiskey cocktails that turned out to be a huge success. After this delicious Strawberry Hennesy Cocktail, here is another one that you guys will love.
Who would have thought that peanut butter and whiskey could make such a delicious combination? And it's sooo easy to make. 🙂
This cocktail is a mouth-watering combination of flavors that comes together with rich peanut butter and chocolate taste.
The whiskey and peanut butter cup flavors work really well together, and if you're looking for something sweet and tasty that isn't too strong, then this is the cocktail for you. The best thing about this recipe is that you can find everything you need to make a Skrewball at your local liquor store.
What is a Skrewball?
Skrewball is a peanut butter whiskey. It's a mix of whiskey and peanut butter. Yes, peanut butter.
It contains a whole jar's worth of peanut butter, making it a peanut butter lover's dream come true. While Skrewball peanut butter whiskey is a delicious stand-alone, it is also great for use in many cocktails.
It's rich and creamy gluten-free and contains less trans fats so that you can indulge to your heart's content. If you're not a fan of peanut butter, don't worry. Skrewball Whiskey makes a great gift for any whiskey lover in your life. And if you're not a whiskey fan, you can still enjoy it as creamy, delicious peanut butter.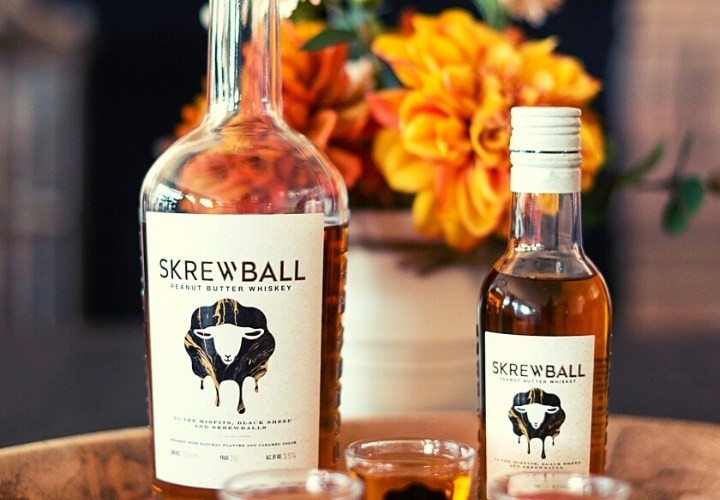 Why should you try this cocktail?
You must try Skrewball Peanut Butter Cup Whiskey Cocktail because it is:
Creamy and delicious
Easy to make
Budget-friendly
A perfect drink for any occasion
Very sweet and doesn't taste like whiskey
Best option for peanut butter and chocolate lovers
Perfect drink to have at the end of a hard day's work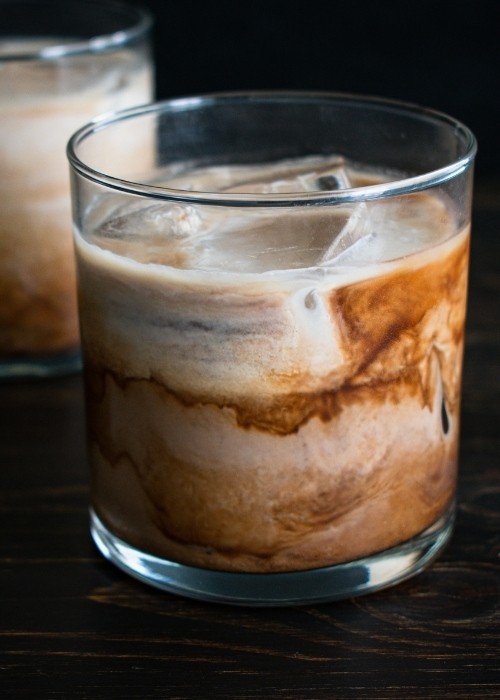 What other garnish might work with this Skrewball Whiskey cocktail?
Use chocolate shaving or brown sugar to garnish your drink. A peanut butter cup gives this cocktail a leg up. You can also sprinkle peanut butter chips. Or simply rim the glass with sugar and finely chopped peanuts.
How to store leftovers?
If you have leftovers from your Skrewball Peanut Butter Cup Whiskey Cocktail, make sure to store them in a plastic container. Keeping the container in the fridge will help to keep the cocktail fresh and flavorful.
The Skrewball Peanut Butter Cup Whiskey Cocktail is best served chilled, so you want to ensure that you are properly storing it.
Can you freeze Skrewball peanut butter whiskey cocktail?
While it is indeed possible to freeze Skrewball peanut butter whiskey cocktail, it is not advisable. Freezing the cocktail will alter its flavor, making the texture a bit grainy.
If you want to freeze Skrewball peanut butter whiskey, it is best to freeze it in an airtight container. Please note that freezing the peanut butter whiskey will not improve its shelf life in any way.
Pin the image below and save this recipe to your Pinterest board if you like this Skrewball Whiskey Cocktail!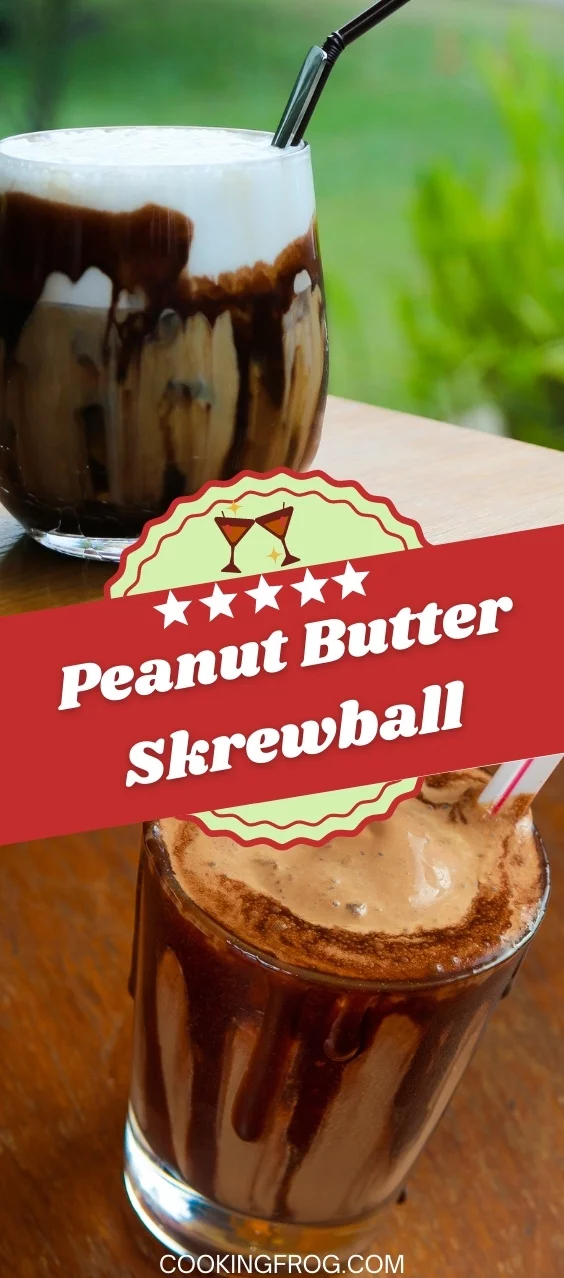 Ingredients
1 ½ oz skrewball peanut butter whiskey
1 bottle of chocolate syrup
1 oz chocolate liqueur
Ice
½ cup of milk
Instructions
Take a glass and drizzle chocolate syrup around its inside. Please put it in the freezer for 5 minutes.
Then pour chocolate liqueur, peanut butter whiskey, milk, and ice into the cocktail shaker.
Shake well until all ingredients are combined.
Your Skrewball Peanut Butter Cup Whiskey Cocktail is ready. Take out the glass from the freezer and pour in the cocktail and serve.
Tips & Tricks
You can skip chocolate drizzle if you want to keep your cocktail simple or you don't have chocolate syrup.
You can easily make your Skrewball Peanut Butter Cup Whiskey Cocktail dairy-free by using almond milk, dairy-free chocolate syrup, and chocolate liqueur.
To make your cocktail creamier, add 1 oz heavy cream and top with whipped cream.
Increase the amount of ingredients if you are going to make this cold drink for a larger group or party.
Nutrition Value (per serving)
Calories: 390 kcal
Carbohydrates: 45 g
Protein: 5 g
Fat: 5 g
Let's Sum Up
We hope you enjoyed our blog on making a Skrewball Peanut Butter Cup Whiskey Cocktail. We know that it may seem a bit daunting to try a new cocktail, but we hope that you felt comfortable enough to give it a try. If you have any questions about the recipe or any other part of our blog, please feel free to contact us or leave a comment below.
We hope that you'll share it with your friends and family!
If you want to learn more delicious recipes like this one, don't forget to share them on Pinterest.