The classic French Croissants With Cheese recipe is the best I've ever made. I have no words to describe it other than, just try this recipe and judge for yourself.
Ingredients
about 1kg of flour
1 fresh yeast
600 ml of milk
3 cups of sour cream
4 teaspoons of sugar
3 tablespoons of olive oil
3 yolks
1 spoon of salt
1 margarine
cheese
sesame seeds
1 egg white
Classic French Croissants with Cheese Recipe
Dissolve the yeast, and the sugar in lukewarm milk and leave for about 10 minutes. Then add the cream, oil and yolk to it, and stir it up a little by hand. Gradually add flour to this mixture and mix the dough. Split the dough immediately into 5 parts and make each part into a ball shape.
Classic French Croissants With Cheese Step 2
It is important that margarine (butter) is at room temperature, divide it into 5 equal parts. After that develop the first dough ball to the size of a large shallow plate and cover with a fifth of margarine. Repeat the process with the other balls and tie them to one another. Do not coat the last dough with margarine.
Classic French Croissants With Cheese Step 3
When we finish, the dough is immediately flattened with a rolling pin into as large a circle as possible. We divide the circle into four parts. Each part is cut into triangles. Put cheese in every triangle and form a croissant/kittens. Sprinkle with the remaining margarine. Leave to grow until the croissant size is doubled. Cover with egg whites, sprinkle with sesame and bake at 200 degrees until it smells.
Share the image below to your Pinterest board if you've liked this version of the Classic French Croissant Recipe!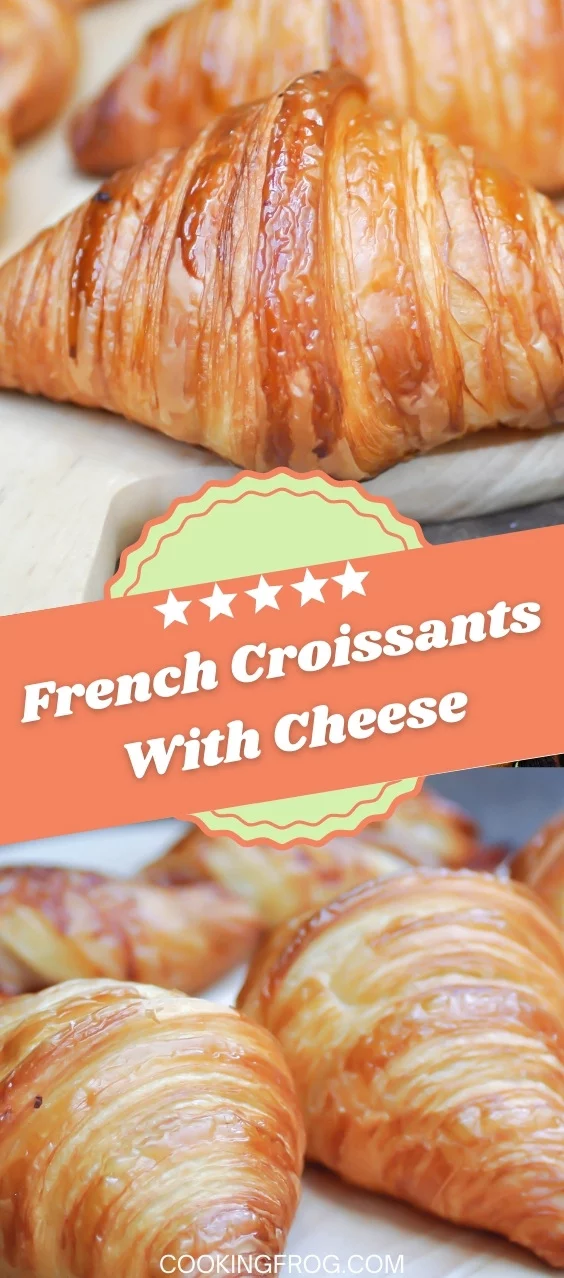 Bonus Tip
The key to a good Homemade Croissant is a good choice of butter.