Ever tried Hamburger Soup? It's that comforting blend of beef, fresh vegetables, and a tomato base that feels like a hug in a bowl. Whether it's a cold day outside or you just need a pick-me-up, this soup is your go-to. Simple ingredients, straightforward steps, and a whole lot of flavor.
Gather all your ingredients first for a smooth start. Dice the onion, mince the garlic, and chop the potatoes. In a large pot, brown the beef over medium heat, breaking it apart. Once browned, add the onion and garlic, cooking until the onion is clear.
Pour in beef broth, add diced tomatoes, tomato soup, Worcestershire sauce, and Italian seasoning. Toss in a bay leaf. Add potatoes and vegetables, including bell pepper if using. Let it simmer for about 20 minutes or until potatoes are tender. Season with salt and pepper to taste. Once done, remove the bay leaf, serve hot, and enjoy.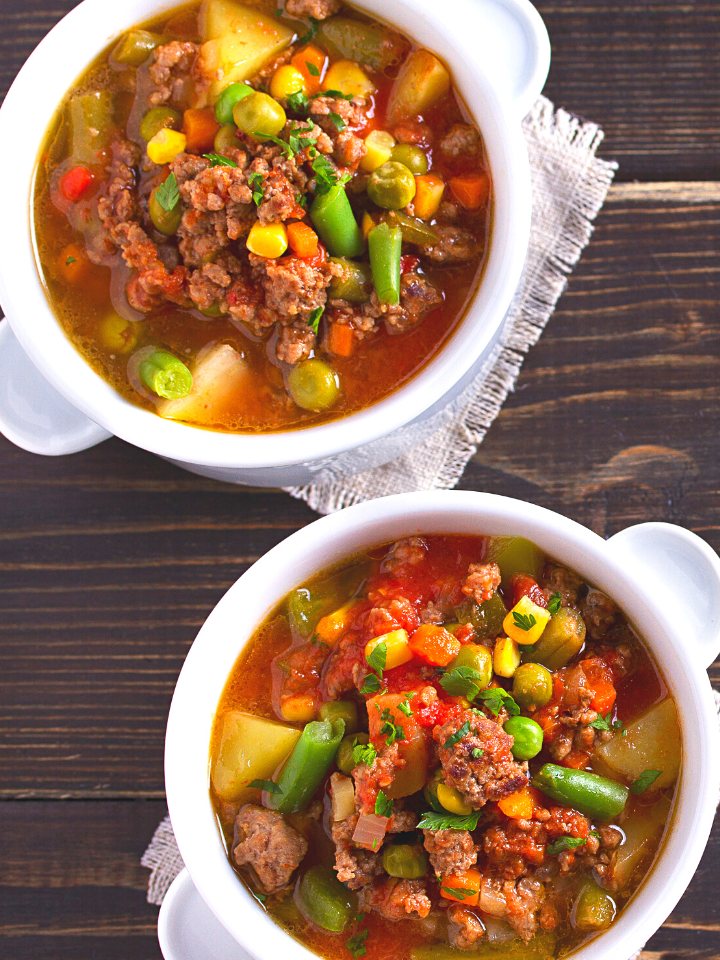 Hamburger Soup Recipe
Ingredients
1 lb. finely ground beef
1 chopped onion
2 garlic cloves, finely chopped
2 average-sized potatoes, skinned and cubed
3.5 cups of beef broth
28 oz. can of chopped tomatoes, including liquid
1 can of condensed tomato soup
2 1/2 teaspoons of Worcestershire sauce
1 1/2 teaspoon of mixed Italian herbs
1 piece of bay leaf
Season with salt and pepper as desired
3 cups of mixed vegetables (can be fresh or frozen)
1 diced bell pepper
Instructions
Preparation: Before you start, gather all your ingredients. This ensures a smooth cooking process. Dice your onion, mince the garlic, peel and chop the potatoes, and have your vegetables ready.
Browning the Beef: In a large pot over medium heat, add the ground beef. Cook the beef until it starts to brown, breaking it apart as it cooks. This should take about 5-7 minutes.
Adding Aromatics: To the browned beef, add the diced onion and minced garlic. Cook until the onion becomes translucent, which usually takes about 3 minutes.
Building the Base: Pour in the beef broth, followed by the diced tomatoes with their juice. Stir in the condensed tomato soup, Worcestershire sauce, and Italian seasoning. Add the bay leaf for that extra depth of flavor.
Vegetables and Simmering: Add the chopped potatoes and your choice of mixed vegetables to the pot. If you're using our added ingredient, the bell pepper, toss it in now. Let everything simmer together for about 15-20 minutes. You'll know it's ready when the potatoes are fork-tender.
Seasoning: Taste the soup. Season with salt and pepper as needed to suit your preference.
Serving: Once cooked, remove the bay leaf, ladle the soup into bowls, and enjoy while hot.
Fell in love with this Hamburger Soup? Why not pin the image below on Pinterest? It's too good not to share with fellow food enthusiasts!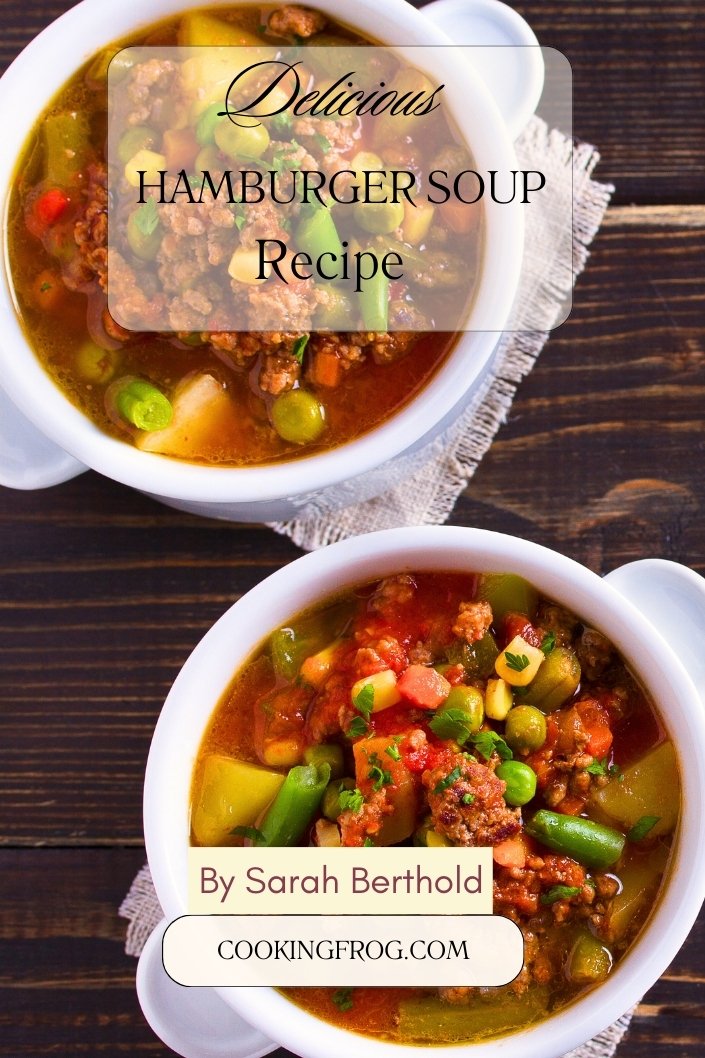 Recipe Variations for Hamburger Soup:
Protein Swap: Replace ground beef with ground turkey, chicken, or even tofu for a vegan twist.
Grain Addition: Introduce barley, quinoa, or rice for added texture and nutrition. Adjust the cooking time based on your grain choice.
Spicy Kick: Add a diced jalapeño or a dash of chili flakes for a hint of heat.
Creamy Version: Stir in a splash of cream or coconut milk towards the end for a richer texture.
Herb Infusion: Experiment with fresh herbs like rosemary, thyme, or basil. Add them towards the end to retain their freshness.
Bean Boost: Incorporate kidney beans, black beans, or chickpeas for added protein and fiber.
Veggie Variety: Swap out standard veggies for alternatives like sweet potatoes, parsnips, or butternut squash.
Cheesy Delight: Add a handful of grated cheddar or parmesan cheese for a cheesy twist.
Tangy Twist: A splash of balsamic vinegar or a squeeze of lemon juice can add a refreshing tang to the soup.
Global Flavors: Incorporate spices like curry powder, cumin, or smoked paprika for a different cultural take on the classic.
Feel free to combine multiple variations or adjust them based on what you have on hand. The beauty of Hamburger Soup is its adaptability to different tastes and preferences.