Thanksgiving is a time of gratitude, family, and, of course, sumptuous meals. The centerpiece of most Thanksgiving dinners is the turkey; we have the perfect recipe to ensure yours is the talk of the table. Dive into Maple-Glazed Turkey, a dish that promises a golden, crispy exterior with a juicy, flavorful interior.
Maple syrup, a sweet sap derived from maple trees, is often associated with breakfast pancakes and waffles. However, its culinary applications are vast. In this recipe, maple syrup serves as a glaze, providing a sweet and savory balance to the turkey. The sugars in the syrup caramelize during roasting, ensuring crispy skin and a deep, golden hue.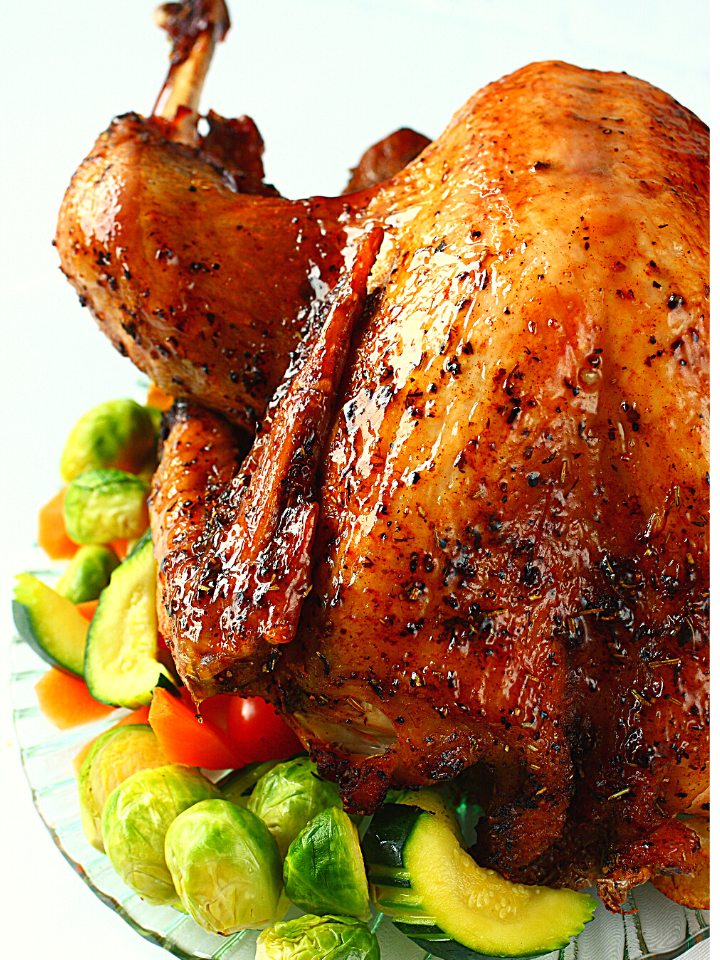 Maple-Glazed Turkey Recipe
Ingredients:
Turkey: 14-pound, thawed
Lemons: 2, halved
Mandarin oranges: 4, halved
Coarse salt: 2 tsp
Freshly ground pepper: 1 tsp
Pure maple syrup: 2 cups
Ground paprika: 1 tsp
Salt: 1 tsp
White pepper: ½ tsp
Garlic powder: ½ tsp
Dried crushed thyme: ½ tsp
Dried rosemary: ½ tsp
Fresh sage leaves: 1 TBSP, finely chopped
Instructions
Maple Glaze Preparation:
In a bowl, mix together maple syrup, rosemary, paprika, salt, white pepper, garlic powder, thyme, and finely chopped sage leaves.
Stir until all ingredients are well combined.
Roasting Turkey:
Preheat the oven to 325 degrees F.
Prepare the turkey by removing any packaging and patting it dry.
Position the turkey on a baking rack set in a roasting pan.
Fill the turkey's cavity with halved mandarin oranges and lemons.
Generously brush the turkey with half of the prepared maple glaze.
Roast the turkey in the preheated oven, basting it every 30 minutes with its juices and reapplying the glaze as needed.
Continue roasting until the turkey achieves a golden brown color and an internal temperature of 170 degrees F.
Once cooked, allow the turkey to rest under a foil cover for about 10 minutes before carving.
Note: Always use a meat thermometer to ensure the turkey is cooked safely and perfectly.
Embraced the warmth of this Maple-Glazed Turkey delight? Spread the Thanksgiving cheer! Pin the image below to your Pinterest board and let others savor the magic too.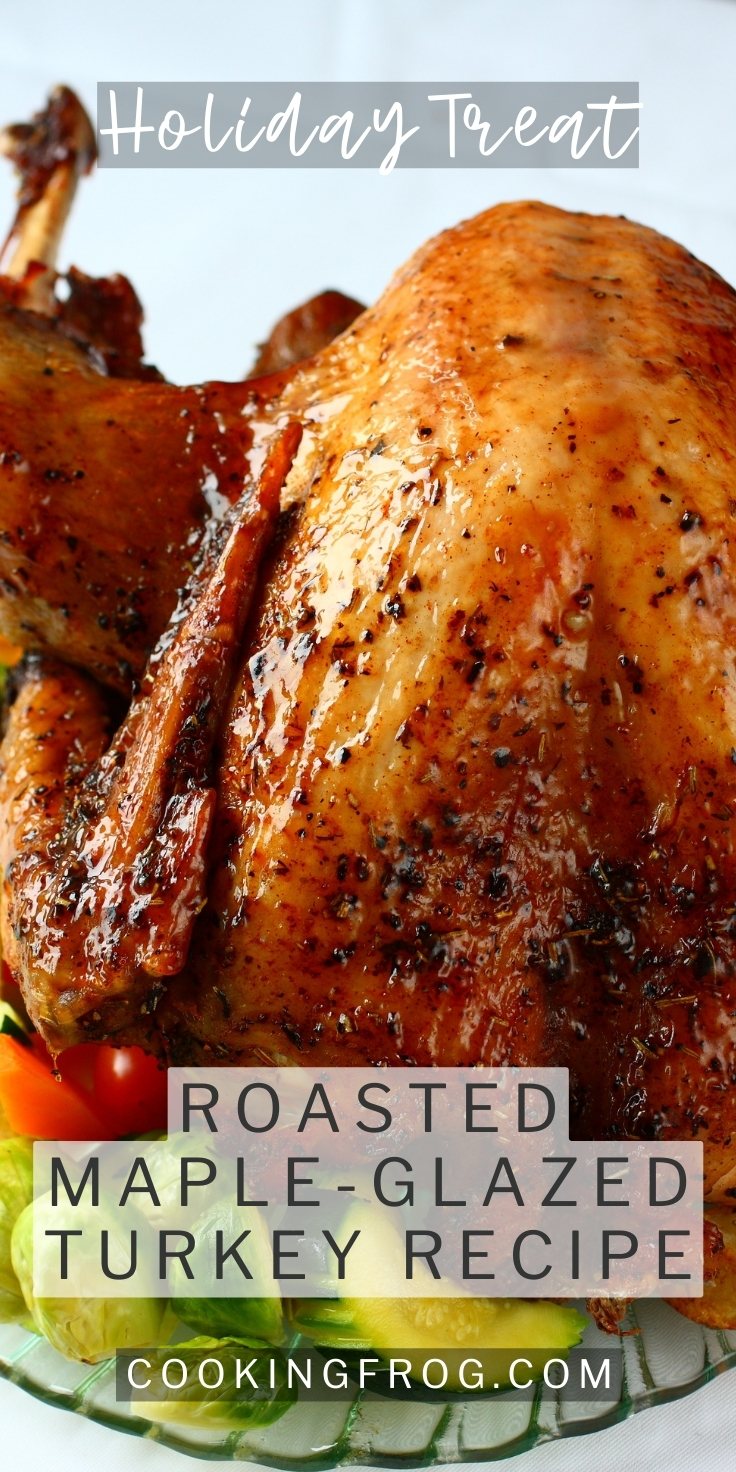 Tips & Tricks for the Perfect Maple-Glazed Turkey:
1. Thawing the Turkey:
Always allow ample time for your turkey to thaw. A good rule is to allow 24 hours of thawing in the refrigerator for every 4-5 pounds of turkey.
2. Uniform Cooking:
To ensure even cooking, consider trussing your turkey. This keeps the wings and legs close to the body and promotes uniform cooking.
3. Basting:
While basting helps keep the meat moist, avoid opening the oven too frequently. This can cause significant temperature fluctuations. Instead, aim to baste every 30 minutes.
4. Maple Glaze:
If you find your glaze thickens too much as you baste, you can slightly warm it to make it more spreadable.
5. Monitoring Temperature:
Invest in a good quality meat thermometer. Insert it into the thickest part of the thigh but not touching the bone. This will give you the most accurate reading.
6. Tenting with Foil:
If your turkey skin is browning too quickly, you can loosely cover the turkey with aluminum foil to prevent it from burning.
7. Resting is Key:
After removing your turkey from the oven, let it rest for at least 10-15 minutes before carving. This allows the juices to redistribute, ensuring a moist turkey.
8. Carving:
Use a sharp knife and start by removing the legs and thighs. Then, slice the breast meat against the grain for tender slices.
9. Leftovers:
Turkey tends to dry out when reheated. To prevent this, drizzle some broth or gravy over the meat before reheating.
10. Sage in the Glaze:
Fresh sage can have a strong flavor. If you're not a fan, you can reduce the amount or omit it altogether.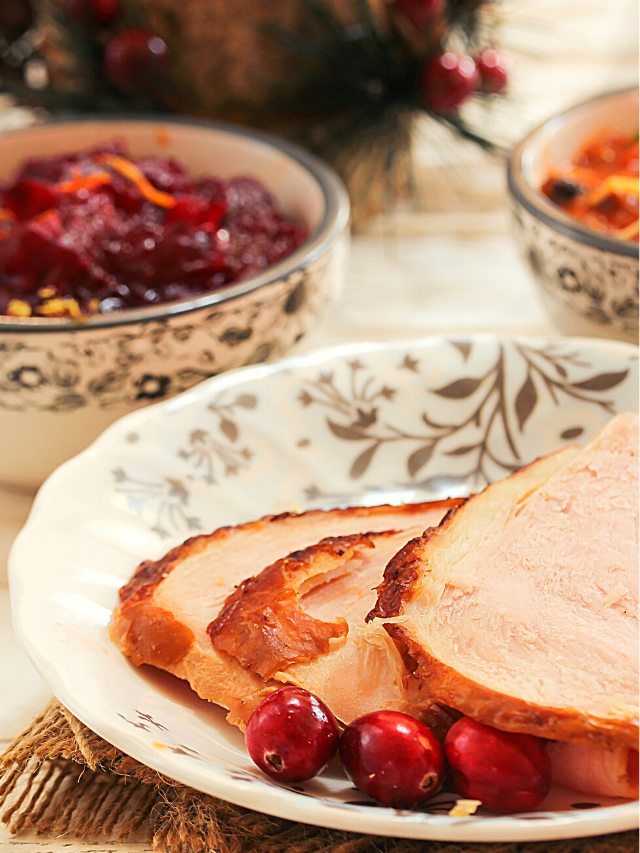 Maple-Glazed Turkey Serving Suggestions for a Thanksgiving Feast:
1. Creamy Mashed Potatoes:
Yukon gold potatoes: 5 lbs, peeled and cubed
Roasted garlic: 1 head
Heavy cream: 1 cup
Butter: 4 tbsp
Salt and pepper to taste
2. Green Bean Almondine:
Fresh green beans: 2 lbs, trimmed
Butter: 3 tbsp
Toasted almonds: 1 cup, sliced
3. Homemade Cranberry Sauce:
Fresh cranberries: 12 oz
Orange zest: from 1 orange
Cinnamon: 1 stick
Maple syrup: ½ cup
4. Savory Herb Stuffing:
Crusty bread cubes: 8 cups
Onions: 2, diced
Celery: 4 stalks, diced
Sage, rosemary, and thyme: 2 tsp each, finely chopped
Chicken or turkey broth: 2 cups
5. Roasted Root Vegetables:
Carrots, parsnips, beets, and sweet potatoes: 2 lbs total, peeled and diced
Olive oil: 3 tbsp
Rosemary: 2 tsp, chopped
Sea salt: 1 tsp
6. Sweet Potato Casserole:
Sweet potatoes: 4 lbs, peeled and boiled
Pecans: 1 cup, chopped
Brown sugar: ½ cup
Butter: 4 tbsp, melted
7. Gravy:
Turkey drippings: 2 cups
Flour: 2 tbsp
Chicken or turkey broth: 1 cup
Salt and pepper to taste
8. Pumpkin Pie:
Pumpkin puree: 15 oz can
Pie crust: 1
Eggs: 3
Sugar: ¾ cup
Cinnamon, nutmeg, and cloves: 1 tsp each
9. Mulled Wine or Cider:
Red wine or apple cider: 1 bottle (750 ml)
Cinnamon sticks: 3
Cloves: 10
Star anise: 2
Orange slices: from 1 orange
10. Freshly Baked Rolls:
Bread flour: 4 cups
Active dry yeast: 1 packet
Warm water: 1 ¼ cups
Sugar: 2 tbsp
Salt: 1 tsp
Butter: 4 tbsp, melted