This no bean this Chili with Butternut Squash (Whole30 Low-Carb) is a perfect recipe to treat yourself with this fall. It's rich, thick, and delicious and also low-carb, paleo, and gluten-free.
Reasons why you'll love this Chili with Butternut Squash
This recipe is super flavorful with many spices, like red pepper flakes, ground cumin, paprika, ground coriander, onion powder, garlic powder, and black pepper. It is rich and meaty.
This chili is low-carb could have even fewer carbs if you scale back the amount of butternut squash and tomatoes. Because there aren't any beans, it's paleo and whole30, too. Though if you don't mind beans, add two cups of cooked beans to this recipe. Simply don't forget to add one additional cup of chicken broth. Otherwise, the chili are really thick.
This is an ideal meal to sneak in some veggies for the youngsters. There are lots of veggies in this recipe like onions, celery, bell peppers, tomatoes, and surely, butternut squash.
This recipe is made for a decent-sized batch of chili. So, you most likely will have leftovers for lunch throughout the week. For me it tastes better the next day!
After all these reasons, I convinced you to create this No Bean Whole30 Butternut Squash Chili, right? Please make it it, and top it with a touch of minced cilantro and different toppings like avocado and jalapeno.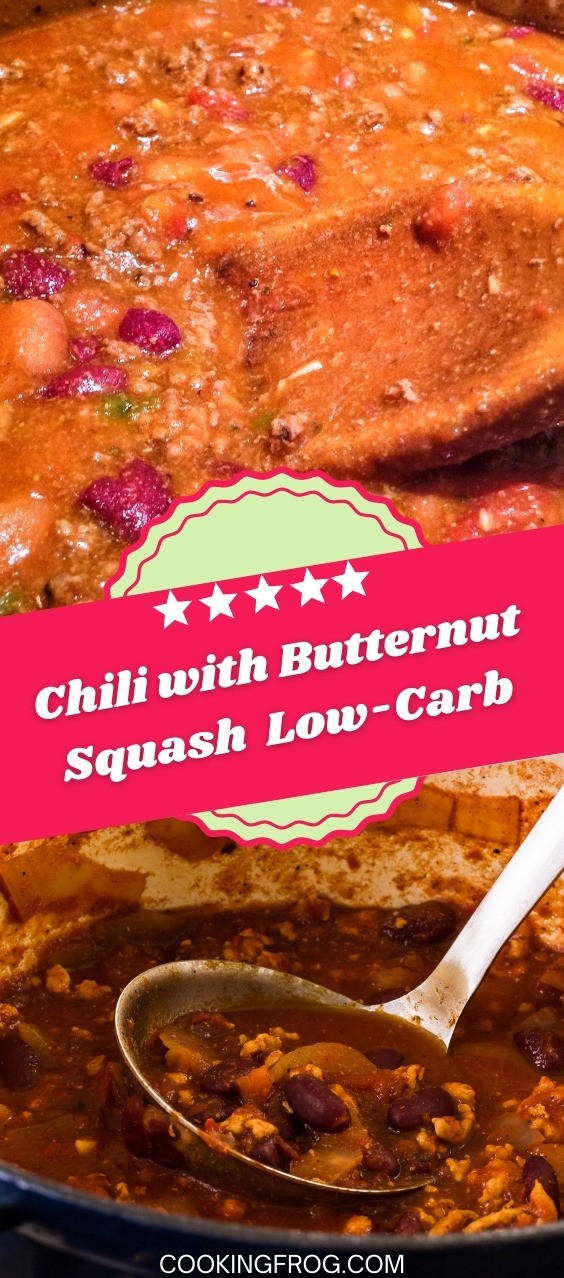 How to make Chili with Butternut Squash?
In a big Dutch oven Pot, heat the oil (olive oil) over medium-high heat.
Add the red onions and celery, and sauté for three minutes. Then, add the garlic, and sauté for thirty seconds longer.
Add the ground beef and cook, breaking up the meat using a wooden spoon, till it's cooked through, for about five minutes.
Add the cumin, red pepper flakes, paprika, coriander, onion powder, garlic powder, salt, and pepper to your taste. Combine everything well.
Add the red bell peppers, diced tomatoes, butternut squash, tomato sauce, and chicken broth.
Stir, and bring to a boil, cover with a lid, reduce to a simmer. Cook the chili for 30-40 minutes.
Serve with fresh-cut cilantro on top.
Ingredients
2 tablespoons of olive oil, extra virgin
½ cup of diced celery
½ cup of chopped red onions
2 cloves of minced garlic
1 pound of ground beef, grass fed
Two teaspoons of red pepper flakes
2 teaspoons of ground cumin
2 teaspoons of paprika
½ teaspoon of ground coriander
1 teaspoon of onion powder
1 teaspoon of garlic powder
Pepper and salt
½ cup of chopped red bell peppers
2½ cups of diced butternut squash
2 cups of diced tomato with juice
1 cup tomato sauce, sugar free
1 cup of chicken broth
fresh cilantro