Craving a takeout but resenting the cost and the unhealthiness? Well, I'm here to help! Sure, it may still be more on the cheat day side of life, but my delicious and easy popcorn chicken recipe will have the whole family coming back for more.
With a crispy exterior coating the succulent chicken, this KFC-style popcorn chicken is an easy family staple that can be served with Crockpot mac and cheese, pasta salad, or any of your favorite sides to create a wholesome and enjoyable meal.
Easy Popcorn Chicken, Tell me More!
A family favorite from our local fast-food chains brought to your kitchen! A surprisingly simple recipe that involves only a few ingredients that you probably already have lying in your cupboards and spice racks. Whether you do this for dinner or as an addition to a meal or salad – it is a highly versatile addition to any dish.
Also if you only have certain types of breading in your cupboards (panko, etc), this dish can be easily adapted to use those ingredients so you can create a delicious dish based on what you already have.
This same premise applies when it comes to deciding on a complimentary sauce to liven up the serving, whether you use cilantro ranch dressing, BBQ sauce, or fry sauce – any of your favorite dressings will truly complement our fantastic popcorn chicken.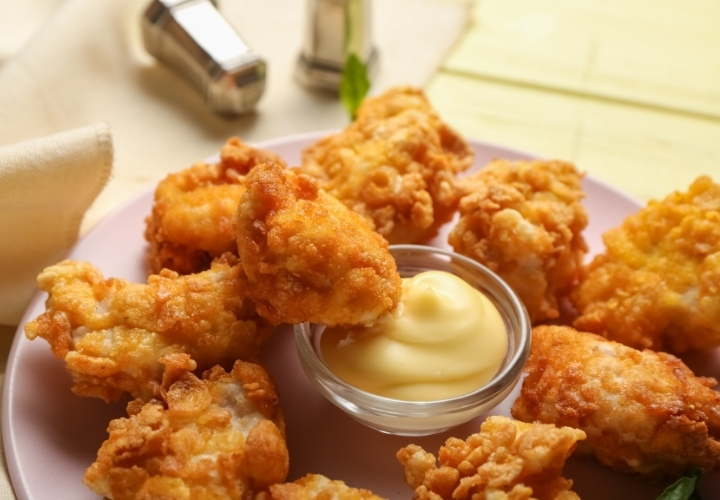 Prepping the Popcorn Chicken
Cutting the Chicken: When it comes to cutting the perfect bite-sized chicken pieces, the key is to use half frozen breasts and a sharpened knife to ensure that you can take advantage of the relatively un-slimy and solidified chicken to create clean diced pieces of a similar size range.
Marinating: If you have time on your side, I strongly recommend that you marinate your chicken thoroughly in buttermilk for over one hour as a minimum – however, avoid crossing the twelve-hour mark or your chicken will likely have become too absorbent and may not retain its beautiful flakiness when fried.
Don't be afraid of seasoning: So many people are under the impression that seasoning won't contribute much to a fried dish – however, this is wrong! Incorporating beautiful spice blends of cayenne pepper, paprika, chipotle flakes, red chili flakes, and so forth, is an ideal way to elevate the flavor factor of your dish.
Looking for a Healthier Alternative to Popcorn Chicken?
Often substituting the panko breadcrumbs for crushed Ritz crackers, crushed Corn Flakes, or regular bread can be a substitution that may lower the fat and calories and help you achieve some more fiber in the dish. However, the biggest way to reduce this meal's unhealthy factor is to cook them alternatively so you can have a guilt-free meal!
Share the image below to your Pinterest board if you like this Popcorn Chicken recipe!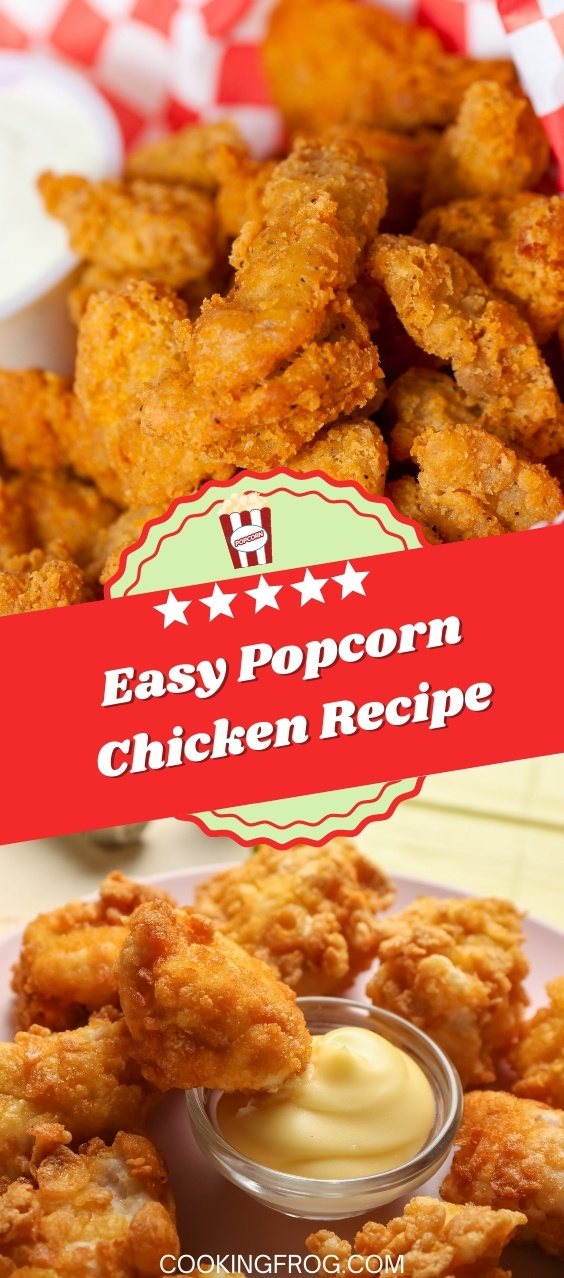 Oven-Baked Popcorn Chicken:
Sometimes the calories in the oil and frying technique can be extortionate! So for those of you looking to save some calories, preheat your oven to 400°F, baking the batch for 8-10 minutes prior to flipping and leaving them for a similar time. Then finish these off under the broiler for a maximized crunch!
Another fantastic alternative is that can thoroughly cook your popcorn chicken with less oil. With a temperature set at 400°F, ensure that you spray a small amount of oil within the fryer and arrange your first batch of popcorn chicken so that they do not directly touch one another. Cooking the chicken for approximately 8-10 minutes, with an interim turn of the meat at the halfway mark, provides gorgeously cooked popcorn chicken. However, if you want some extra crunch, spray a small amount of oil on each piece, creating a gorgeously crunchy exterior. Following this, cook each batch in the same manner.
Ingredients
2 boneless skinless chicken breasts (cubed).
2 tbsp flour.
1 tsp garlic salt.
1 cup buttermilk.
1 cup panko crumbs.
Pepper or other preferred seasonings.
Vegetable oil.
Instructions
Begin by adding a generous 1-2 inches of your chosen oil into a medium-sized pan on medium heat.
Set aside three bowls and in the first begin to blend together flour and garlic salt, whilst in the second bowl add buttermilk, with the third reserved for panko bread crumbs. Organizing these three bowls into a row will allow you to create an effective system when it comes to preparing your chicken.
Now begin to drip your chicken in each bowl, starting with the flour mixture and then the buttermilk and breadcrumbs, you can begin to ensure that each piece of chicken is generously coated on each side with the coating.
PLEASE NOTE that if you intend to double-dip, following the first dip into breadcrumbs dip your chicken back into the buttermilk, and then the breadcrumbs for a second time – two portions of the flour is not required, yet you may need some extra buttermilk and breadcrumbs!
Now place a plate covered in a paper towel near the hot oil pan.
Now is the time to work in batches! Placing an appropriate amount of chicken pieces into the hot oil before browning them for 3-4 minutes on either side creates a beautifully golden crust ready to be placed on the towel-lined plate to absorb extra oils. As the pieces finish, ensure you carefully use tongs or appropriate kitchenware to remove them from the oil.
Now you're done! Serve them with your favorite dipping sauces.
Cooking Popcorn Chicken Ahead of Time
Believe it or not, you can actually cook this popcorn chicken in advance and safely freeze them for up to four months! These should be stored in an airtight freezer container and you can then reheat them in the oven. However, if you know a busy day is ahead, preparing the raw chicken pieces before sealing them in the fridge ready for later frying ensures that you can have a quick and easy dinner the next day without the hassle of prep.
Now you're ready to go and create this delicious, quick, and easy meal that is better than KFC Famous Bowls and is guaranteed to become a family favourite!