Authentic New Mexican Sopapillas Recipe – Sopapillas are a traditional dessert in the USA. These fried pastries are a tasty treat to end a meal. These are a fun treat to make with the kids, and are great for parties, especially in the summer when you don't want to heat up the kitchen.
This article will show you how to make your own sopapillas at home. I personally love making sopapillas at home. Last time, I made a dozen and enjoyed the weekend with my family.
New Mexican Sopapillas Recipe
If you follow my recipes, you know I love to make them simple and easy to make whenever it's possible. You also know that desserts can be trickier to make than most regular dishes, although I do plan to add some recipes that require a little more practice in the coming weeks.
However, when it comes to this New Mexican Sopapillas Recipe, it's easy peasy to make, and the taste is out of this world!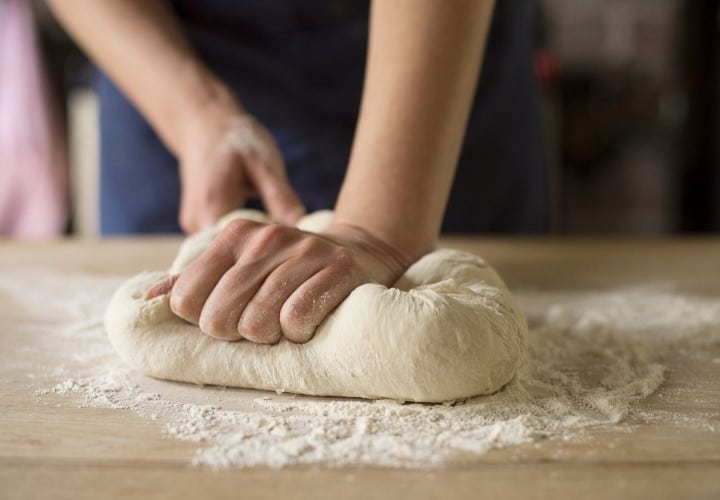 FAQs
Beignets VS Sopapillas. Are they the same?
They are not the same as Beignets, are deep-fried, and don't puff up upon frying. The dough of beignets contains yeast, sugar, milk, butter, and eggs.
While, sopapillas puff up upon frying, and the dough is made from basic ingredients like flour, oil, salt, and yolks. Beignets are served only along with the icing sugar, while sopapillas are served with typically honey.
Fried Bread VS Sopapillas difference
There are two major differences. The dough for sopapillas is rolled out thick, and the size is 4 by 4. When they are fried, they puff up. Fried bread size is greater and the shape is like a pizza. It doesn't puff upon frying and contains puffy spots.
Can I prepare the sopapilla dough ahead of time?
Yes, you can store the dough in the fridge. But, this will make you work more. As the dough starts oxidizing, the color will change. You may need to knead the dough again.
The sopapillas will also not puff as well. The taste may be good, but puffiness will be lost.
Freezing the sopapillas is not recommended.
Can I Reheat Sopapillas?
No. Sopapillas are best served right out of the pan. Reheated Sopapillas will not taste nearly as good as freshly cooked ones.
How to keep Sopapillas Fresh for a longer period of time?
To keep the Sopapillas fresh while you're waiting for your guests to arrive, simply heat up the oven to 200 F and place them in. Although, don't keep them there too long, a maximum of 15-20 minutes.
Cooking Tips & Variations for Sopapillas
If you prepared sopapillas in the past and were unable to enjoy good puffs, then follow the below-given tips on how to keep the temperature constant.
There should be sufficient oil in the pan. At a minimum, there should be 1-inch deep oil. Defiant to what others think, if there is much oil in the pan, then the food is less oily. It is because the temp doesn't vary, and food can be properly cooked before it starts absorbing oil.
Use a candy thermometer to monitor the temperature. It is not recommended to rely on an electric skillet's temp controller. Invest in a thermometer and get accurate results every time. It is also easy to use.
The frying oil should not be overloaded with sopapillas. Try 2 at a time. Take it the same as when you add ice to warm water, it cools the water around it. Similarly, adding too many sopapillas will change the temperature. If you are not using sufficient oil and then trying to add too many sopapillas, you are doing it wrong.
Preparation Time: 15 minutes
Cooking Time: 15 minutes
Total Time: 30 minutes
Servings: 5
Share the image below on your Pinterest board to save this Sopapillas recipe!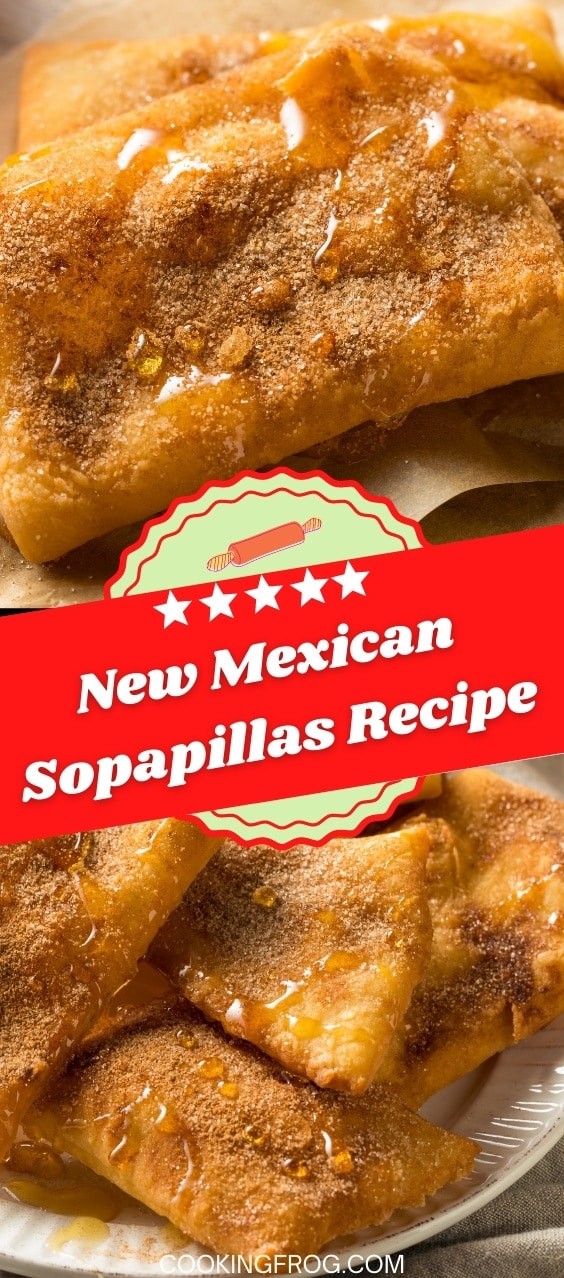 Ingredients
Flour – 2 cups
Baking Powder – ½ tbsp
Salt – ½ tsp
Sugar – ½ tbsp
Vegetable oil – 1 tbsp
Warm water – 1 cup
Oil for frying
Honey
Instructions
Take a bowl and add flour, baking powder, sugar and salt. Whisk them together.
Tap the finger in the dough to see if it's rising. Fill in 2 tbsp of oil in it. Using the mixer, whisk again and let the oil be properly incorporated.
In the dough mixture, add warm water. Knead the dough until it is soft and not sticky.
With the help of a dough hook, it may take 1 to 2 minutes to knead the dough. If you knead the dough using your hands, then do it gently. Transfer the dough onto the surface and knead it until it is soft and smooth in texture.
Part the dough into halves and seal the halves in a zipper-lock bag. Keep it aside and let it set while your oil is being heated.
Before you start frying Sopapillas, prepare the honey because you want to serve them immediately.
Take a frying pan and pour oil into it. Heat it to 350 F. The oil-filled pan should measure two inches deep.
Take one-half of the dough and roll it on a clean surface. The thickness of the rolled-out dough should be ⅛ inches. With the help of a pizza cutter, shape the dough into squares.
Take a plastic sheet and cover the squares. You should make sure that the dough is moist. (Dried dough is of no use.)
One by one, put the squares into the oil and let them fry. In a few seconds, they will start to puff up. You may splash the oil over the top, adding more puff.
When it's done with puffing up, simply fry it. Frying is done if both sides are golden brown in color.
Take a bowl, and line it with a paper towel. Transfer the sopapillas to it.
Repeat the same procedure with the leftover dough. You can serve it instantly, along with honey.
Nutrition Value
Per each sopapilla, you will have 190 kcal of calories, 40 grams of carbs, 5 grams of protein, 1 gram of fat, and 1.1 grams of fiber.
Let's Sum Up
We are very excited to announce that we have added the Sopapillas recipe to our menu! Give them a try this weekend by following this recipe, and let us know how they turn out. These fried Mexican pastries are delicious side dish or dessert items. We hope you will come in to try them soon!
If you have any questions or concerns about our Sopapillas recipe, don't hesitate to get in touch with us anytime. Thank you!