Yellowtail Sashimi – When it comes to eating raw fish, you're probably familiar with the more common sushi choices: tuna, salmon, and shrimp. But did you know that the freshest, most delicious raw fish of all comes from Yellowtail?
I've really enjoyed making seafood delicacies lately, and I'm proud to say I'm getting some really good feedback that motivates me to make these recipes even better.
Yellowtail Sashimi
Yellowtail, or Japanese amberjack, is the king of raw fish. With a buttery texture, a mild sweet flavor, and a tender texture, the Yellowtail is the fish that other fish want to be when they grow up. Yellowtail is so good that you'll find it in almost every sushi restaurant.
We have a simple recipe for you if you want to try Yellowtail Sashimi at home with a delicious Soy Citrus Yuzu Ponzu Sauce.
The best thing about this dish is that it can be made within 5 minutes by using only a few ingredients. All you'll need is a sharp knife and a clean cutting board. So, what are you waiting for?
Yellowtail Sashimi Recipe
Ingredients
For Yellowtail Sashimi
6-7 ounces Yellowtail Fish
For Soy Citrus Yuzu Ponzu Sauce
1 tbsp citrus pons sauce
1 tbsp soy sauce
For Garnishing
1/2 tsp wasabi
5-6 lemon slices
5-6 thinly sliced jalapeno
1 tbsp thinly sliced pickled ginger
Instructions
Preparing the Yellowtail Sashimi:

Cut the yellowtail tuna fish into thin rectangles, each about ¼ inch thick.
Set these slices aside on a plate.

Making Soy Citrus Yuzu Ponzu Sauce:

In a small bowl, combine citrus yuzu sauce with soy sauce. Stir well.
This sauce can be used for dipping, or you can add wasabi to it for extra flavor and spice.

Garnishing:

Top the yellowtail slices with thinly sliced jalapeno and lemon slices.

Serving:

Serve the sashimi with pickled ginger and wasabi on the side.
You can also mix wasabi into the Soy Citrus Yuzu Ponzu Sauce if desired.
This method gives you a flavorful and spicy Yellowtail Sashimi dish, complemented by the tangy and rich Soy Citrus Yuzu Ponzu Sauce. Enjoy your meal!
If this Yellowtail Sashimi recipe has caught your eye, don't forget to pin the image below to keep it handy and share this tasty discovery with others!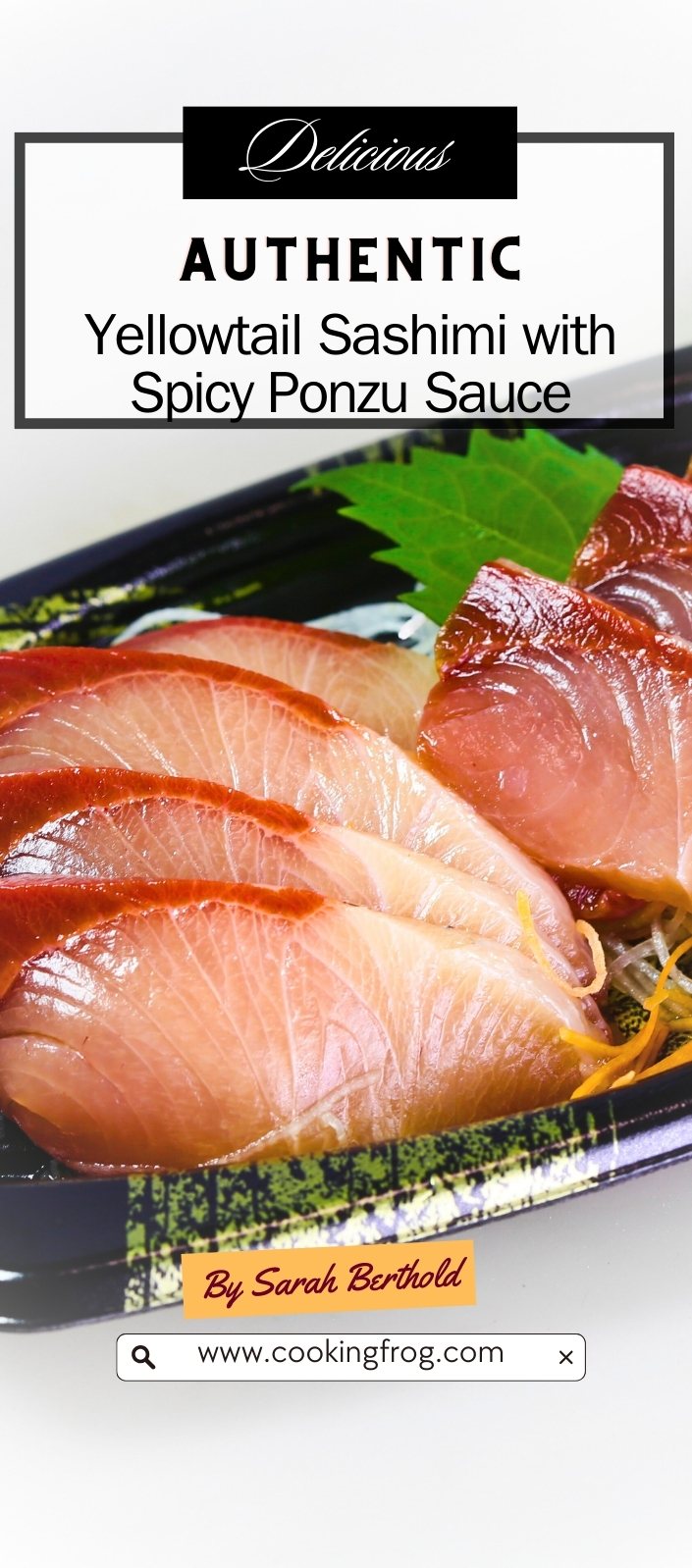 FAQs
What is the difference between Sashimi and Crudo?
Sashimi and Crudo are both types of thinly sliced raw fish. Most people assume that sashimi and Crudo are interchangeable, but there are a handful of important differences. Crudo is an Italian or Spanish dish. The fish is usually marinated in citrus juice, which is why it is sometimes called "citrus-marinated raw fish."
Crudo is usually served chilled and is meant to be eaten with a spoon. The texture of the fish will be soft, almost like a ceviche. On the other hand, Sashimi is a Japanese dish that is not marinated. It is usually served with Japanese sauces such as soy sauce or Ponzu.
How to Cut Yellowtail Sashimi?
Cutting Sashimi is an art, and if done correctly, it should be as easy as slicing through butter. The first thing you must remember is to sharpen your knife.
The second main thing is to have a stable base for cutting your fish – your cutting board should not slide. Most of the time, the fish is frozen before cutting, which helps make the cuts consistent and also helps in keeping the fish fresh.
Here, you should know that the quality of the fish is more important than the quality of the cut.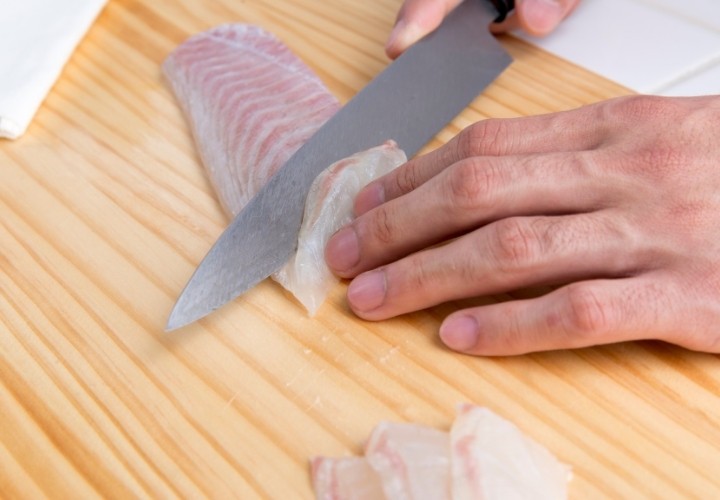 Is Yellowtail Sashimi healthy?
This dish is very healthy because it is made from fresh fish and meat. Sashimi is especially healthy for pregnant women because of its high level of highly needed nutrients, especially protein and Omega 3.
Is Yellowtail a Tuna?
Yellowtail is a fish, not a tuna. The yellowtail is a fish that can be found in the Pacific Ocean. It is commonly found around the waters of North America and Japan. Sometimes the yellowtail can grow to a length of one meter.
One of the most effective ways to catch them is by using a long line. They are known to live at a depth of from 5 to 200 meters and are usually caught by anglers that are fishing for other species of fish.
Moreover, they have a yellow streak on their sides, which makes them distinctive. Their taste is slightly sour, but it is not a bad flavor. Yellowtails are often eaten as sashimi and in ceviche. You can also use them for smoking, pickling, salting, or making fish paste.
What does Yellowtail Sashimi taste like?
If you have ever had the chance to taste yellowtail sashimi, then you already know that it is one of the most delicious fish in the ocean. It has a tender, yet firm and succulent flesh which is why it is a favorite among sushi and sashimi lovers. It tastes smooth and buttery and when eaten with Soy Citrus Yuzu Ponzu Sauce, it has a bold and spicy flavor.
The only problem is that Yellowtail can be hard to find. The best Yellowtail comes from Japan, but the best Yellowtail of all comes from Hawaii. That's why only the very best restaurants serve Yellowtail.
How to store leftovers?
It is not suggested to store Yellowtail Sashimi. Eat it immediately or store it in the fridge for less than 2 hours.
Here are some other seafood recipes you might like:
The Ultimate Blackened Tuna Steak Recipe
Seafood Boil with Delicious Garlic Butter Sauce
What is Tobiko and Tobiko Sushi Recipe
Homemade Unagi Sushi Rolls Original Recipe
Boiling Crab Shrimp Copycat Recipe
How To Cook Mahi Mahi Easy Recipe
What is Masago and Masago Sushi Recipe
Nutrition Value (per serving)
Calories: 374kcal
Protein: 40g
Carbohydrates: 37g
Fat: 9g
Tips & Tricks for Yellowtail Sashimi
If you want to make garlic ponzu sauce, add ¼ minced or pressed garlic to your Soy Citrus Yuzu Ponzu Sauce.
Both Wasabi paste and Wasabi powder will work for this recipe.
You must lubricate the knife by dipping it into the water for proper slicing.
Don't overlap yellowtail fish slices in the plate for making Nobu-style sashimi.
Wasabi helps to kill microbes in the fish. So, always serve your Yellowtail sashimi with Wasabi.
Let's Sum Up
We hope you enjoyed this simple recipe and this information helped you learn more about Yellowtail Sashimi and the ingredients you need to make it. If you have any more questions about this recipe or about fish in general, please contact us anytime.
Thank you for reading, we are always excited when one of our posts is able to provide useful information on a topic like this!
Yellowtail Sashimi Food Safety!
Consuming uncooked or raw seafood may increase your risk of foodborne illness. It is recommended to check with FDA regarding food safety and consumption recommendations.