Today we're going to make a Japanese easy Kani Salad recipe. Kani Salad is very refreshing with a sweet touch of ripe mangoes in contrast to the light and savory flavors of Kani and Japanese mayo which is very creamy.
Despite the popular notion, Kani Salad is not a conventional Japanese meal. Like a number of other dishes, it really first became popular in the United States. It was usually served at Japanese sushi restaurants that spread to other areas of the globe. The key element of this salad is, needless to say, the Kani.
What's Kani?
Kani is widely known as a replica of crab meat, usually available in lots of Japanese dishes such as for example sushi. Kani really means "crab" in the Japanese language, and the imitation crab meat that people eat is named Kani Kamaboko or just Kanikami. Regardless of this, Kani is a widely accepted name for imitating crab meat.
These replica crab meats are produced from white fish, such as, for example, Pollock, made to become a paste called surimi. They are created to taste near real crab. Each crab stick could be shredded easily and is colored in red, artificially and externally, to imitate the crab's legs and appearance.
Kani is less expensive compared to crab meat, but, needless to say, mimicking crab can't compete with the actual crab's nutrition. These crab sticks can be found at virtually all local food markets and can be purchased already cooked. It's used as an element in a variety of Japanese dishes and street foods and is used all over the globe.
Making this Kani Salad really needs simple ingredients. An average Kani Salad contains an imitation of crab sticks, lettuce, iceberg, carrot, cucumber, and of course, Japanese mayo. But when you wish to take it to another level, listed below are a few of the things that you can include:
Ingredients you can use with Kani Salad
Mango: it adds to the sweetness and excellent taste of your Kani Salad. For ultimate punch, work with a perfect, ripe mango sliced it into strips.
Avocado: makes it even healthier. Avocado brings a rich, buttery, and creamy taste to your Kani Salad.
Kelp Noodles: are produced from kelp (a sea vegetable) and water. Kelp noodles are tasty but light for your stomach.
Corn kernels: are crunchy in texture and add juiciness to Kani Salad.
For Kani Salad Toppings
Tobiko: Japanese fish roe that adds to the sea-food taste in your Kani Salad.
Black Sesame Seeds: could make a good contrast while adding a crunchy and nutty texture to your Kani Salad
Panko Breadcrumbs: Japanese form of breadcrumbs which are processed to be like flakes. Panko adds a crunchy and crispy texture to your Kani Salad.
Gomashio: a seasoning from Japan produced from sesame seeds and salt. Gomashio will add to a crunchy texture and nutty flavor to this Kani Salad.
The recipe for this Kani Salad is straightforward. The only addition to it is ripe mango to provide it with a richer flavor that's sweet, and savory with a touch of tanginess.
Share the image below to your Pinterest below if you like this Kani Salad Recipe!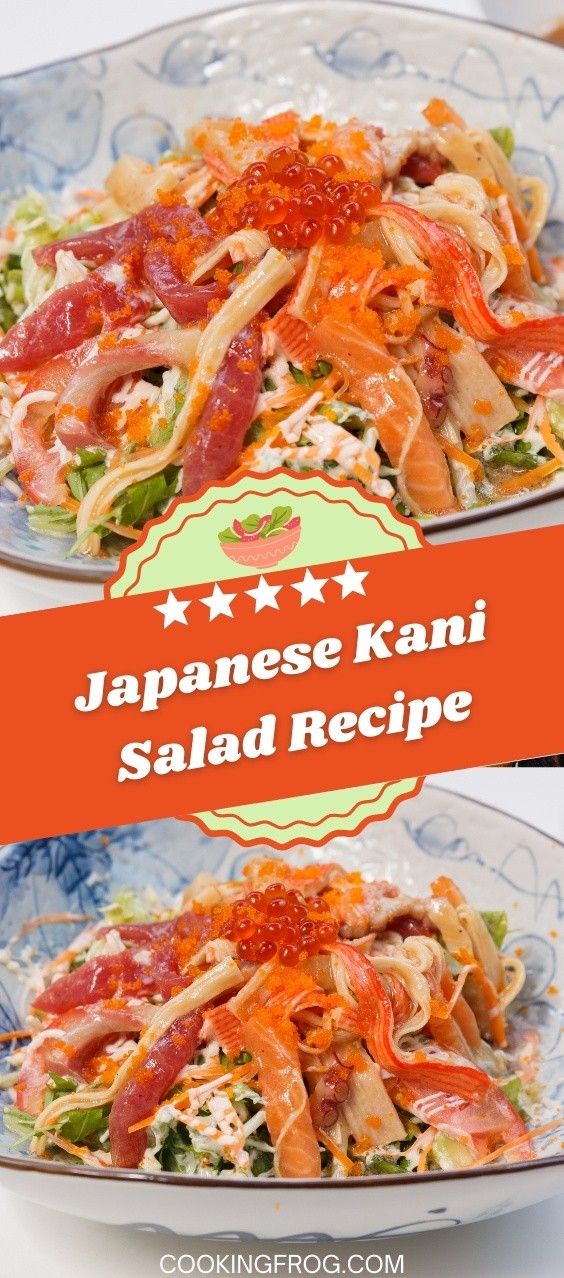 Ingredients
5 oz of Kani
1 carrot, medium size
2 cucumbers, medium size
1 ripe mango
1/2 cup of Japanese mayonnaise
1/2 lemon
salt and pepper
How to Make Japanese Kani Salad
Prepare the carrots by peeling and trimming off the ends. Cut into just around 3 inches long, into julienne (french cut).
Do exactly the same with the cucumber but exclude the core with seeds.
Using your hand, shred the crab sticks manually by easily pressing a bit from one end to another end, to loosen the strips and then split every strip from each other.
Next, peel the mango. Slice the flesh into thin pieces till you reach the core. Do exactly the same to the other core side. Pack the ripe mango slices together and cut them into strips.
Using a large bowl, add the carrots, cucumber, Kani, mango, and Japanese mayonnaise.
Take a lemon and squeeze the juice from it and toss. (use half of the lemon juice)
Season the Kani Salad with pepper and salt according to your liking, and give it another toss till all the ingredients blend nicely.
Serve right away or place in the fridge for later. Serve together with iceberg salad or romaine lettuce, if you like.