Do you enjoy Taco Bell Chalupa? Using this easy Taco Bell Chalupa recipe, you can prepare them at home in no time. The crunchy, puffy structure of the chalupa bread will transform your next Taco Tuesday into a family staple.
This is a dish that my family always wants! These handmade chalupas are our go-to for a quick weekday supper that's both entertaining and delicious! Chalupas have sturdier shells than regular corn or wheat taco shells. They're the ideal blend of crispy and puffy.
Let's learn how to prepare chalupas for a delicious homemade meal!
Chalupas: What are They?
The chalupa is a South-Central Mexican specialty. Authentic chalupas are produced by forming and frying masa batter into the appearance of a boat. Only salsa cheese and shredded lettuce are used to top the flat-fried flatbread.
The American Taco Bell chalupa supreme resembles a fried flatbread/taco combination. Only a few pantry goods and some oil are needed to make the fried shells. The contents are adjustable as long as you have the components to construct the shell!
What is the Difference Between Tacos and Chalupa?
Although the toppings for tacos and chalupas are similar, some parts of the world do not include meat in their chalupas. They keep the toppings simple with salsa, cheese and lettuce.
The shell is what makes tacos different from chalupas. Although you can use the taco holders both ways, traditional tacos come with corn tortillas and are soft-shelled. American versions might have crispy folded shells or wheat tortillas instead. Chalupas are rigid and boat-shaped.
More Information About Chalupa Shells
This is a recipe for a homemade/copycat Taco Bell chalupa supreme. Their shells are formed like taco shells and loaded with ground beef and garnishes, comparable to flatbread. The shell for this chalupa dish is a variation of Native American fry bread (also known as Navajo fry bread).
I found and fell in love with this bread while camping with my brother in Arizona. I roll out the dough to the diameter of a tiny tortilla and cook it to form the taco shell. The fried bread looks like a flat funnel cake. It is the closest approximation I've found to Taco Bell's chalupa bread's thin, bready exterior.
Are Taco Bell Chalupas Good?
The Chalupa Supreme is a popular choice for vegetarians as well as meat-eaters. It can be filled with beef or black beans, making it a crowd favorite. The thick, soft shell is what makes this dish stand out. Once you take a bite, the sensations in your mouth are so good that are hard to describe. The dish is flawless and every Taco Bell order should include a Chalupa.
Main Ingredients for Taco Bell Chalupa Copycat Recipe
Ground Beef
For my Taco Bell chalupa recipe, I use an 80/20 ground beef blend, which means it's approximately 80 percent lean beef and 20 percent fat. This type is great because the fat adds taste, although a leaner cut can be substituted. Fresh is ideal, so have your butcher mince it for you.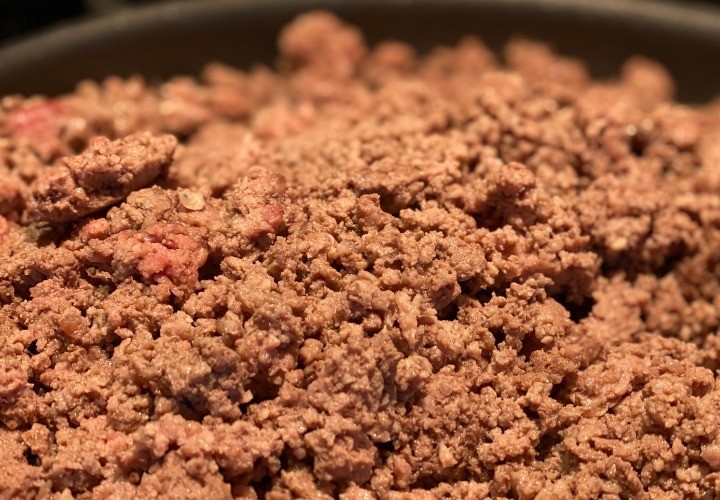 Seasonings
I prefer to prepare my own ground beef seasoning blend so that I have more power over the flavor by utilizing the spices I have available in my spice cupboard. Chili powder, paprika, salt, cumin, coriander, and cayenne pepper are used to make this "taco seasoning." 1 tablespoon + 1 teaspoon store-bought spice mix can be substituted.
Cornstarch
I add a little cornstarch to the seasoning mixture to help thicken the beef and bind the spices to the meat.
Iceberg Lettuce
Although lettuce isn't commonly used in tacos, shredded iceberg lettuce gives this meal a crunch. If necessary, use shredded romaine lettuce; however, it may be more challenging to load into the shell.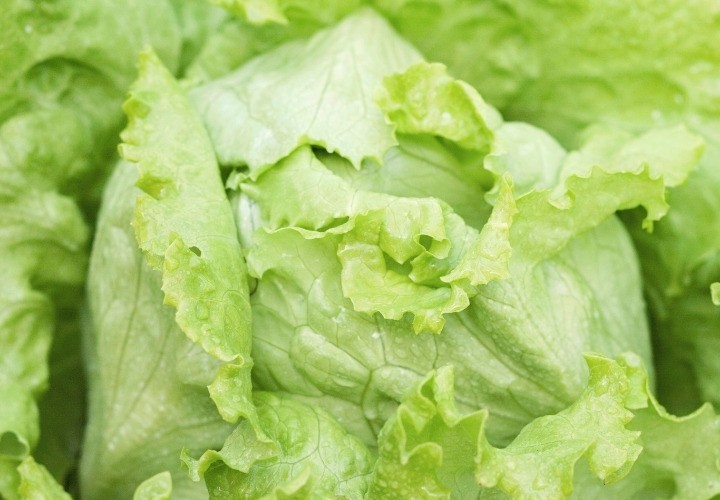 All the Cheeses
Colby Jack cheese has a creamy consistency and a tangy taste, akin to mild Cheddar cheese. For a stronger flavor, replace the Colby Jack with any semi-hard cheese such as Cheddar, Monterey Jack, or Pepper Jack.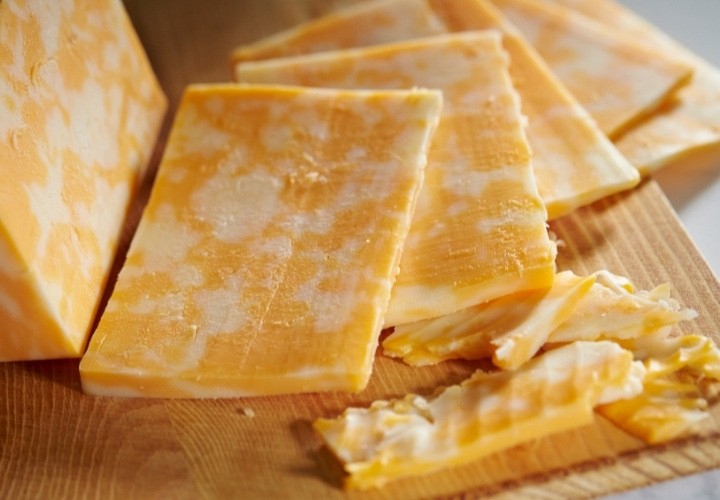 Tomatoes
Rather than pico de gallo, I cover the chalupas with chopped tomatoes for a healthy, fresh touch. I prefer Roma tomatoes, but any type would do.
AP Flour
With this dish, I use AP flour. It's a multipurpose flour that may be used in a variety of baked and fried dishes. Although self-rising flour has baking powder, I like to use all-purpose flour and the baking powder myself.
The Sour cream
The chilled sour cream balances out the seasoned beef. It provides a velvety flavor to the chalupa and helps to hold the levels of ingredients together within the shell. Use Greek yogurt instead of sour cream for a lighter version.
Hints & Techniques for Making Chalupas at Home
Variants/ Replacements for this Dish
For a vegetarian replica of this meal, use black beans for the seasoned ground beef.
You may use ground chicken or turkey for the ground beef in your chalupa supremes. Use minced chicken for convenience.
The nicest part about making your own chalupas is how you can top them with anything you want. Add a dollop of guacamole or pico de gallo for a deluxe touch.
Instructions for Preparing Chalupa Shells
Fresh chalupa shells are the greatest! They may be reheated for around 3 minutes under the broiler or in an air fryer set to 350 F (180 C).
Fry in advance – The fried chalupa shells may be stored in sealed containers for two days.
Put it in the fridge – The dough may be prepared up to a day ahead of time and chilled until intended use.
Freeze – The dough circles may be formed and then placed between sheets of wax paper. Put in a Ziploc bag and freeze until ready to cook. They could be prepared up to a week ahead of time.
Share the image below to your Pinterest board if you like this Taco Bell Chalupa Copycat Recipe!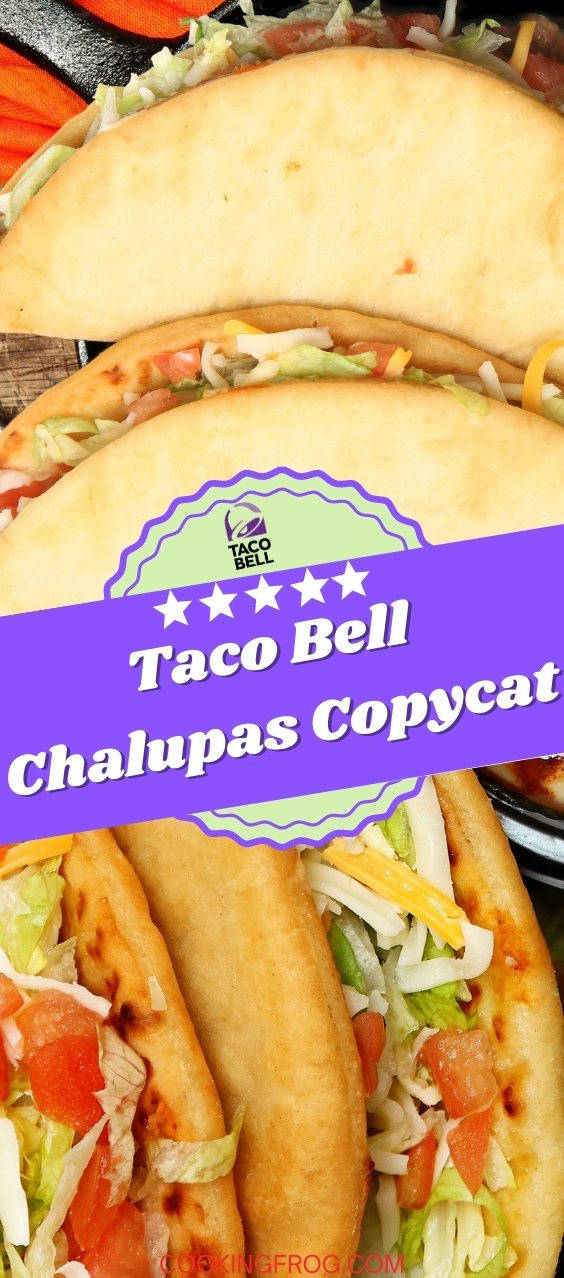 List of Ingredients:
The Shell:
½ tsp kosher salt
1 tsp white vinegar
1 tbsp baking soda
1 cup whole milk
2½ cups AP flour, more if required
Vegetable oil for frying
The Spiced Ground Beef:
¼ tsp cumin
¼ tsp coriander
¼ tsp cayenne
½ tsp paprika
½ tsp kosher salt
1 tsp chili powder
1 tsp cornstarch
1 tbsp vegetable oil
1 lb. of 80/20 ground beef
The Toppings:
Hot sauce (if you want)
¼ cup sour cream
½ cup grated Colby Jack cheese
1 cup shredded iceberg lettuce
1 medium Roma tomato, cored and diced
Directions:
Making the chalupa shells:
Whisk together the flour, baking soda, and salt in a medium mixing basin. Add the vinegar and milk and stir until a rough dough forms.
Place the batter on a floured, clean surface. Knead the mixture until it comes together, then split it into 8 equal portions (approximately 75 g each).
Add in enough oil to a cast iron pan so that it reaches 1 1/2″ up the side. Heat the oil at 325 F or 170 C on medium heat.
Flatten each dough ball into a 6-inch circle.
Taking one at a time, gently put one of the flattened-out dough portions in the heated oil. Fry for 30 seconds, or until the bottom is golden brown but not quite burnt; otherwise, the sheet will not fold.
Turn and form into a taco shell, cooking for 30 seconds more on each side.
Drain the fried bread on paper towels. Continue with the rest of the dough.
Making the seasoned ground beef:
In a small bowl, whisk together the chili powder, cornstarch, paprika, salt, cumin, coriander, and cayenne.
Using paper towels, pat the meat dry. Heat the oil in a big cast iron skillet over medium-high heat. Cook, tossing regularly and breaking up the meat with a wooden spoon until the ground beef is browned, approximately six minutes.
Stir in the spice blend and 1/3 cup water. Take off the heat after stirring to mix.
Filling the Shell:
Stuff each chalupa shell halfway with seasoned ground meat. Serve with shredded lettuce, sour cream, cheese, and tomatoes on top. Serve right away with hot sauce on top. Enjoy!
See more Popular Copycat Recipes Below:
Copycat Panda Express Orange Chicken Recipe
Popeyes Chicken Sandwich Recipe (Copycat)
Homemade Chick-fil-A Sauce Copycat Recipe
El Pollo Loco Chicken Recipe (Copycat)
Chick-Fil-A Chicken Salad Copycat Recipe
Authentic Arby's Jamocha Shake Copycat Recipe
Arby's Beef and Cheddar Sandwich Copycat Recipe