Hello there, i have a very special dish today and it is Mexican Beef Birria Tacos recipe. A robust and tasty beef dish that is nicely served as a stew with onion, cilantro and a bit of lime juice on top. You may also chop up the meat and prepare the famous Quesabirria tacos.
These Birria tacos are very popular–perhaps the most popular taco types you'll stumble across on social media. My dear friend Ana, who is an expert in Mexican recipes showed me how to make this delicious Beef Birria Tacos.
What Is Beef Birria?
Birria originates from Mexico, and it is a stew full of meat and amazing flavors. And there are a lot of variations to this dish depending on the area. There are restaurants specialized in this dish called birrerias. Although the original recipe is made with sheep and goat meat, today is almost always made with beef.
Beef Birria is getting more popular over the last few years for it's amazing flavors and texture.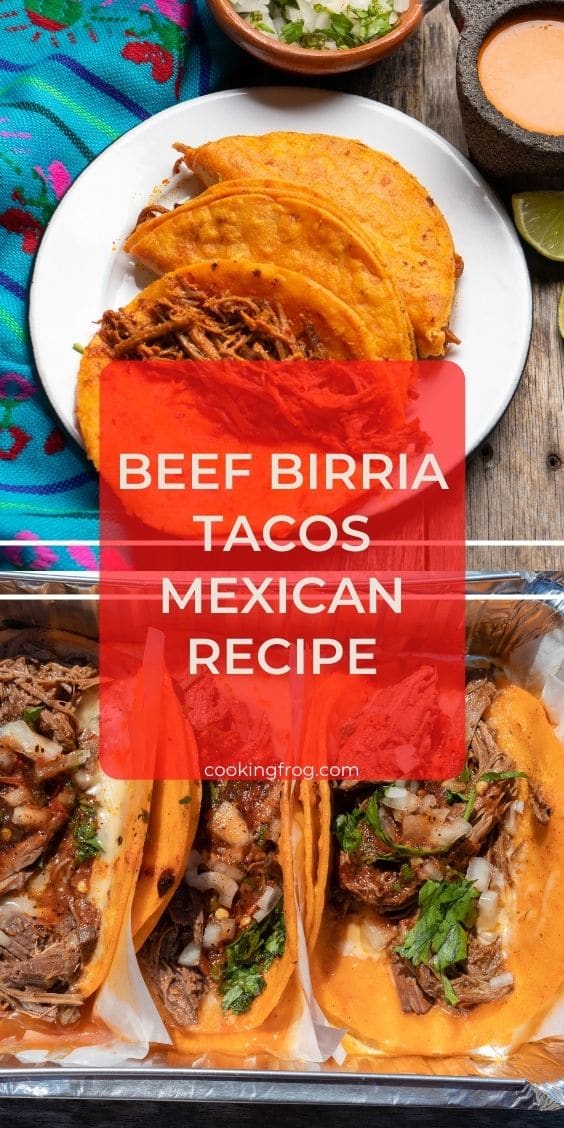 Ingredients
FILLING/BIRRIA DE REZ
2 lbs/1kg boneless beef chuck
1 lbs/450g short ribs or oxtail
1 tsp vegetable oil (neutral)
SAUCE INGREDIENTS
7 ancho chiles, deseeded and ends trimmed
7 guajillo chiles, deseeded and ends trimmed
3 de Arbol chiles, deseeded and ends trimmed
4 Roma-type tomatoes
1 white onion, peeled and cut in half
6 garlic cloves
1 tbsp black peppercorns
1 tsp Mexican oregano
1 tsp cumin seeds
1 tsp coriander seeds
¼ cloves, ground
Half cinnamon stick
2-3 bay leaves
1 tsp ACV
3 cups beef broth
BEEF TACOS:
Corn tortillas
3 oz. Mozzarella or Oaxacan cheese
1 lime, juiced
¼ cup cilantro, finely chopped
¼ white onion, finely chopped
Kosher salt
Instructions
TO SAUTE/SEAR THE MEAT
Leave the meat to rest for about half an hour at room temperature and season all sides with kosher salt.
Take a big dutch oven or baking pot with a lid and place it over medium to high heat and add the vegetable oil. These will require a few batches. Transfer to a big bowl.
SAUCE PREPARATION
At the same time, in a separate medium pot, combine the dried chiles, white onion, garlic, spices, cloves, and bay leaves and pour cold water until everything is covered.
Set over medium heat and let simmer slowly for about 15 minutes. Pass through a strainer and move everything to a blender or food processor.
If your blender is not big enough, you may have to process multiple batches.
Add the ACV vinegar and 1 cup of beef stock or water to the mix and process until smooth, for a couple of minutes. Season with salt to taste.
Note: My blender is very strong and it came out totally creamy and smooth. However, if your blender is not sharp or strong enough, you may have to pass the sauce through a strainer or cheesecloth to remove any large bits that the blender didn't dissolve.
FOR BRAISING THE MEAT
Preheat your oven to 300F/150C. Add the meat back to the pot and pour the sauce over the beef.
Add the remaining 2 cups of stock or water to the blender and move it around to catch any remaining sauce and add it to the pot.
Set over medium heat until you notice a subtle simmer. Cover immediately and pop into the oven. Let cook for 3 hours or until the beef is tender.
TACOS ASSEMBLY
Combine the white onion, cilantro, salt and lime in a bowl.
Discard the beef from the sauce and pull using 2 forks. Transfer the stock into a bowl and top with the chopped cilantro.
Place a non-stick pan over medium heat. Dip each tortilla into the upper surface of the stock (the greasy part) and add to the pan.
Roast for 30 seconds on each side. Add the shredded beef and cheese. Fold over and pan-fry on both sides for a minute.
Move to a serving dish and serve with the broth on the side.