This uniquely delicious recipe for chicken leg-quarters are marinated with many flavors using the famous wet rub, which takes their taste to the next level. They have juicy and tender meat inside, covered with a crispy golden layer of skin, and are finger-licking good. It's a budget-friendly and fantastic recipe that will surely impress your family.
Oven-Baked Chicken Leg Quarters
I mostly share patience and budget-friendly recipes simultaneously, and this mouthwatering oven-baked chicken leg quarters recipe is one of them.
These chicken leg quarters are quite simple and cheap, but when you season them with a wet rub loaded with multiple flavors and bake them in the oven, you will get an amazing dish, just like the fancy dishes you order in restaurants.
The oven's heat must be turned up at the very end to make the skin golden and crisp. It's an easy and simple recipe that can be prepared in no time. You can get the chicken ready in no more than 5 minutes. Once seasoned, you can put the chicken in the oven for almost one hour.
You can make side dishes for your meal plan during this one hour. Baking the chicken is no fuss at all unless you don't know how to do it right. Here I've got you the simplest yet delicious recipe with clear instructions that even a newbie can follow; it is easier to bake the perfect Chicken leg quarters recipe.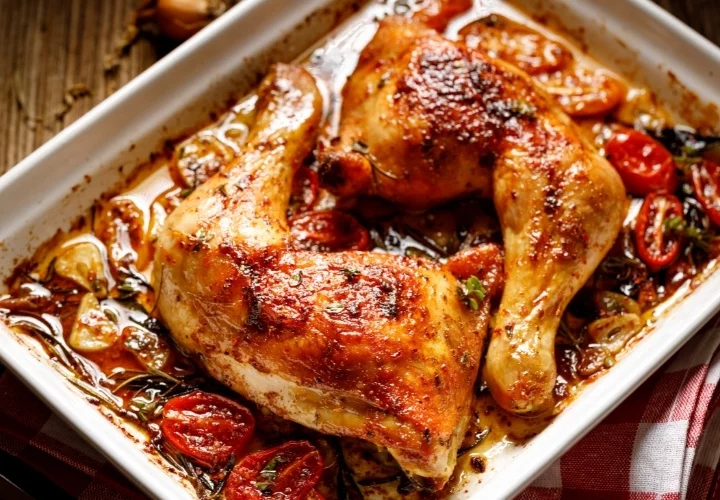 Best Method to Bake the Chicken Legs
The best technique to make a tender and juicy chicken is to start at a low temperature and finish at a high temperature to get the crispier chicken skin. Baking it in the oven is a bit time taking but it takes only 5 minutes to do the preparations by hand.
The Juice in the Baking Pan
The juice that accumulates at the bottom of the baking pan is super delicious and can be used best if dripped on the vegetables you plan to serve with the chicken. Or you can use it as a gravy for your potatoes and serves them with the leg quarters.
Baking Time for Chicken Leg Quarters
You can try the same recipe for different meat cuts as well. Baking time varies with different meat cuts. You can ideally make your bone-in, skin-on cut with this recipe because it gives you a moist, flavorful chicken by following a few simple steps. You should check your chicken pieces with a thermometer if you use meat cuts other than the chicken leg quarters.
Should the chicken skin be removed?
No! Absolutely not. Chicken skin gives a unique and delicious taste, just like bones. Its golden brown color gives it a look of fancy restaurant foods. Chicken leg quarters are higher in calories so you won't cook every day. But it's an excellent option to go for once in a while.
Are these Chicken Leg Quarters healthy?
Chicken, irrespective of the cut you choose, is always an excellent protein source. Chicken breast is the best part of the meat as it's a low-fat and low-calorie source of protein which is the best option for calorie-conscious people.
For how long can you store these Chicken Legs?
You can store these chicken leg quarters for 3 – 4 days in an airtight container or ziplock plastic bags. Whatever you choose, the container or the plastic bag, make sure to line it with a paper towel at the bottom to soak the excess liquid and prevent the chicken from getting soggy. It is recommended to reheat the chicken in the oven to make the skin crispier again.
Wet Rub for Chicken Legs
Here is how to make an amazing seasoning for your chicken legs. This amazing seasoning not only enhances the taste of the chicken but also gives it an unmatched aroma you will quickly become a fan of. The secret to making the leg quarters so amazingly delicious is this wet rub that you can easily prepare yourself.
To make the wet rub, mix some chili powder, smoked paprika, black pepper, garlic powder, Italian seasoning, salt, and olive oil. All these ingredients are full of superb flavors that give a mouthwatering taste to your chicken legs.
In the recipe section, I will give you measurements of its ingredients. The best thing about this rub is that you can adjust the number of its ingredients as per your taste. For example, If you like the smokey flavor of the paprika, you can add more than what is mentioned in the recipe section. You can also use this rub for your whole chicken, baking, and grilling or use it in your vegetable recipes.
To prepare the wet rub, just combine all the dry ingredients in the bowl and add some olive oil in it and mix well. Your wet rub is ready. You can save some for your vegetable dishes as well.
Share the image below to your Pinterest board if you like these Chicken Leg Quarters!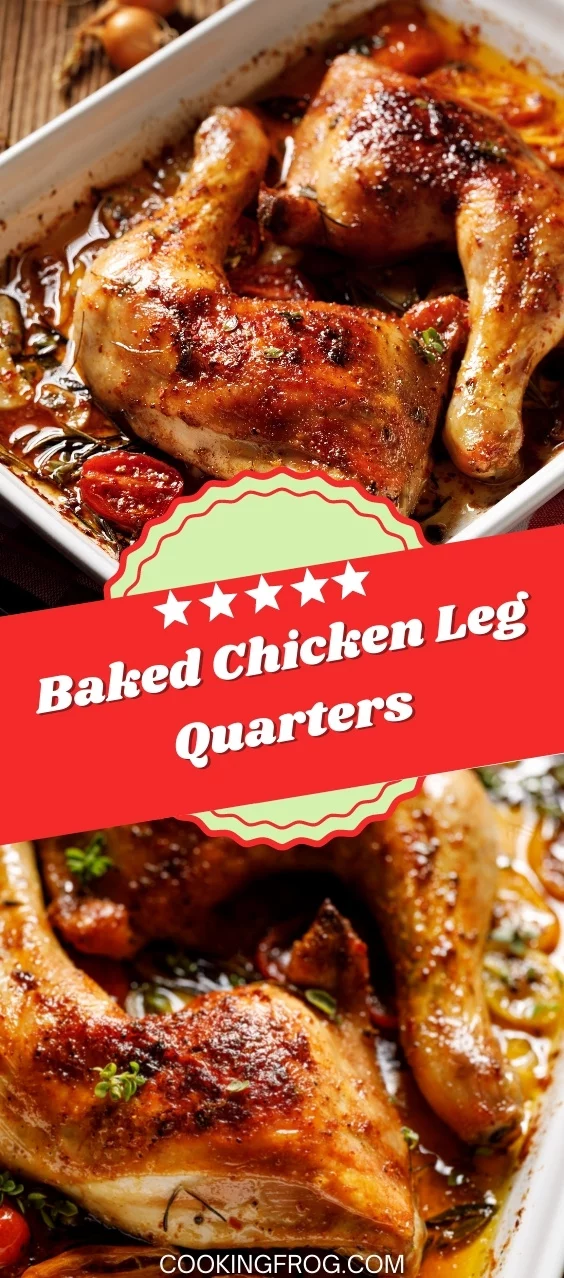 Some Important Tips:
One of the most essential steps to make the skin crispier is to pat dry the chicken legs before applying the wet rub. Pat dry the chicken using a paper towel. The paper towel will absorb all the excess moisture from the chicken, and the wet rub will stick to the chicken better.
It is recommended to use the chicken at room temperature. Just take the chicken out of the fridge a few minutes before seasoning it with dry rub. This will help you make an evenly cooked chicken.
During grilling, meats are seasoned with different rubs that tend to burn when sugar is used in its seasoning. But nothing to worry about here. This wet rub doesn't contain any sugar.
Ingredients
4 Chicken Leg Quarters (Bone-in & Skin-on)
1 teaspoon Italian Seasoning
1 tablespoon Olive Oil
½ teaspoons Black Pepper
½ teaspoon Red Chili Powder
1 teaspoon Salt (Preferably Kosher)
1 tablespoon Smoked Paprika Powder
8 Small Red Potatoes
1 teaspoon Garlic Powder
2 Large Carrots (Diced)
Instructions
For the rub, combine all the dry ingredients (spices) in a small bowl and add olive oil to it. Don't forget to save some for the vegetables.
Pat dry the Chicken legs with a paper towel. Now apply the wet rub evenly on the chicken. You can rub it easily with your hands, but you can also use gloves if you are not comfortable. Use your fingers to apply rub directly on the meat inside the skin.
After applying the rub evenly, place the chicken legs on the baking sheet and bake them for 40 – 60 minutes at 400°F.
Cut the vegetables into your desired shape and place them in the baking pan. Add the rub you saved earlier in the vegetables and place them in the baking oven after the chicken has been cooked for about 20 – 25 minutes, as vegetables don't take long to be cooked. You can bake the vegetables and the chicken together if you want to. But it will make your vegetables a bit softer.
Chicken Leg Quarters Video Recipe
If you like these Chicken leg quarters recipes, please check out the recipes below:
Cheesecake Factory Nashville Hot Chicken Nuggets (Copycat)
KFC Chicken Littles Recipe (Copycat)
Homemade McDonald's Chicken McGriddles (Copycat)
Popeyes Chicken Sandwich Recipe