These may be the greatest homemade Ensaymada you've ever cooked. Who can ignore this fluffy and delicious sugary dough cooked into pillowy buns? Slathered with buttercream icing and covered with a generous amount of shredded cheese. It is the ideal complement to coffee or tea. But be warned: one slice will never suffice.
What exactly is Ensaymada?
Ensaymada is a delicate Filipino, sweet dough delicacy coated with butter and sugar and served with a generous amount of shredded cheese.
It was inspired by the Spanish Ensamada but has changed through time to be what it is today that so many Filipinos like. It is basically Filipino Brioche buns.
We used to go on holiday in the Philippines when we were kids; when our parents took us to Bulacan for a trip, they would bring us some exceptional Ensaymada.
This delicacy is accessible at any local bakery as well as well-known bakeshop chains in the Philippines. This pastry dish is one of my favorites. I like to have it as a mid-afternoon treat with a cup of freshly prepared coffee.
Back when I was a kid, Ensaymada was just coated in butter, dusted with sugar, and covered with cheese. They were made much more remarkable with the introduction of sliced salted eggs.
Presently, the most preferred Ensaymada is the incredibly soft and fluffy variety. They are typically covered with shredded cheese and buttercream icing. They are really wonderful, and this dish is no exception.
I've combined my knowledge, and I did a lot of reading on how to make the best soft Ensaymada, and I am very pleased with the results of this technique.
If you follow my blog, you already know how much I love Filipino cuisine. You can check some of my recipes in the links below: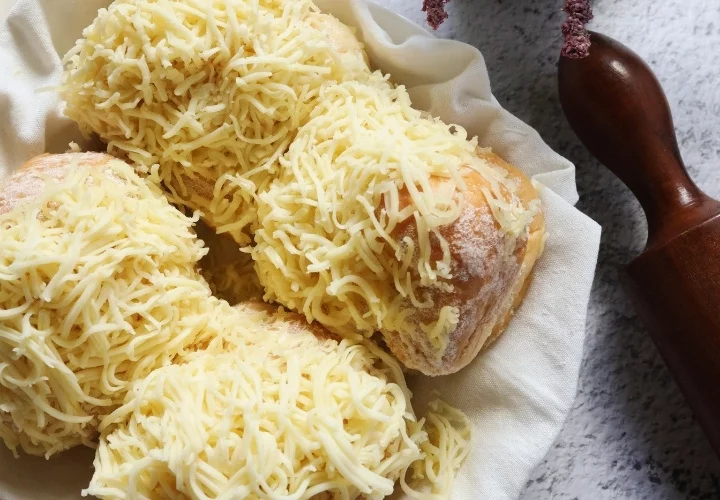 The key to making the greatest fluffy Ensaymada
I have to admit that the batter was really sticky when I was preparing it, and I was wondering if it would rise at all.
But I was shocked to see how nicely it rose. I learned so much when cooking Ensaymada that I'll have to revise my recipe for fried doughnuts.
The answer, I discovered, was patience. In fact, I dozed off while waiting for the dough to expand… so… after three hours of resting attentively, I was surprised to realize that my rather sticky dough had more than doubled in size!
With the exception of the nap, I performed the same method on my second and third trials, and the results were perfect. But I kept it from climbing any higher than about double. We don't want to overdo them.
This recipe yields 16 soft, buttery, and tasty Ensaymadas.
Recipe Details for Ensaymada
At first, this dough batter is rather soft and sticky. The gluten composition will become more stretchy and much less sticky as it develops. Try not to add too much excess flour. The stickiness of the dough will decrease as you knead it.
This dough could be made ahead of time. Seal it with saran wrap and place it in the fridge overnight after kneading. Let it stand at ambient temperature for about half an hour before using it, then flatten and form it.
When using active dry yeast, the batter takes more time to rise than when using instant yeast. I definitely like SAF Instant Gold (made particularly for sweet dough) or Red Star Platinum. Since they grow faster, they are less likely to develop a slightly acidic, fermented flavor.
I utilized shortening for the dough, but many people wonder whether they may use butter. The simple answer is yes. While butter creates delightful buttery bread rolls, shortening makes baked items fluffier and lighter in consistency.
If you like this Ensaymada recipe, please share the image below on your Pinterest board so you can spread the word! Thank you! 🙂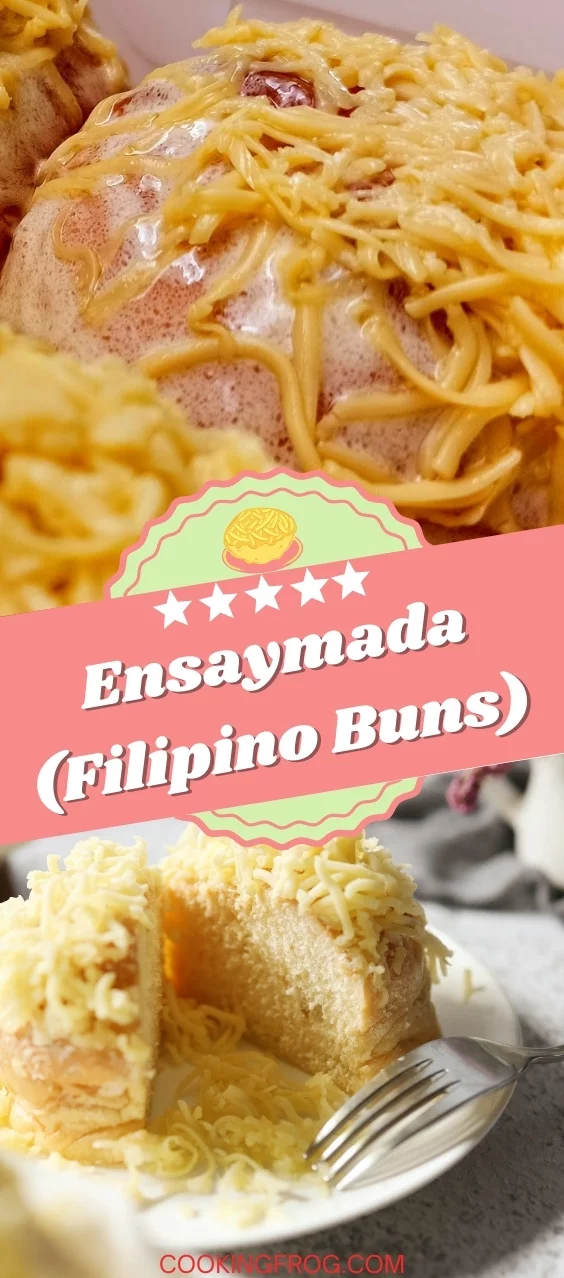 List of Ingredients
¼ tbsp salt
1 packet of active dry yeast (around 7-9 grams (¼ oz) or 1 tablespoon) – proofed in ¼ cup of warm water
¼ cup butter – softened to room temperature- for brushing
⅓ cup sugar
½ cup shortening -softened to room temperature
1 cup milk
3 egg yolks
3 ½ cup flour
For the Toppings
½ cup butter – softened to room temperature
½ cup powdered sugar
1 cup Kraft cheese or other grated cheese
Directions
Combine milk, shortening, sugar, and salt in a mixing dish.
Put half of the flour and the bloomed yeast in. Blend on medium speed for 3-5 minutes or until the consistency is like a paste.
Stir in the egg yolks and the remaining flour for 3 minutes. If the dough is too wet or tacky, throw in some additional flour, but not much. The dough is meant to be sticky.
Clean the edges of the bowl while kneading the batter in the center, then tent with a kitchen towel. Allow it to sit and rise in a warm location for 2-3 hours or until it has doubled in size.
Transfer the batter ball to a lightly floured work area.
Shape the batter into a rope and cut it into two pieces. Then, roll each piece once more and cut it into two parts. Repeat this technique until you have 16 slices.
Flatten a piece into a rectangle (8×4 inch) with a rolling pin and paint the surface with melted butter. Stretch it from one end of the long side to the other to form a long, thin log, then bend it into a spiral shape with one end folded underneath the other.
Put each coiled sheet in an oiled mold. Let it sit in an area around 70 F for 30 minutes to 1 hour or until it has almost doubled in size.
Cook for 20-25 minutes at 300°F/150°C in an oven. Allow them to cool for a couple of minutes before pulling them from the molds. Then set them aside to cool fully.
Next, make the buttercream by mixing 1/2 a cup of softened butter and 1/2 cup of powdered sugar together.
Then utilize a knife or spoon to spread buttercream on top of the Ensaymadas, followed by a liberal quantity of shredded cheese.
Tips
Alternatively, you may use instant yeast, which does not need to be proofed and can be mixed into the flour prior to kneading. Using quick yeast reduces rising time as well. Alternatively, add 1/4 cup of water for proofing ADY.
I suggest using SAF Instant Gold, which is designed for sweet dough for puffier and quickly rising.
Conclusion
I hope you've enjoyed this homemade Ensaymada as much as I have while making the recipe. Filipino cuisine is really amazing, and I'll be looking into more recipes from this amazing Island in South East Asia. If you have any questions or suggestions about the Ensaymada recipe, please share your thoughts in the comments section, and I'll reply. Thanks!