Greek cuisine is renowned for its harmonious blend of flavors, and this Greek Lemon Chicken is no exception. With its tantalizing lemon-herb marinade, this dish promises a burst of Mediterranean flavors in every bite. Not only is it a treat for the palate, but it's also easy to prepare, making it excellent for both weeknight dinners and special occasions.
The Magic Behind Greek Lemon Chicken
Chicken, especially the thigh portion, is cherished for its juicy and tender meat. When combined with the right ingredients, it transforms into a culinary masterpiece. This recipe celebrates the union of chicken with a zesty lemon marinade infused with aromatic herbs. The result? A golden-baked chicken that's irresistibly delicious.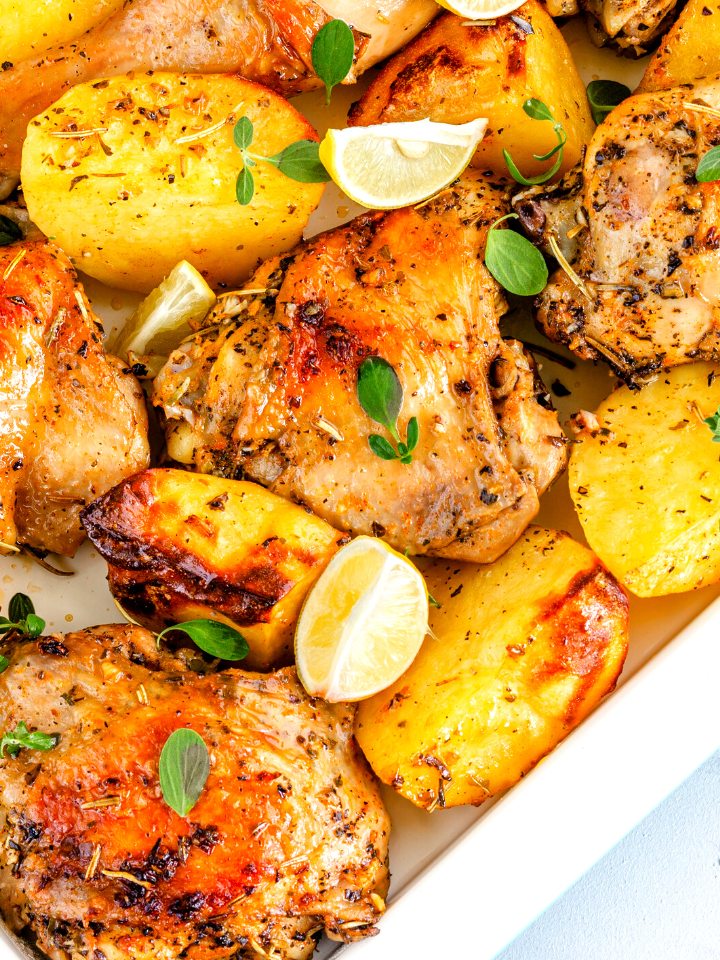 Greek Lemon Chicken Recipe
Ingredients:
8 skin-on, bone-in chicken thighs
⅓ cup olive oil (extra-virgin)
⅓ cup lemon juice
3 garlic cloves, minced
1 tablespoon dried oregano
2 teaspoons dried thyme
2 teaspoons Dijon mustard
2 teaspoons kosher salt
1 teaspoon freshly ground black pepper
1 teaspoon lemon zest (optional for added flavor)
1 teaspoon dried rosemary
Instructions:
Preparing the Marinade: In a mixing bowl, combine olive oil, lemon juice, Dijon mustard, lemon zest (if using), oregano, thyme, rosemary, minced garlic, salt, and pepper. Whisk until well combined.
Marinating the Chicken: Place the chicken thighs in a large bowl. Pour the marinade over the chicken, ensuring each piece is well-coated. Allow the chicken to marinate for 1-2 hours in the refrigerator.
Baking to Perfection: Preheat the oven to 350°F (180°C). Transfer the marinated chicken thighs to a baking dish, arranging them skin side up. Drizzle any remaining marinade over the chicken. Bake for 40-45 minutes or until the chicken is golden and fully cooked. For an added touch of crispiness, broil for the last 2-3 minutes.
Serving: Once baked to perfection, serve the Greek lemon chicken with this Greek lemon rice, or your choice of side dishes. Garnishing with fresh lemon slices or herbs is optional.
Ready to take your Greek Lemon Chicken to legendary status? Dive into these zesty twists and let your taste buds dance the sirtaki! And hey, if you're feeling the love, why not pin the image below? After all, sharing is caring… especially when it's this delicious!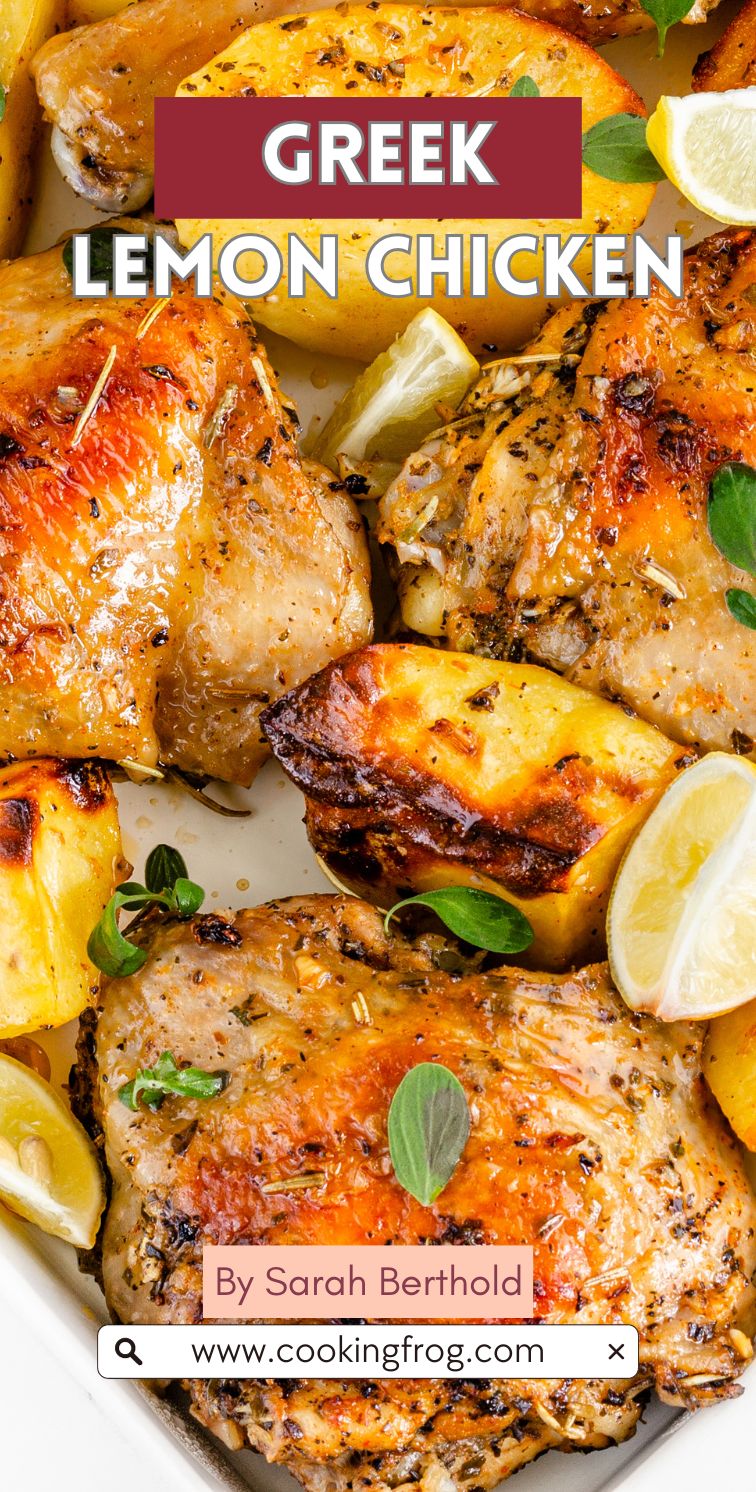 Delectable Variations of Greek Lemon Chicken:
Spicy Kick: Add 1-2 teaspoons of red chili flakes or a tablespoon of sriracha to the marinade for a spicy twist.
Creamy Lemon Chicken: After baking, pour a mixture of ½ cup of heavy cream and 2 tablespoons of grated parmesan over the chicken. Bake for an additional 10 minutes until creamy and bubbly.
Lemon Chicken with Olives: Add ½ cup of pitted Kalamata olives to the baking dish before cooking for a briny depth of flavor.
Herb-Loaded Chicken: Incorporate fresh herbs like basil, parsley, and cilantro to the marinade for a burst of freshness.
Lemon Chicken with Feta: Sprinkle crumbled feta cheese over the chicken 10 minutes before it's done baking for a creamy, tangy addition.
Honey Lemon Glaze: Mix 2 tablespoons of honey with 2 tablespoons of lemon juice and brush over the chicken in the last 10 minutes of baking for a sweet and tangy glaze.
Lemon Chicken with Vegetables: Add sliced bell peppers, zucchini, and cherry tomatoes to the baking dish for a wholesome one-pan meal.
Mediterranean Stuffed Chicken: Before marinating, stuff each chicken thigh with a mixture of chopped sun-dried tomatoes, olives, and feta. Secure with toothpicks and proceed with the recipe.
Lemon Chicken Skewers: Instead of baking, thread marinated chicken pieces onto skewers with bell peppers and red onions. Grill until charred and cooked through.
Lemon Chicken with Capers: Add 2 tablespoons of drained capers to the baking dish for a salty and tangy bite.