There's something undeniably comforting about a dish that requires minimal effort yet yields maximum flavor. Crock Pot Ribs are the epitome of this culinary philosophy.
Picture this: tender ribs, slow-cooked to perfection, each bite infused with a smoky sweetness that only a slow simmer can achieve. It's the kind of meal that brings a smile to your face after a long day, the kind that has everyone at the dinner table asking for seconds.
The Art of Slow Cooking Ribs
I've shared my secrets for Instant Pot Ribs and Barbecue Ribs in the Oven, but there's a special place in my heart for these Crock Pot Ribs. The process is straightforward, yet the results are anything but simple. The slow cooker works its magic, transforming the meat into a tender, fall-apart delicacy. A final flourish of sauce and a quick broil add a caramelized touch that's utterly irresistible.
Preparing Your Ribs: A Step-by-Step Guide
Membrane Removal: Begin by locating and removing the silver membrane on the back of the ribs. A knife can help you get started, and a paper towel will provide the grip you need to pull it off. If you don't find one, you might have lucked out with pre-prepped ribs.
Bone Inspection: Give the ribs a once-over to ensure there are no leftover bone shards from the butchering process.
Sizing It Right: Depending on the size of your slow cooker, you might need to cut the ribs into halves or thirds to ensure they fit snugly.
Choosing Your Ribs
My go-to choice for Crock Pot Ribs is pork baby back ribs. They're tender, flavorful, and just the right size. Side ribs are an alternative, but they come with smaller bones and might need a tad more cooking time.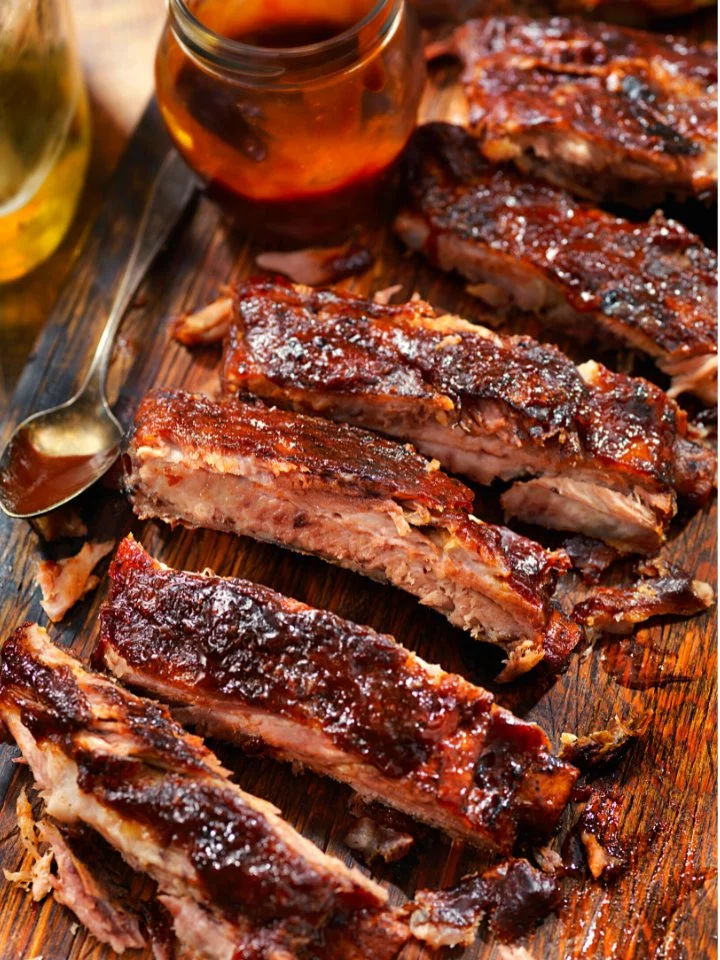 Crock Pot Baby Back Ribs Recipe
Ingredients
2 racks of baby back ribs (about 3-4 lbs)
1 onion
4 cloves garlic
½ cup water
2 tablespoons apple cider vinegar
BBQ Rib Sauce:
¼ cup ketchup
½ cup chili sauce
½ cup of your favorite BBQ sauce
Instructions
Prep Work
Remove the Membrane: Use a knife and paper towel to peel off the silver membrane on the back of the ribs.
Check for Bones: Look over the ribs and remove any leftover bone fragments.
Cut to Size: If necessary, cut the ribs to fit into your Crock Pot.
Seasoning
Make the Rub: Combine your spices in a bowl.
Apply the Rub: Coat both sides of the ribs evenly with the spice mixture.
Cooking
Layer the Base: Place sliced onion and garlic in the Crock Pot, then add water.
Cook the Ribs: Lay the ribs on top of the onions and garlic. Cook on high for 4 hours or low for 8 hours.
Finishing Touch
Prepare the Sauce: Mix ketchup, chili sauce, BBQ sauce, and apple cider vinegar.
Broil the Ribs: After cooking, brush the ribs with sauce and broil for 3-5 minutes until caramelized.
Serve
Rest the Ribs: Let them sit for a few minutes after broiling.
Enjoy: Cut into individual ribs and serve hot.
Whip up ribs that'll have everyone asking for your secret. Go on, give that 'Pin it' button a workout and spread the rib-tastic love!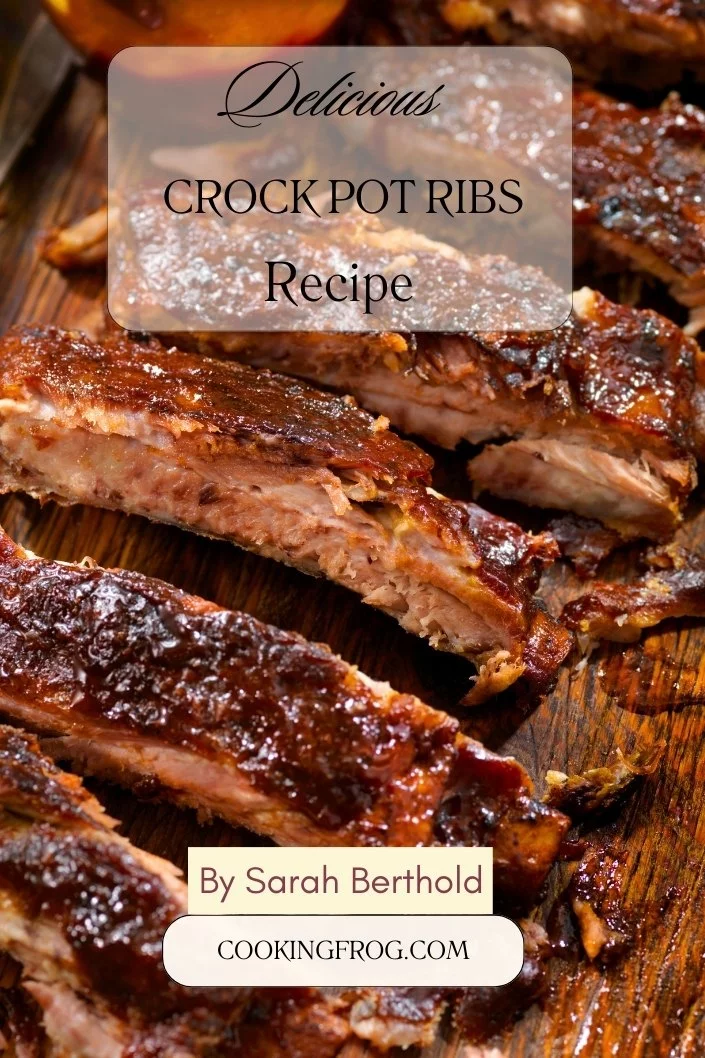 Crock Pot Ribs Recipe Variations: Tailoring the Taste
Cooking is an art, and every artist has their own style. These Crock Pot Ribs are your canvas, and the kitchen is your studio. Here's how you can tweak the recipe to suit your palate:
Adjusting the Spice Levels
Milder Flavor: If your taste buds lean towards the milder side, you can reduce the chili sauce in the BBQ sauce mixture and choose a BBQ sauce that's low on heat.
Extra Heat: For those who crave a spicy kick, add a dash of hot sauce or a teaspoon of crushed red pepper flakes to the rub.
Flavor Enhancements
Smokey Aroma: A teaspoon of liquid smoke added to the sauce mixture can infuse a deep, smokey flavor that mimics the taste of outdoor grilling.
Sweet and Tangy: Incorporate a tablespoon of brown sugar and a splash of apple cider vinegar into the BBQ sauce for a balance of sweetness and tanginess.
Sauce Variations
Honey Garlic Glaze: Combine honey, minced garlic, and a bit of soy sauce for a sticky, sweet glaze that's irresistible.
Bourbon BBQ Sauce: Add a splash of bourbon to your BBQ sauce for a rich, deep flavor with a hint of vanilla and oak.
Herb Infusions
Rosemary and Thyme: Add sprigs of fresh rosemary and thyme to the slow cooker for an aromatic twist.
Cilantro Lime: Brush the ribs with a mixture of chopped cilantro, lime juice, and olive oil before the final broil for a fresh, zesty finish.
Low-Carb/Keto Adaptation
Sugar-Free BBQ Sauce: Choose a sugar-free BBQ sauce to keep the carb count low without sacrificing flavor.
Gluten-Free Adaptation
Gluten-Free Sauces: Make sure your BBQ sauce and chili sauce are certified gluten-free if you're avoiding gluten.
Feel free to play around with these variations or come up with your own. The goal is to create a dish that resonates with your taste preferences while still celebrating the essence of these delectable Crock Pot Ribs.