If you've got zucchini on hand, turning them into zucchini boats is a culinary adventure worth embarking on. This particular recipe is a delightful blend of succulent shrimp, tangy marinated artichokes, a hint of garlic, and a generous sprinkle of Parmesan cheese. Not only is it a protein-packed meal, but it's also a wholesome and scrumptious way to enjoy zucchini.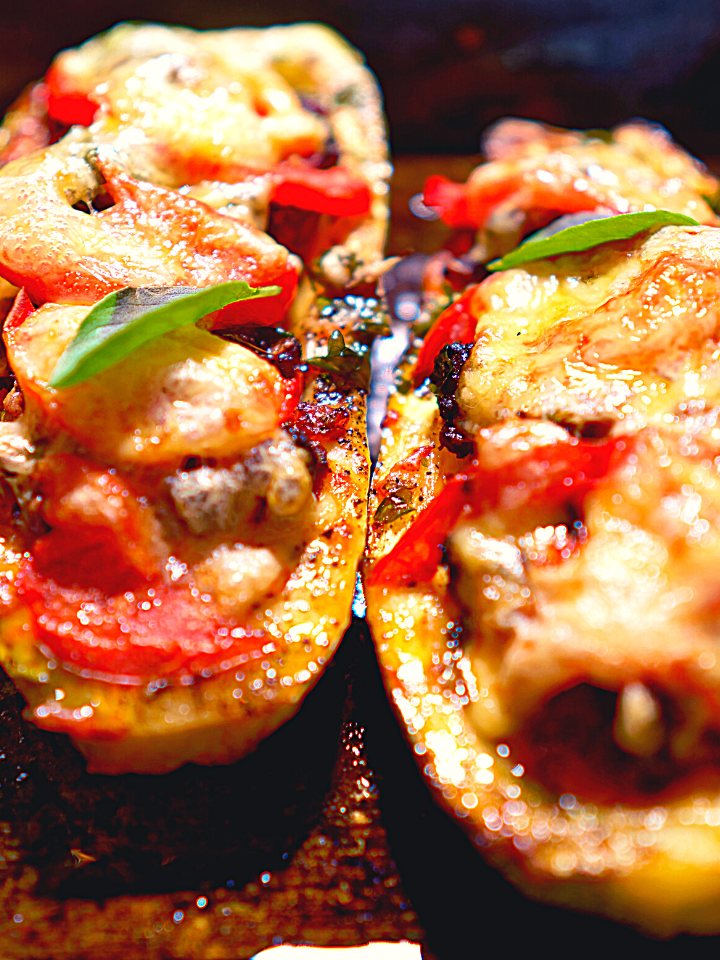 Low Carb Shrimp Zucchini Boats Recipe
Embracing a low-carb lifestyle doesn't mean compromising on flavor. In this recipe, we're crafting a dish that's both nutritious and delicious. Starting with the natural goodness of zucchini, we introduce the rich textures of raw shrimp.
A buttery foundation, accentuated with garlic herb seasoning, sets the tone. The zest from lemon juice, the distinct character of artichoke hearts, and the aromatic presence of minced garlic come together harmoniously. And to finish, a sprinkle of Parmesan cheese adds just the right touch of indulgence.
Ingredients
3 Zucchini, large
Tablespoon of garlic herb seasoning
4 tablespoons of butter
16 ounces of raw shrimp
1 Tablespoon of lemon juice
2 ounces of artichoke hearts, chopped and marinated
3 cloves of minced garlic
1/2 cup of grated Parmesan cheese
Cherry tomatoes (optional)
Instructions
Prepping the Zucchini: Begin by slicing the zucchini lengthwise. Hollow out the center to form a boat-like shape, but keep the scooped-out zucchini aside for later use.
Seasoning the Boats: Lightly brush the zucchini boats with extra virgin olive oil. For a burst of flavor, season them with garlic herb seasoning.
Grilling Time: Place the zucchini boats cut side down on a grill set to high heat. Let them grill undisturbed for about 5 minutes until they have a nice char.
Shrimp Sauté: In a large skillet over medium heat, melt two tablespoons of butter. Once melted, introduce the shrimps to the pan. Drizzle in a tablespoon of lemon juice and sprinkle the remaining garlic herb seasoning. Sauté the shrimps for roughly 6 minutes, or until they adopt a golden hue on the bottom. Once done, transfer the shrimp to a large bowl.
Zucchini and Artichoke Sauté: Using the same skillet, melt another 2 tablespoons of butter. Toss in the artichoke hearts and the reserved scooped zucchini. Let them cook for about 5 minutes or until they soften. For an aromatic touch, stir in the garlic and let it cook for an additional 2 minutes.
Assembling the Boats: Lay out the grilled zucchini boats on a baking sheet. Generously fill them with the zucchini and artichoke mixture. Tear the sautéed shrimps into bite-sized pieces and layer them atop the filling. For a cheesy finish, sprinkle your desired amount of grated Parmesan over the boats.
Broiling to Perfection: Position the zucchini boats under a broiler. Broil for approximately 5 minutes or until the Parmesan cheese is beautifully golden brown.
Got a soft spot for shrimp and zucchini? Give that image below a cheeky pin and let your foodie flag fly high with this low-carb masterpiece! 🍤