Low Carb Shrimp Zucchini Boats are the tastiest way to enjoy zucchini. This low-carb delicious meal is filled with shrimps and artichokes and topped with Parmesan cheese.
Low-Carb Shrimp Zucchini Boats
For me, there's no better way to use the zucchini, because the variants are endless with zucchini boats. This zucchini boats recipe is simple, but full of flavor, filled with shrimps, marinated artichokes, Parmesan cheese and garlic. The result is a protein-filled dish that is healthy and delicious.
Pin the image below if you like this Low-Carb recipe!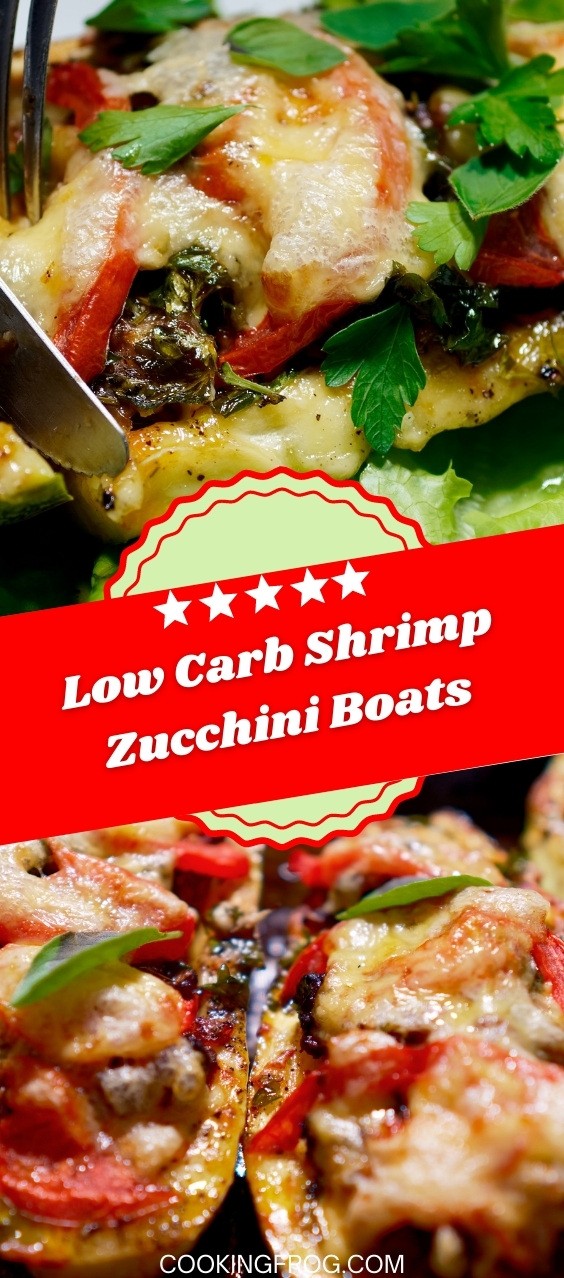 Ingredients
3 Zucchini, large
Tablespoon of garlic herb seasoning
4 tablespoons of butter
16 ounces of raw shrimp
Tablespoon of lemon juice
2 ounces of artichoke hearts, chopped and marinated
3 cloves of minced garlic
Half cup of grated Parmesan cheese
How to make Low Carb Shrimp Zucchini Boats
First, you'll need to cut the zucchini, lengthwise. To create a well, scoop out the center. Save the scooped zucchini for later.
Brush or spray the zucchini boats with extra virgin olive oil and sprinkle them with garlic herb seasoning.
Grill the zucchini boats, and cut side down on high heat, without turning. This should take about 5 minutes.
Melt two tablespoons of butter, on medium heat, for this use a large skillet and add shrimps.
Add one tablespoon of lemon juice and remaining garlic herb seasoning to the skillet.
Cook the shrimps for about 6 minutes, or until the bottom side turns golden brown. Move to a large bowl after it's done.
Melt 2 tablespoons of butter again, in the same pan and add artichoke hearts and remaining scooped zucchini. Cook for about 5 minutes or until it's soft enough. Add garlic and cook for 2 minutes more.
Take the grilled zucchini boats and place them on a baking sheet. Fill them with zucchini and artichoke filling and add teared shrimps on top of the filling. Shrimps should be teared into small pieces. Sprinkle with grated Parmesan, to your liking.
Place the zucchini boats under the broiler for about 5 minutes, or until Parmesan cheese turns golden brown.