This Chicken Saag recipe is really as close as you will get to a restaurant-style recipe as you can get. It has all the texture and flavors, and honestly, this Chicken Saag is better than in a lot of restaurants.
Make sure that every curry you make is perfect.
The net is saturated with recipes published by people that have never had authentic Indian food. Recipes that inform you adding a little bit of curry powder with the chicken is really a curry. I began researching this after making a couple of these to see what might emerge. And it wasn't pretty at all…
I'm saying this because it is the reality and needs to be said. I am hoping that doesn't prevent you from reading on. But in all seriousness. Think about it – are you totally devoted to making great, authentic Indian food?
A real Indian restaurant is really a little bit complicated, but those recipes are really achievable if you follow the rules. In all honesty, Indian food is simply delicious, magical food. But it requires time and passion. So that is the reason I offer you full-blown Indian restaurant-style chicken saag. Quick to make on a whim. And closest to what you receive in Indian restaurants.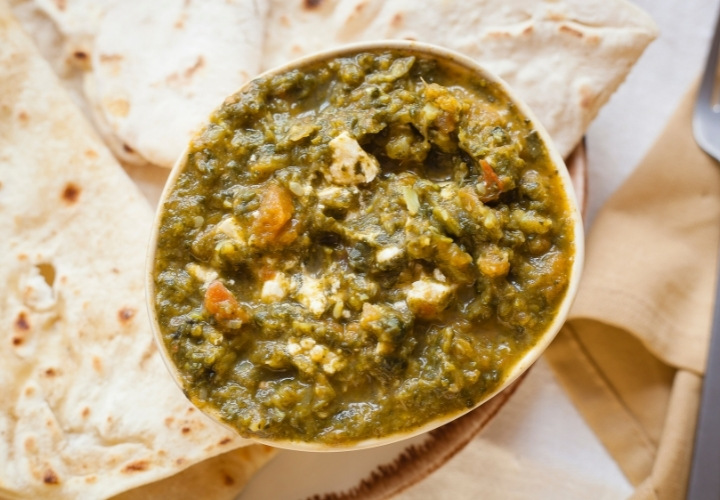 Start with Onions for Chicken Saag Recipe
The main ingredient is onions. That is a massive element of Indian recipes. Homemade cooking depends on deeply browning the onions. For example, the onion soup. It takes around 30 min to brown. In restaurants, they cook big amounts of onions in a curry base. Get it done once in large amounts and then take out curries to order.
This chicken saag recipe work because of the onions. No way around that. However, it swaps out 30 min of slow browning with 10 min using the microwave. It sounds crazy, but it works.
I've learned this from my Chef's friend who works in an Indian restaurant. They use it to swap the cream in recipes. I put it to use to swap the curry base. This is the secret. The key to restaurant-style chicken saag. Or some other nearly restaurant-style curry base.
Restaurant Style Curry for Chicken Saag
So, if you ask me, this is the most important in Indian-style cooking. I may be wrong about this, but I can't find anything that points in any other direction. This chicken saag recipe borrows almost all from the Indian restaurant style.
This is exactly why it works. Some changes, sure. Test it and let me know everything you think, and share your experience in the comments below, please…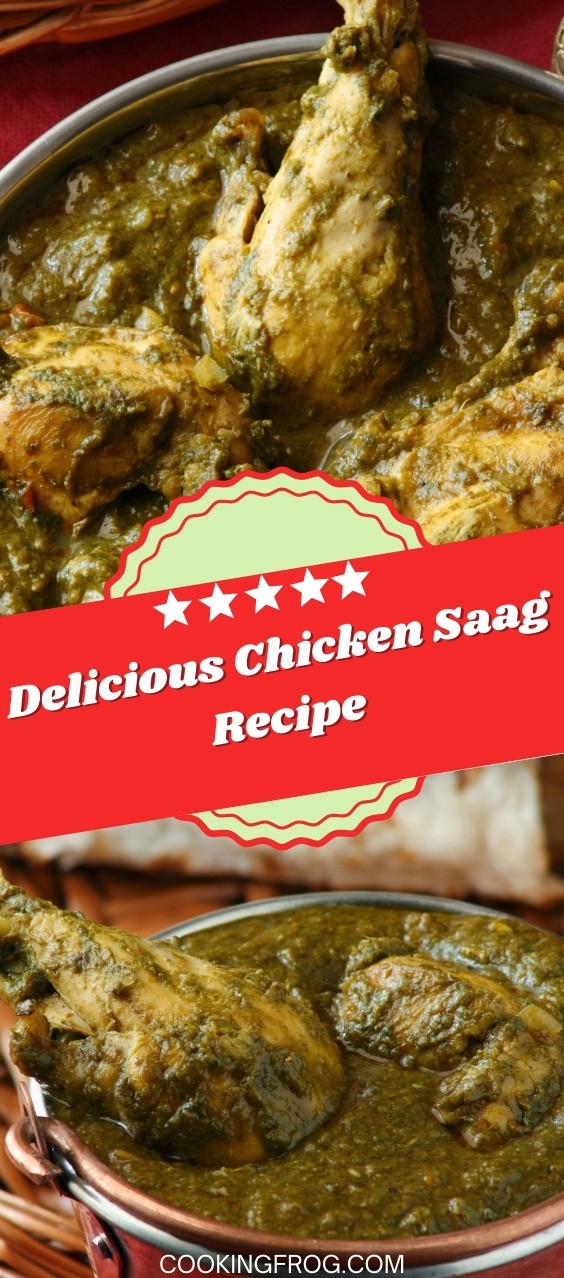 Ingredients
For the Onion Paste
2 cups of coarsely chopped onions
2 Tbsp of veggie oil
1 cup of water
For the Chicken Saag
6 chicken thighs, boneless and skinless
1 tsp of cumin powder
2 tsp of coriander powder
1/2 tsp of turmeric
1-2 tsp of Kashmiri chili powder
1 1/2 tsp of kasoor methi, dried fenugreek leaves
2 Tbsp of garlic ginger paste
1 1/2 tsp of garam masala
1 1/2 Tbsp of tomato paste
4 oz of spinach
1 tsp of kosher salt
4 Tbsp of vegetable oil
How to make Chicken Saag
For the Onion Paste
Cover the onions loosely using a microwave-safe dish and microwave for about 10 minutes or until the onions are soft.
Take away the onions from the microwave. Watch out; they'll be hot. Let them cool a bit.
Put the onions, 2 Tbsp vegetable oil, and 3/4 cups of in a mixer and mix until smooth. Put aside.
For the Chicken Saag
Using a small bowl, mix the cumin, turmeric, coriander, garam masala, kasoor methi, Kashmiri chili powder, and salt for the spice mix.
Heat the vegetable oil in a pot over medium-high heat till it shimmers. Use 3 Tbsp.
After that, add in the garlic and cook till it stops splattering.
Lower the heat to medium-low and add the spice mix and constantly stir till it begins to smell great. It should take less than a minute. In the event that you burn the spices at this time, you have to start over, so be careful.
Add the diluted tomato paste and mix nicely to combine. Slightly turn the heat up, and cook for another minute.
After that, turn the heat up again to medium-high, and at the same time, add the onion paste. Cook for 3 to 4 minutes, stirring occasionally. Do not worry if it appears somewhat dry. Once the chicken releases its juices while cooking, you ought to be left with a wonderful amount of sauce.
Lower the heat to medium-low. Add in the chicken and stir slowly.
Cook it covered until the chicken is done. It should take around 13-15 minutes, or you can check by measuring the inner temperature; it should be around 170F. If you don't have a meat thermometer, please get one because it is hard to tell when it's done without one.
Next, add the spinach and stir to distribute it evenly. If the curry is too thick, add a little bit of water or chicken stock. Allow the chicken saag to simmer for an additional minute or more. Taste if any adjustment is needed. Enjoy