You want the smoky, juicy, tender, savory taste of pulled pork, but you don't want to stand over a smoker all day. Our recipe for Easy Instant Pot Pulled Pork is just what you need. With just basic ingredients and your trusty Instant Pot, you can make delicious pulled pork in a fraction of the time.
No more having to wait around for hours for your pork to smoke just right, no more testing the temperature every several minutes, and no longer worrying about running out of propane. The Instant Pot does all the hard work for you, so you can sit back, relax, and smell how good your food is cooking.
This recipe is great for people who want to show off their BBQ skills to their friends and family without having to work too hard. And what's best? The next day, the pulled pork tastes even better, so you can eat it for days. So, get your Instant Pot ready, get your ingredients ready, and let's start cooking!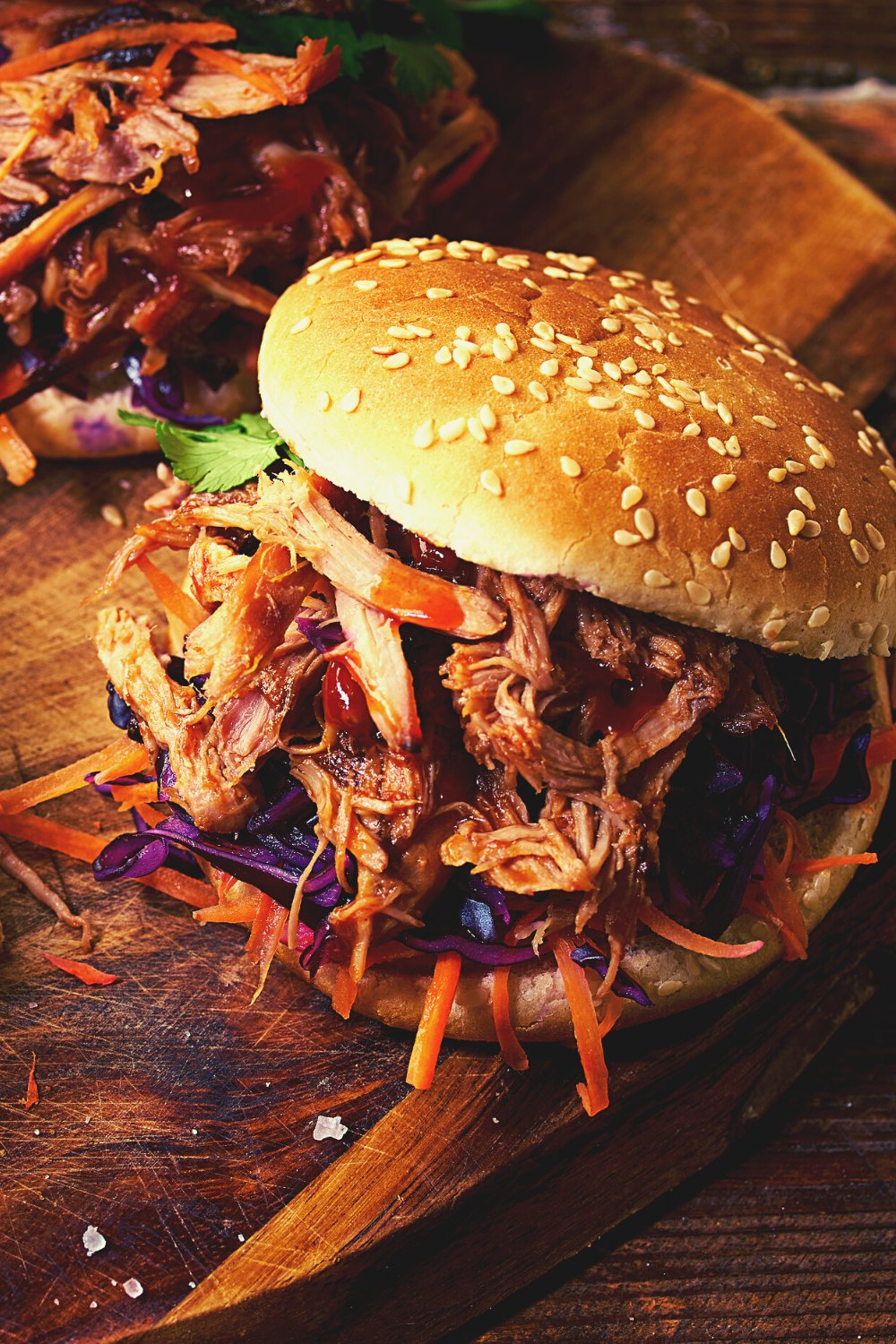 Instant Pot Pulled Pork
When it comes to pulled pork, pork butt roast is one of my favorite meats to work with. But if you'd rather, you can use a pork loin roast instead. I know a lot of people worry about how to make a tender pork roast, but trust me, if you use the right method and ingredients, it always turns out great!
If you want to make it even better and have a little extra time, add your rub to your pork roast and let it sit for 30 to 60 minutes before cooking. This will give you maximum flavor. However, when I make pulled pork in my crockpot, I don't need to marinate it because all of the delicious flavors have hours to come together. But marinating is a must if you're using an instant pot.
Next, I heat some oil in my Instant Pot and sear the pork in batches until it's browned on all sides. Remember that it doesn't need to be fully cooked at this point.
I like to use 1 1/2 cups of beef broth to clean the bottom of my Instant Pot, so I don't get the scary "burn" message when I'm cooking. Pour the broth into the pot and use a wooden spoon to scrape off all the delicious brown bits to deglaze. This gives not only your meat more flavor but also seasons it as it cooks.
Once you've done that, put everything in your instant pot, close the lid and turn the valve to the sealing position, and cook for 50 minutes as directed. After the cooking time is up, let the instant pot release pressure on its own for 10 minutes. After that, you can use the quick-release button. And voila! Every time, pulled pork that is perfectly tender and full of flavor.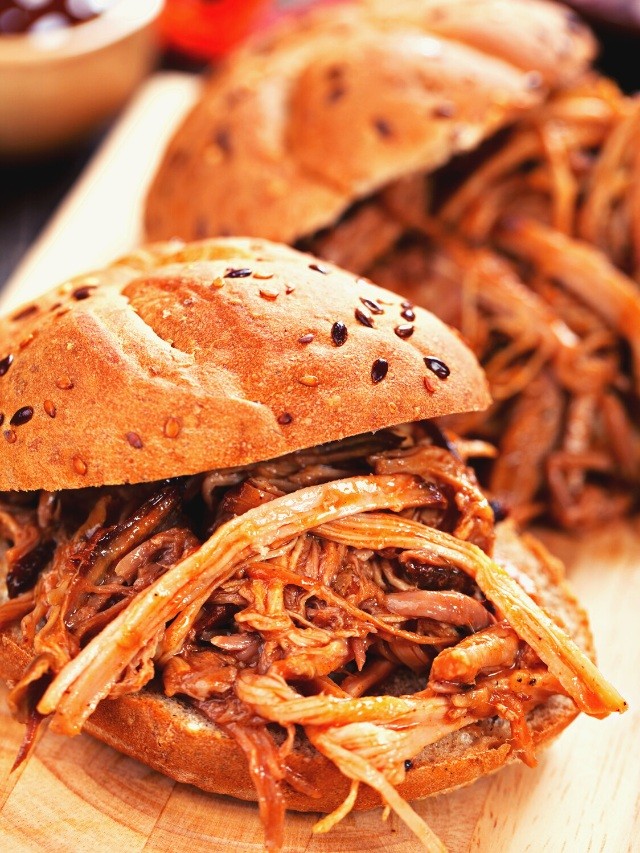 Instant Pot Pulled Pork Recipe
Are you sick of dry, bland, time-consuming pulled pork? No worries, this Instant Pot pulled pork recipe is about to become your new favorite. Not only is it tasty and juicy, but it also saves you time, so you can spend more time doing the things you love (or, let's be honest, watching Netflix). So put on your apron, set your Instant Pot to "Porklicious," and let's start cooking!
Ingredients
4lb of Pork Butt Roast, bone-in or boneless
3 tbsp of brown sugar
2 tsp of salt
1 teaspoon of ground mustard
1 teaspoon of black pepper
1 teaspoon of onion powder
1 tsp of paprika
½ tsp of garlic powder
¼ tsp of cayenne pepper
1½ cups of chicken broth
1 tbsp of Worcestershire sauce
1 tsp of liquid smoke
2 tbsp of olive oil
1 cup of your favorite BBQ sauce.
Instructions
Trim fat from roast pork and cut it into four same-size chunks.
Place all dry ingredients in a bigger bowl and whisk them together nicely. Add pork roast chunks to rub, combine and coat well.
Add two tbs of olive oil to Instant Pot and set to saute. Once it indicates hot, add two pieces of the pork. Sear on both sides for about two minutes each.
Take away pork and put it aside on a plate. Repeat with remaining pork roasts.
When the pork is cooked and removed from the pot, press cancel and add 1½ cup beef broth, use a wooden spoon, and deglaze the bottom of the pot. Make sure to scrape all the bits.
Then add the remaining broth, Worcester sauce and liquid smoke.
Place pork chunks directly into the liquid within the pot, spacing out as absolute best. Secure the lid and check that vent is set and sealed nicely.
Pressure cook/manual on high pressure for 50 minutes. Then let the pressure release naturally for 10 minutes or till the pin drops.
Take away pork to a large bowl and shred it with two forks. Add your favorite BBQ sauce as desired. Or use the juice from the Pot Pot – it's loaded with amazing flavor! Enjoy!!!
If you like this delicious pulled pork recipe for the instant pot, it's time to spread the love! Why not add the tasty picture to your Pinterest board and let your followers in on the tasty secret? You will not only tell people about this tasty treat, but you will also show off your cooking skills. Don't be shy; let's get those pins sticking and tickle some taste buds. 🙂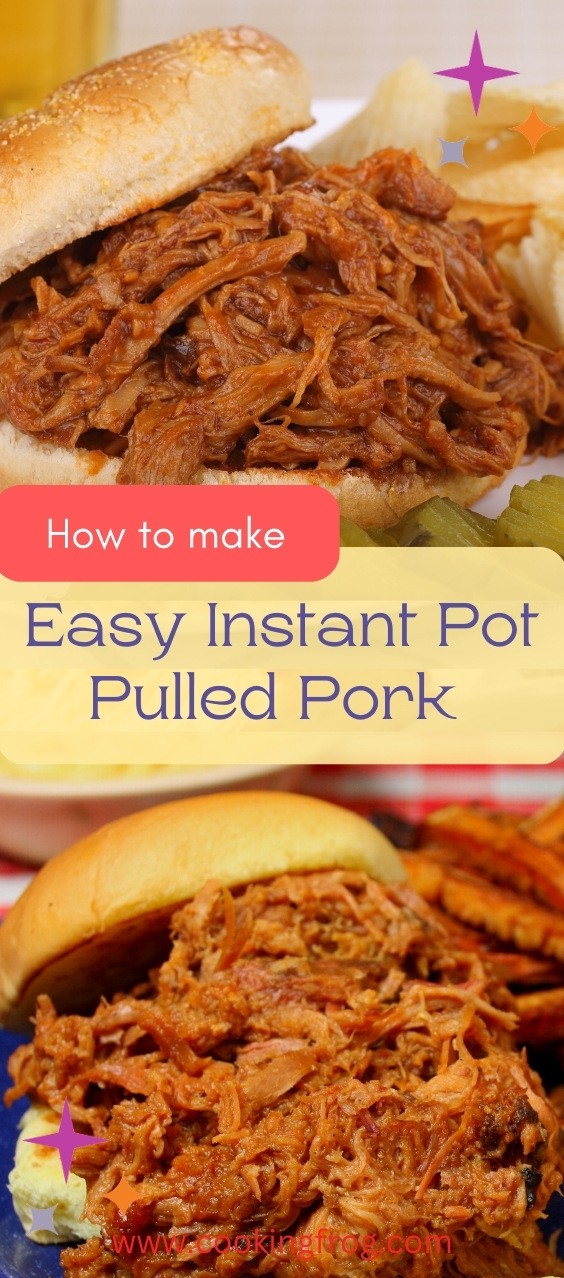 Check out this Sause Vide BBQ Pork Shoulder Recipe