Today we're making a meat jelly recipe, yay! In our household, the holiday season, particularly Christmas, are a time to bring the entire extended family around the table and enjoy delectable seasonal foods. One of them, in my opinion, is the best meat jelly recipe.
What is Meat Jelly?
Meat jelly, technically known as Aspic, is high in minerals and amino acids. It's a natural source of collagen that promotes, tooth, bone, and joint mobility. It follows the Whole30, Keto, Paleo, and GAPS diets naturally.
Jello History
Meat jelly has been around since the 1300s, when the first and precise Aspic recipe emerged in Le Viandier, a compendium of the finest renowned Middle-Ages recipes.
In 1897, a cough medicine company in LeRoy, New York invented a cough treatment that included a laxative and flavorings from the fruit, which we now know as Jell-O, without the cough reliever and laxative, or perhaps not. Pearl Wait, a LeRoy resident, attempted but failed to commercialize his results.
He made $450 selling his formula 2 years later. Jell-O is presently the most popular dessert in the world and is well-known all over the world.
Aspic or Meat Jelly reminds me of a luxurious bone broth. It makes sense because the method and ingredients needed to make bone broth are comparable to those used to make aspic. Just with a lot more meat.
Aspic was used to preserve vegetables, eggs and meat in the Le Viandier recipe. We don't need to "preserve" veggies in pork gelatin anymore, thanks to modern refrigeration.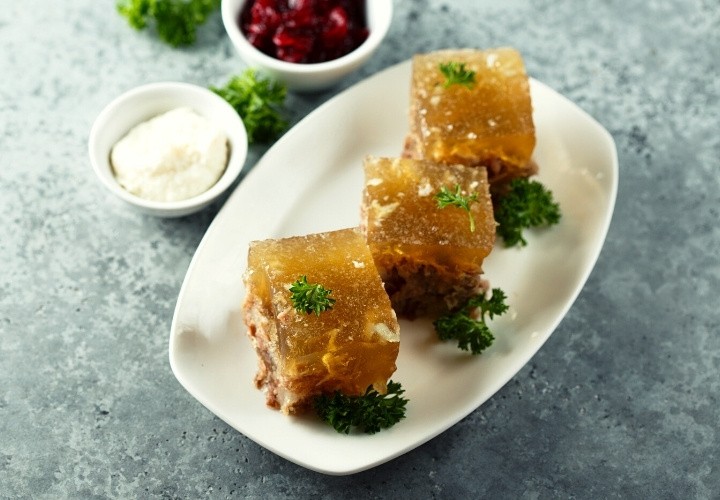 Is Meat Jelly Healthy?
The best thing about this recipe is how nutritious it is. While you cook bones for a long time, the collagen, a protein present in bone, cartilage, marrow and ligaments, is broken down, resulting in gelatin. Gelatin aids in protein absorption while also calming the stomach lining.
That's why, while you're experiencing a virus, Meat Soup is so good for your gut. Bone broth or aspic, which contains gelatin/collagen, can help make your skin flexible and decrease cellulite. An additional advantage of bone broth is that it has healing capabilities in the form of amino acids.
Meat Jelly Recipe
Because my mother typically cooked in huge quantities, usually 10-15 servings, this recipe is normally prepared throughout the winter and, more specifically, for Christmas or New Year's Eve. It's not a difficult recipe; it just takes a while to cook and requires some attention to detail, but I guarantee you'll end up with a delicious dinner.
As you may know, aspic is a gelatin substance made by boiling pig components such as the ears, head, skin, and trotters for an extended period of time until the collagen is released.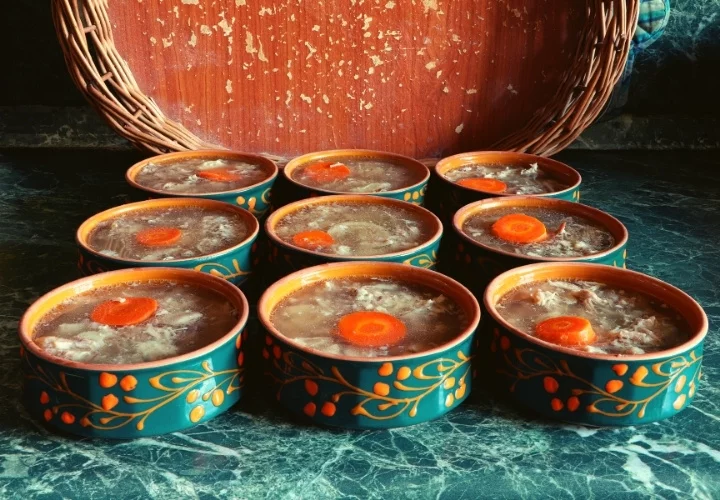 Ingredients for Meat Jelly Recipe
Because this recipe is a must-have for the Christmas table, I began gathering the essential meat in advance. Thus I purchased a complete half of pork and set aside half the head with the whole ear, two trotters, and the pigtail for the jelly. I also used roughly 10 oz of pork skin for added collagen, but if you can't get it, you may skip it.
This sort of ingredient can be found at Eastern European markets or butchers; if you are not able to find all of them, combine several trotters with a pork shank. For this meat jelly recipe, I also included 1.4 kg of turkey wings (approximately two pieces) to the list of ingredients, which will provide a fair amount of collagen to the meat jelly.
Turkey drumsticks, which contain both gelatin and a considerable amount of meat, are another option.
Numerous recipes call for aspic to be made entirely of meat, but I prefer to use veggies. I'll use about 5-6 carrots, a handful of leeks, a few bunches of celery stalks (about 4 oz), and one one whole garlic to finish it up.
How to make Meat Jelly Recipe
We'll need a large pot for soups, normally between 300 oz capacity, because we'll be making a lot of pork jelly, and we'll have a lot of bone-in meat.
We put the pork on the bottom of the pot, then the turkey meat on top of the pork. You don't need to bother portioning the pork head because it fit in the pot whole. The vegetables were piled on top of the meat, which I had left untouched.
Sprinkle with four tablespoons of salt, a tablespoon of peppercorns, and two bay leaves (in that order). Fill the pot halfway with cold water, which should be much higher than the level of the ingredients, and set it on fire.
Turn the heat to high until it begins to boil, then reduce it to medium to low for around 30 minutes or a bit more, scooping the foam that forms on top with a spoon during this time.
This is necessary in order to obtain a clear pork jelly. After around 30 mins, reduce to low heat and continue to cook for a minimum of 3 hours, or until the meat falls off the bone and also the bones and skin produce gelatin.
I used a method to avoid spending too much time in the kitchen; I put the pot in the oven at 250F before going to sleep and left it there until practically dawn, almost 6 hours and meat jelly was ready when I awakened.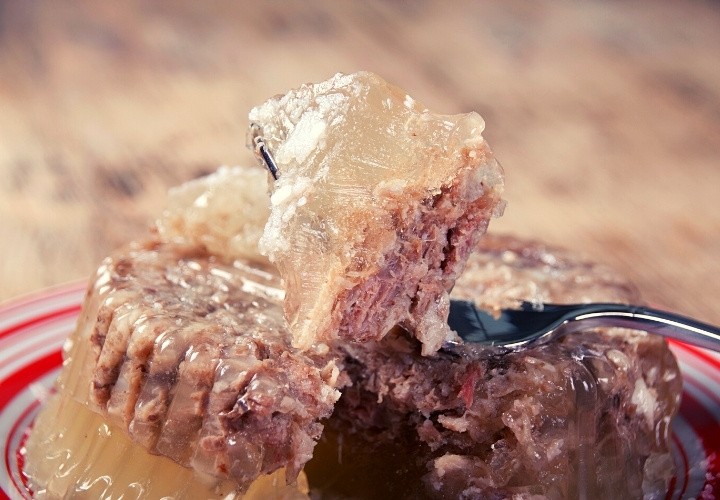 Aspic is being split.
Allow the pot to settle and cool so you can work with the ingredients more effectively. Take all of the solids from the soup pot, place the meat in a bowl with the bones, and divide the veggies.
We may now perform a test to see if we were successful in making the meat jelly. Put a small plate with some of the liquid from the pot in the fridge for 10 min. If it hardens, it's done; if it doesn't, we'll need to add more food gelatin. For me, it worked out great!
We'll strain the remaining meat and vegetable liquid through a strainer into which we'll throw one head of crushed garlic. This sieve has two purposes: first, to keep all of the remains in the pot, and second, to flavor the meat jelly with garlic cloves.
I'll remove all the bone from the meat, which is a fairly difficult job that involves removing all of the bones, even the tiny ones. Depending on the number of servings or the amount of storage space, we prepare appropriate containers to store the meat jelly in, you could use plastic bowls or even more bottomless plates.
To keep things in the fridge without taking up too much room, I used several square plastic dishes with covers. In these dishes, equally, distribute the boned meat, then pour over the gelatin-rich stock. Some people add cooked veggies or even a boiled egg, but I like to leave solely the meat since cooked vegetables deteriorate more quickly.
Next, we just need to cap the containers, set them aside in a cool area (like the fridge), and wait for the meat jelly to solidify. That's it, we've created the ultimate homemade meat jelly recipe, a delectable Christmas dinner meal that we can be proud to serve.
Share the image below to your Pinterest board and save this meat jelly recipe!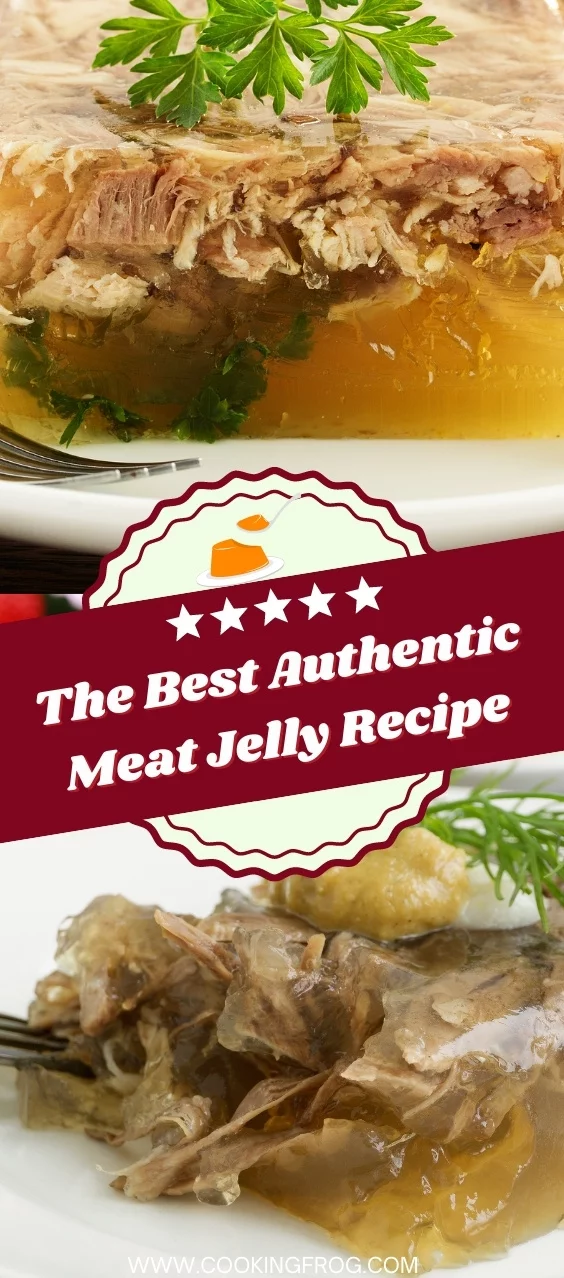 Ingredients
24 oz of pork trotters
½ of pork head
10 oz of pork rind
8 oz of pork tail 1 piece
10 oz of turkey wings
14 oz carrots
1 piece leek
5 oz of celery stalks
4 TBSP of sea salt kosher
1 TBSP of peppercorns black
2 pieces of bay leaves
Whole garlic
Directions
Take out your pork and put it in the pot's bottom, then the turkey meat on top of the pork.
Over the meat, which I kept whole, arrange the veggies. To season the dish, add salt bay leaves and peppercorns.
Pour the cold water into the pot halfway, should be much higher than the level of the ingredients.
Set the heat to high until it begins to boil, then lower it to medium-low for approximately 30 mins, skimming the foam off the top using a spoon.
After 30 mins, reduce to low heat and continue to cook for a minimum of 3 hours, or until the meat falls from the bone and the bones and skin release gelatin.
Allow the pot to cool before removing all of the firm contents, separating the meat from the bones in a bowl, and separating the veggies.
Strain the remaining liquid through a strainer into which you'll add garlic.
Remove all of the bones, including the little ones, from all of the meat, which is a slightly complicated job.
Divide the boned beef evenly among the plastic bowls, then pour in the gelatin-rich stock. Wait for the meat jelly to harden in a cold area, like the fridge.
If some of your dishes contain too much fat, you can remove part or all of the fat layer from the top if needed. Serve chilled, cut the meat jelly into cubes sliced in half and Hungarian sweet paprika sprinkled on top.
Serve with lemon juice and chopped red onions on top.