Today I'm going to show you how to make Nihari, one of the most popular Pakistani Beef stews; this recipe is quick and easy to make. It takes only one pot and requires less than 30 minutes to prepare. This recipe contains instructions for making tender beef shanks (or stews) on the stovetop and slow cooker.
A few Pakistani recipes can be used as-is. These recipes don't require a side or other accompaniments except garnishes. Biryani is one example of such a dish. But, if I'm being honest, Nihari is my favorite one-dish meal. It's full of strong spices and tender meat. The lemon sourness is a bonus. And the bright leafy cilantro. Nihari would be my last meal request.
What is Nihari?
Nihari is a slow-cooked, rich meat stew that's flavored with spices. It can also be thickened with atta or Pakistani and Indian-style durum whole grain flour. Nihari is typically made from beef in Pakistan but can also be made using lamb, goat, or chicken.
The root Arabic word "Nahar" is the root of "nihari," which means "day" or morning. Because it was originally eaten in the morning, this dish is called Nihari. It is believed that the dish originated in Old Delhi. There, it was consumed by Mughal nawabs and workmen to fuel them during the day.
Is Nihari a Pakistani Dish?
Nihari is common on almost all Pakistani restaurant menus and is widely loved in Pakistan. It is an important part of home cooking for occasions like Eid or Ramadan. In this regard, Nihari is Pakistani cuisine.
What is Nalli Nihari?
The term nalli is a pipe or tube. This describes the pipes-like bones used to make Nihari. Nalli Nihari is made from beef bones, which are usually the humerus and femur. It also contains yellow bone marrow. This gives Nihari a buttery, rich flavor. Sometimes, bone marrow can be extracted and added to Nihari.
Although this recipe does not require bones, using bone-in or bone-on meat alongside the meat will enhance its flavor. This is especially important in the Instant Pot version. You would need about 1/3 lb more weight to use bones.
Which Cut of Meat Should You Use for Nihari?
Nihari is usually made from boneless beef shanks (also known as beef shins). It will be labeled Nihari cut in Halal grocery shops. Pre-cut beef stew meat is also available. This is basically boneless beef from either the rear muscle (round) or the front shoulder (chuck). I prefer shoulder stew meat if it is requested. It has a higher tenderness.
You should also look for high-quality beef. The better the beef, the more marbled it looks.
Nihari Masala
Using Pre-made Nihari Masala
This recipe originally used 1/2 a teaspoon of pre-made Nihari masala. You won't be able to make Nihari the way your Pakistani neighbors do. They used the same powder. It will give your dish a little extra flavor and color.
Many people have asked me about using *only* the spice mixture. Although I don't mind using pre-made spice mixtures, I do not recommend that you use them in the recommended quantities as they can be quite strong. Fresh spices make the flavors more prominent. You must adjust the amount of salt and spice depending on the brand you choose and how much masala.
How to Make Homemade Nihari Masala
As usual, I prefer to use homemade spices whenever possible. It took me some time to create a Nihari Masala powder that worked with this recipe.
Nihari Masala- Makes 1 Tbsp. All of which you will use
1/2 to 1 tsp Kashmiri Red Chili Powder or Paprika for color

1 small pod of black cardamom

1/8 tsp caraway seeds

1 small mace blade

1/4 tsp fennel seeds

1/4 tsp garam masala powder

3/4 inch Peepli peppers

1/4 tsp ginger powder

1/4 teaspoon onion powder

1/8 tsp nigella seeds

pinch cane sugar
Combine all ingredients in a spice grinder until you get a fine powder.
How to make Nihari
Intentional depth of flavor is the key to great nihari. All this contributes to the renowned taste of nihari.
Brown the meat and onions.

Deep-browned onions are essential to give Nihari flavor, depth, and body

.

Searing the meat in a pan until it is browning is important for all stews. However, don't cook too long, which could result in tough meat.
Bloom Spices

Allow spices to be added and let them cook in the hot oil.

You can add water to prevent them from burning.
Cook.

If you use a slow cooker for cooking the mixture, pour in water and stir to combine.
Thicken.

You will get clumps if you add flour to thicken the gravy.

This can be avoided by removing some of the nihari liquid. I have always found that using water dilutes its taste. Let it cool.

Stir it into the atta flour.

To prevent clumps, add the slurry to nihari.

Let it cook until thickened.
How to get oil (Tari), on top of Nihari
After a curry has been cooked, the oil and fats naturally rise to the surface. The oil is released once the meat has been cooked and the atta has been cooked. It won't look as oily as restaurant Niharis because I don't use nearly as much oil in my traditional recipes.
Allow the oil to boil for five minutes on low heat. To give Nihari his distinct layer of oil, you can either reserve the oil or add a tarka (tempering oil) with spices.
Here are some more tips for making Nihari
The Nihari meat should not be overcooked.

It should be cooked only once, and then it should be almost shredded to the touch.

The final result should look like thick gravy or soup.

To thin it, add some boiling water.

To achieve the desired consistency, continue to saute.

If you are using a slow cooker and the result is too thin to use, transfer the mixture to the stovetop to thicken.

Many restaurants will keep the pieces large (3-4 inches).

Kenji Lopez-Alt explains that larger cuts make the meat tenderer.

Because it is easier to eat and serve, I prefer smaller cubes.

Variation: Before adding the Nihari to the atta slurry, add 1-2 tablespoons of yogurt.
How to make Gluten-Free Nihari
It took me a while to get this to be gluten-free and, at the same time, not to taste any different from the original Nihari. In the end, I figured out how to make the best gluten-free version of Nihari. For atta flour, you can dry roast brown rice flour and sorghum flour for about 3-4 minutes at low heat. It gives it a richer flavor and recreates the earthy taste that atta has. Try it with my gluten-free, no-yeast naan.
What can you serve with Nihari?
Nihari is usually served as a main course or brunch meal. Nihari is usually served with sheermal or naan, a sweet flatbread.
Garnishing should always be served with nihari. You must have lemon wedges, julienned Ginger, chopped cilantro, and (tolerable) chopped green Chili peppers. These will be a great addition to your Nihari and enhance the spice, tangy, or crunchy taste.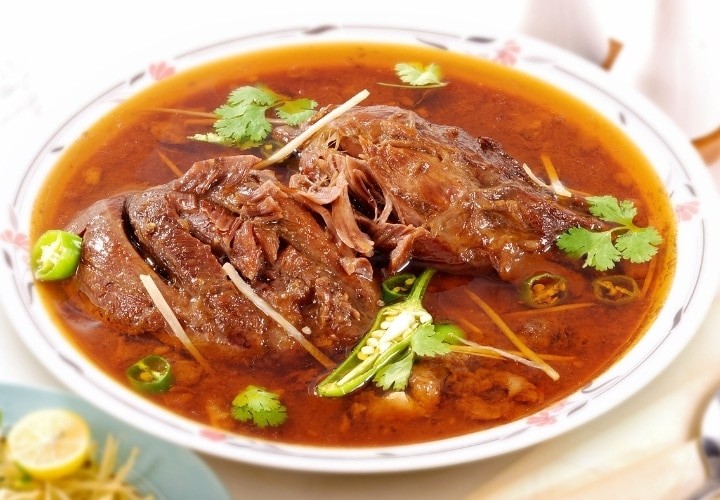 FAQs
How to thicken Nihari
Allow the Nihari to simmer covered for a thickening effect. You can add more atta to the recipe.
Is Nihari possible to freeze?
Yes! Nihari is freezer-friendly because it's a simple stew without vegetables or water-based components. You can heat it on the stovetop, but you may need to add more water. Make sure to stir the beef well so it doesn't get mushy.
Can I Make
Nihari
with Chicken rather than beef?
I haven't yet tried cooking with chicken, so I don't know what adjustments it will need in terms of spices and balance. You'll need to cook chicken for a shorter time. Bone-in pieces of chicken take around 30 minutes on low heat.
How to make the recipe twice as good:
Double the ingredients except the water to double the recipe. An approximate estimate is that you will need 2 cups of liquid per pound of beef if you use a slow cooker instead of 3 or 3 1/2. Make it on the stovetop with 7 cups instead 9 cups.
I would love to hear your feedback if you make this recipe. Let me know what you think in the comments, messages, or on Pinterest by tagging Cooking Frog.
Please show your support and share the image below on Pinterest if you like this Nihari Recipe!
How to make Nihari Recipe
Ingredients
For the Nihari
5 TBSP of canola oil or another neutral oil

1 TBSP of butter

1 large onion, thinly chopped

6 garlic cloves, Crushed

Ginger, Crushed in 3-inch pieces

1 1/3 tsp salt (I prefer sea salt). If you make your own masala, start with 1 1/2 teaspoon

1/4 cup durumatta flour.

10 cups water on the stovetop, 6 TBSP in the slow cooker

1 lb of boneless beef shank, 2-inch cubed or sub beef stew or 1 1/2 inches cubed
Whole Spices
1/2 oz. small star anise

1 to 2 small bay leaves

1-inch piece of cinnamon stick
Ground Spices
3 whole cloves are ground into a powder with a mortar and pestle.

3 green cardamom pods, with the seeds removed and ground into powder using a mortar & pestle

1/2 tsp of fennel seeds ground into a powder with a mortar and pestle

1/2 tsp of paprika powder

1/3 tsp of coriander powder

1/2 tsp of cumin powder

1/4 tsp turmeric

1/4 to 1/2 tsp cayenne powder or red chili powder

1/3 tsp crushed red chili flakes

1/4 tsp black pepper powder

1/8 teaspoon garlic powder (optional).

Add a pinch of nutmeg

1 tbsp Homemade Nihari Masala (recipe is in the post), or 1/2 tbsp from a store-bought version
Garnishings
1 tsp garam masala

Crispy fried onions ( You can use Onion Bhaji, see the recipe)

ginger, about 1 inch, julienned

1 lemon cut into wedges

13 bunch of fresh cilantro, chopped

Chop 1-2 green chili peppers
Instructions
Over medium heat, heat oil and ghee together in a Dutch oven or large pot.

Sauté the whole spices, onion, and garlic for about 10 minutes.

Deglaze the pan with two tablespoons of water if necessary.

After the water has dried, add the ginger and garlic. Continue to cook for another 30 seconds.

Sauté the beef for 5 minutes or until it turns a golden brown color.

Reduce the heat to medium and add the salt and powdered spices. Sauté for approximately 20 seconds.

Mix the water with the spices and salt immediately.

Turn up the heat and bring it to a boil. Cover with a lid to speed things along.

Reduce the heat to medium/low so that the nihari simmers gently.

For beef-shank meat, cover and cook for 6 hours.

Turn off the heat.

You want the meat to be soft enough to break apart when you press it with a wooden spoon.

If desired, you can remove the whole spices.

Place a cup of the Nihari liquid into a measuring cup or bowl.

Add an ice cube to the liquid of the Nihari and let it cool down.

In a small bowl, place the atta.

Slowly whisk the Nihari liquid into atta, forming a smooth slurry. Small clumps are acceptable.

Slowly return the slurry to the Nihari pot. This will prevent any clumps.

To achieve the desired consistency, you can add boiling water (preferably) to thin it out.
Turn up the heat to high to bring it to a simmer.

Reduce the heat to medium/low.

Cover the pot and let it simmer for 30 to 45 minutes.

It should have the consistency of a thick soup.

Serve warm with garnishing, naan, or sheermal.
Slow cooker Nihari Recipe
I've also tried cooking Nihari using a slow cooker, and it turned out great. Just be sure to follow the steps below:
Over medium heat, heat a medium saucepan.

Add the spices and heat the oil.

Sauté onion until it is golden, approximately 10 minutes.

Deglaze the pan with two tablespoons of water if necessary.

After the water has dried, add the ginger and garlic. Continue to cook for another 30 seconds.

Sauté the beef for 5 minutes or until it turns a golden brown color.

Reduce the heat to medium and add salt and powdered spices. Sauté for approximately 20 seconds.

This beef mixture should be carefully poured into a slow cooker or Crockpot.

Mix the water with the flour.

For shanks, cook on low for 8-10hr or high for 6-7hr or until the beef is tender.

Depending on the meat and slow cooker, cooking times may vary.
After the cooking is done, you'll need to take out all spices and pour a cup of the Nihari liquid into a bowl.

Add an ice cube to the mixture and let it cool down.

Place the atta into a separate bowl.

Add the Nihari liquid slowly to the atta, forming a smooth paste.

Slowly stir this slurry into the crockpot, occasionally stirring to avoid clumps.

Allow it to cook for another 30-45 minutes.

Serve warm with garnishing, naan, or sheermal.
Nutrition
Calories: 429kcal.

Carbohydrates 17g.

Protein: 27g.

Fat: 28g.

Saturated Fat 5g.

Cholesterol 82 mg.

Sodium: 855mg.

Potassium 545mg.

Fiber 3g. Sugar 2g.

Vitamin A: 237IU.

Vitamin C: 22mg.

Calcium: 68mg.

Iron 5mg.