Hello people! Today I'm going to share another exciting recipe and it's Crustless Creamy Cheesecake. This recipe is not only unmatchable in taste but low on carbs as well. Because of its low-calorie content, this recipe fits best in a keto diet plan. So, if you're following any sort of keto diet plan, then you can surely satisfy your dessert cravings with this amazing crustless cheesecake.
This recipe is unique in the way that it has no crust and is baked in a pie plate. It creates its own beautiful crust when baked in the oven. The crust is then topped with a sour cream topping. The ingredients of this recipe are plain simple. This recipe is so easy to make that anyone without any baking experience can bake an excellent cake out of it.
The best thing about this recipe is that you can have it at any time. It's fit for casual routine as well as on special occasions like Christmas, Thanksgiving, etc. Having this recipe on the table makes your meals even more special.
Low-Carb Crustless Creamy Cheesecake
The special thing about this recipe is that it's a sugar-free version of the cheesecake and is low on calories. It goes well with the keto diet and will surely satisfy your cravings for dessert. It does not have any crust and creates its own unique crust that's topped with sour cream to take it to another level of taste. This recipe is best suitable for diabetic people too.
So let's move forward to the recipe for crustless cheesecake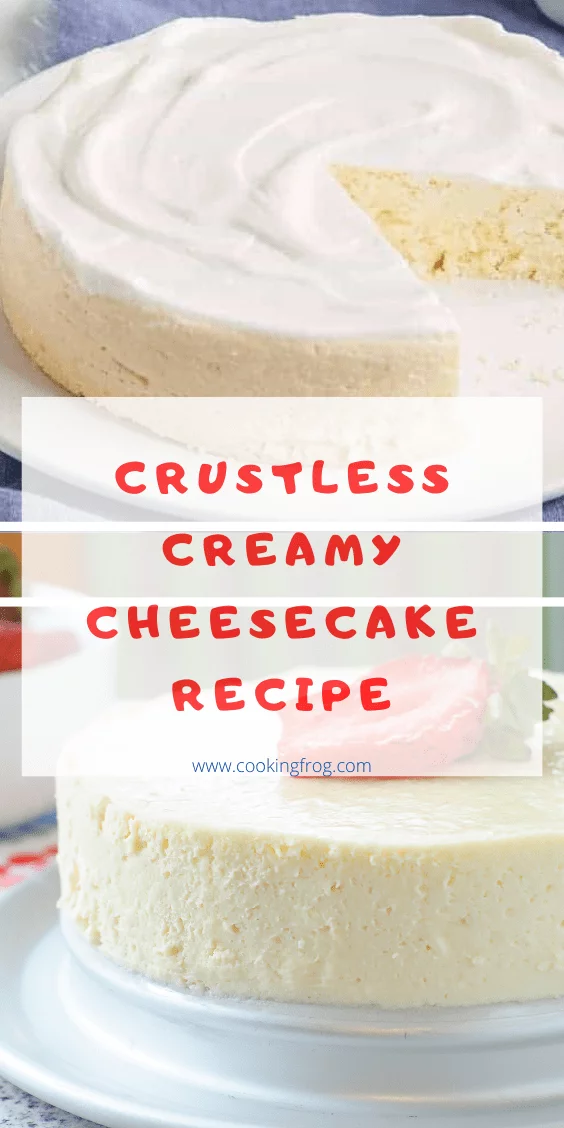 Crustless Creamy Cheesecake Recipe
January 5, 2021
: 10 min
: 50 min
: 1 hr
: Medium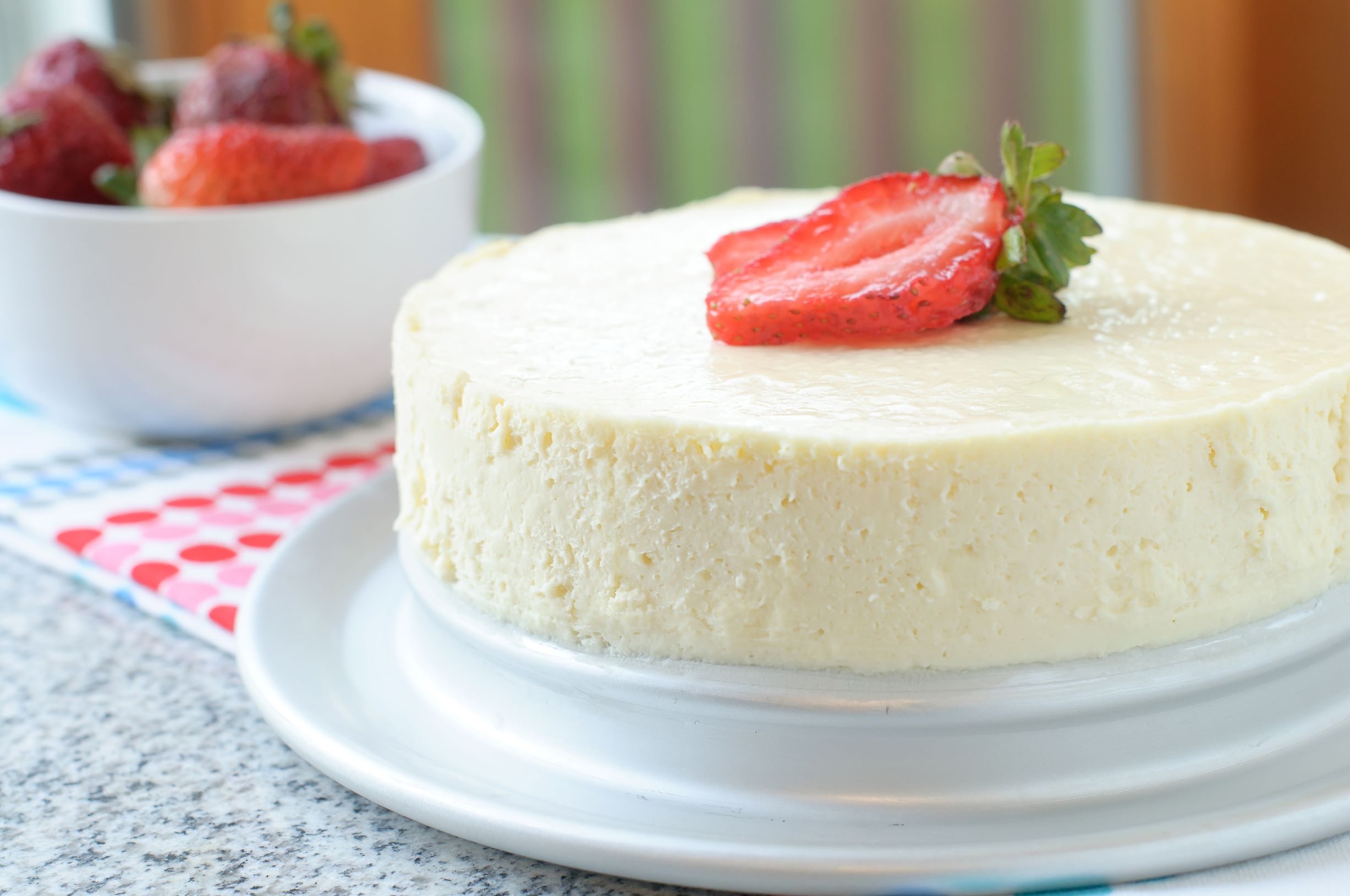 Ingredients
For Cheesecake
• 16 ounces of reduced-fat Cream Cheese (softened)
• 4 Eggs (large)
• 1/2 cup of Sukrin (Powdered)
• 1/2 tsp. of Stevia Glycerite
• 1 tbsp. of Vanilla Extract
• 1/4 tsp. of Lemon Extract (optional)
• 1/4 tsp. Of Orange Extract (optional)
Sour Cream Topping
• 16 ounces of Sour Cream
• 2 tbsp. of Sukrin (powdered)
• 1 tsp. of vanilla Extract
• Nutmeg powder (optional)
Directions
Step 1

1- Preheat the oven to 325°F.

Step 2

2- Take a pie plate of size 9 ½ – 10 inches and spray it with baking spray.

Step 3

3- Take a medium mixing bowl and add softened, fat-reduced cream cheese into it.

Step 4

4- Beat the cream with a hand mixer until it gets smooth and even.

Step 5

5- Now add powdered Sukrin, stevia glycerite, and one egg. Beat it again until it gets mixed well and the mixture gets smooth.

Step 6

6- Add the remaining eggs one by one while beating the mixture consistently.

Step 7

7- Now add vanilla extract and lemon extract and mix it again until the mixture gets smooth and puffy.

Step 8

8- Ad this mixture into the pie plate and bake it in the preheated oven for about 30 minutes.

Step 9

9- After 30 minutes, the cream cheesecake will puff up and the edges will get brown.

Step 10

10- Remove the cake from the oven and let it cool for about half an hour.

Step 11

Sour Cream Topping:

Step 12

1- Take a bowl and add sour cream to it.

Step 13

2- Now add powdered Sukrin and vanilla extract into the sour cream and mix it well until the Sukrin gets dissolved.

Step 14

3- Your sour cream mixture is ready. Add a layer of sour cream to the top of the cheesecake.

Step 15

4- Sprinkle the powdered nutmeg on top of the sour cream.

Step 16

5- Now place the cake back into the oven and bake it again at 325°F for 15 – 20 minutes.

Step 17

6- Take the cream cheesecake out of the oven and let it cool.

Step 18

7- Place the cake into the refrigerator overnight.

Step 19

8- Serve it to your loved ones and enjoy 
Some Important Tips:
You can use Greek yogurt for topping instead of sour cream. It also serves as the best topping.
You can change the texture of the cake by beating it more. A less beaten cheesecake will have a darker color. To get a light-colored cheesecake, beat the cream cheese mixture more before baking.
You can add lemon extract along with the vanilla extract to give a tangy twist to the flavor. But that's optional. You can simply skip it if you don't like it.
If your cake gets cracks when baked in the oven, don't worry. The sour cream topping will hide them all.
It's recommended to add Stevia Glycerite as a sweetener as it is the only liquid stevia that doesn't get bitter and works well in all the baking recipes.
It's better to refrigerate the cream cheesecake overnight. Because the more it sits, the better it gets.