Basque Burnt Cheesecake is creamy on the inside, caramelized on top and now, with this recipe it's easy to make. The cheesecake's distinctive dark, rich top is made by baking at high temperatures. For a foolproof recipe, follow my tips and tricks to be able to create the ultimate version of this popular cheesecake!
Since a lot of people are complaining to recipe websites in general, with their bad user experience and having to go through the entire article scrolling to the bottom of the page, this time, and from now on we are going to jump right into recipe, but to make the best Basque Burnt Cheesecake I highly recommend you read the whole article. 🙂
Ingredients
1 lb of Philadelphia cream cheese
3 whole eggs
8 TBSP of sugar
2 TBSP of all-purpose flour (for gluten-free version use rice flour)
8 oz of heavy cream
2 tsp of cornstarch
1 – 2 TBSP of lemon juice
A pinch of sea salt
Instructions
To heat the oven
Pre-heat the oven with a fan to 450F (235C).

(

If your oven doesn't have a fan, heat the conventional oven at 475F (250C).)

You can heat your oven to the highest temperature for between 30-60 minutes if it doesn't heat up quickly. Mine is 600F (300C).

The convection oven uses the middle rack. Because the fan circulates air, the middle rack works well.

For the traditional oven, you will need to move the rack slightly higher because heat rises and the oven's top temperature is higher.

Keep in mind, however, that a 3-inch cake pan will need extra space to rise.
How to prepare the cake pan
For this recipe, you should use round 6-7 inches springform cake pan with 2 large parchment papers sheets.

You should leave at least a 2-inch overhang on all sides of the parchment paper sheets you have cut.

To find the center of parchment paper, fold it twice.

Place 2 sheets of parchment paper over each other so that the center matches the cross.

Place the longer side against the other.

Place the removable bottom on top.

To ensure that the cake pan fits snugly, press down on the removable bottom and parchment paper.

You can also press the paper around your cake pan.

Remove the parchment-paper mold and the removable bottom.

Then, place the removable bottom in the cake pan.

Place the parchment-paper mold into the cake pan.

To make sure the paper fits perfectly, press down on the paper.
To Make the Batter for Basque Burnt Cheesecake
Cream cheese should be at room temperature.

You can microwave the cream cheese at half power (50%) in a microwave-safe bowl for 45 seconds or at 15-second increments.

Make the cream cheese soften by pressing down on it.

Then add sugar.

Mix cream cheese and sugar together by pressing the spatula against a bowl.

As the sugar granules are gone, cream cheese will become smooth and fluffy.

Make sure to scrape the bowl and spatula frequently to make sure that they don't stick to each other and that there aren't any lumps.

Mix eggs well in a separate bowl.

Slowly, gradually and three times per minute add the beaten eggs.

Do not add the egg to the batter until it is smooth and free of lumps.

Blend each addition with cream cheese COMPLETELY AND THOROUGHLY.

Blend in the remaining egg.

Use a spatula to scrape the batter out of the bowl. Make sure that there are no lumps.

Next, add the lemon juice.

As you mix the cornstarch and cake flour, sift a bit.

Continue sifting until you have incorporated all of the flour.

This is a slow process.

There are no lumps.

Mix in salt.

At this stage, before adding heavy cream or more liquid, make sure there are no lumps.

Slowly add heavy cream, stirring constantly.

Mix it all together.

To prevent air pockets from forming, pour the batter directly into the prepared pan.

The cake pan should be tapped on the countertop several times.

Use a toothpick or bamboo skewer to pop any air bubbles. Then, use the toothpick to run the batter through the blender.

Bake the cheesecake on a baking tray if you are unsure if it will overflow.

It never happened to mine, but it is easier to transfer the pan from the oven to it.
To bake Basque Burnt Cheesecake
Bake the cake pan in the oven at 450oF (230oC), or 475oF (245oC if you have a conventional oven) for 30-35 minutes. Please be careful as every oven is different.

The top of my cheesecake doesn't turn dark until the 30-minute mark. After that, it turns dark within five minutes.

If you prefer the texture of this cake, bake it for less time than I did.

The cake should not be overcooked. You can extend the baking time but the top will not turn dark.

You can't change the texture of your filling if it becomes curdled.

The oven temperature, or oven rack, or preheating times will need to be adjusted the next time you make it.
To Cool Basque Burnt Cheesecake
When the cake is darkened and burnt, take it out.

When you shake the pan gently, the cake should move.

Allow the cheesecake to cool on the pan for about 2 hours.

It should not be placed directly on the countertop. Make sure that air can pass under the cake pan.

If it isn't in use, you can place it on the stovetop.
To Chill Basque Burnt Cheesecake
You can also skip the chilling and enjoy your cheesecake at room temperature. We like this option.

You can choose to make chilled cheesecakes or firmer cheesecakes by placing the cheesecake covered with cloth (don't put plastic on the cheesecake as it may drip onto it). Place the cheesecake in the refrigerator for at least 4 hours.
To Serve Basque Burnt Cheesecake
Take the cheesecake out of the pan and carefully remove the parchment paper.

Let the cheesecake cool in the pan for 30 minutes to 1 hour before serving.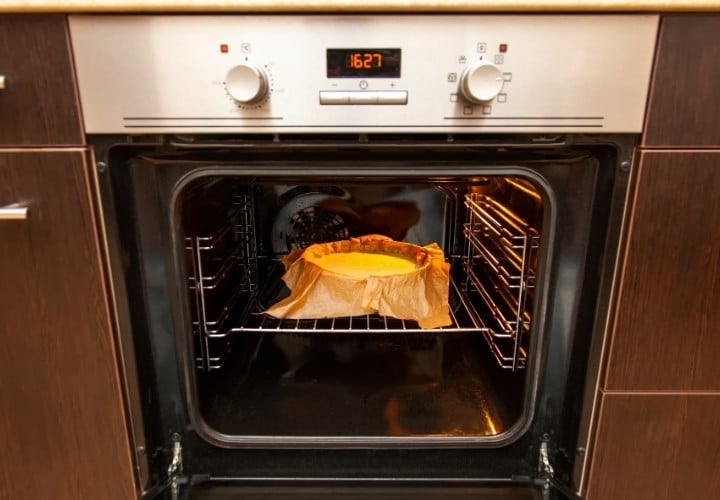 Basque Cheesecake Recipe Variations
You can alter the recipe as you like to make Basque cheesecake creamier, sweeter, or more cheesy. You could also…
Gluten-free version: Use a 1-to-1 blend of gluten-free flours (rice flour) in place of all-purpose flour.

Orange zest or lemon zest can be added to the cheesecake batter.

Add Bourbon: This recipe can also be made with bourbon. We have substituted 3 tablespoons of heavy whip for 3 tablespoons whiskey and it was delicious.

You can bake it for longer or shorter times: I prefer the cheesecake to be still soft and creamy in the middle. However, you can bake your cheesecake for less time if the cheesecake is more firm/full-cooked.

If the top is not brown enough, you can broil it briefly in the oven.

The top will quickly darken if you don't pay attention.

Alternately, you can place a piece of foil on top of your cheesecake after it has finished baking.

You can also add a topping to Basque cheesecake. Basque cheesecake is usually served plain. However, you could also use a fruit sauce, caramel sauce or chocolate sauce as a topping.
So, what is Basque Burnt Cheesecake, you ask?
Santiago Rivera, a Spanish chef who owns a restaurant called La Vina, created Basque Cheesecake (or Basque Burnt Cheesecake) in 1990. This article or this article will explain how and why this cake became so popular.
Here are some characteristics of this cheesecake, in addition to its "burnt" appearance.
Cake Texture: The texture is creamy in the middle and firmer on the outside.

It does not contain a crust, unlike American cheesecake.

Flavor: It tastes just like a caramelized cheesecake in a single bite.

It is balanced between the bitterness of the caramelized exterior and the sweetness of the creamy custardy inside.

Difficulty – This cheesecake is the easiest I have ever made.

Mr. JOC told me that this cheesecake is so easy to make, even if he's never made it before.

Baking: Cheesecakes are baked in half the time of regular cheesecakes. To achieve a rich, caramelized exterior, bake at a higher temperature, but the center of the cheesecake remains jiggly.
Time to bake: Combine ingredients and bake for 30-35 mins. Let cool.

It's fast and easy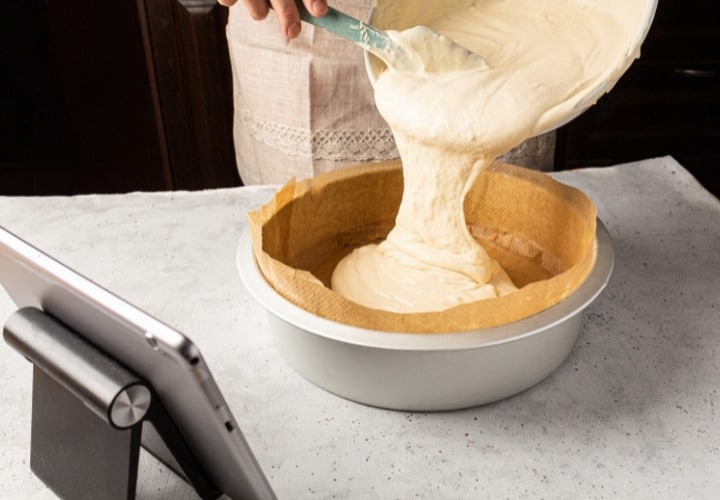 Basque Cheesecake: What to serve it with?
You could serve it with fruit sauce, caramel sauce or chocolate sauce as a topping. But my advice is nothing at all. This cheesecake does not need any syrup, fruit compote, or chocolate sauce. Nothing. It should be consumed at room temperature, and totally on its own. It will be easy to understand once you have taken your first bite.
Also, if you have some Basque cheesecake leftovers, you can use it to make this fantastic fried cheesecake bites!
Ingredients You Need for
Basque Burnt Cheesecake
Tip:
Use room temperature ingredients. This will help you achieve a perfectly baked cheesecake.

You can also find a variety of online shortcuts to quickly and carefully warm cream cheese, eggs, and heavy cream.
You will find that most recipes are simple and easy to search online. These recipes all use the same ingredients with slightly different ratios depending on the baker.
Philadelphia cream cheese

Sugar

Eggs

Heavy whipping cream

Flour
Others may add vanilla, lemon juice and salt.
Overview for the recipe: Basque Burnt Cheesecake
Preheat the oven for 30 minutes.

Bring the cream cheese, eggs and heavy cream to room temperature.

Mix all ingredients in a large bowl, one at a.

Bake the batter in a pan for 30 to 35 minutes.

Allow to cool to room temperature for at least 2 hours.

Enjoy!
6-7 inch Round Cake Pan
It's a heavy dessert with 2 blocks of cream cheese per slice. This 6-7 inch round, 3-inch-deep cake pan is perfect for six people. It has a removable bottom.
When you consider the size of each serving, a taller cake will look more elegant and beautiful.

It is easier to maintain/control the creaminess of small cakes (flat cakes will cook too quickly).

If you bake it for more than 6 people, we recommend baking multiple cheesecakes.

You will need parchment paper to support the 2-inch cake pan.
Baked cheesecake will rise higher than the cake pan rim. It is essential to have a cake pan that is at least 3 inches deep.
This recipe can be used in a larger pan (8-inch or 10 inch round). It will make a shorter and more shallow cheesecake. This recipe will not yield the same rich, creamy texture.
To make a 7-inch deep round pan, you can multiply the recipe by 1.5 or 2 to make a 3-inch deep pan.
Parchment Paper
Not wax paper, parchment paper is required. You will need parchment paper, not wax paper. Some parchment paper is very wide (such as the one at Costco). However, most parchment paper isn't quite wide enough. To cover the shorter side of parchment papers, you can use two sheets.
Silicone Spatula
This dessert can be made with a silicone spatula and a large bowl. La Vina's original cheesecake was made using a spoon. If you don't have one, you can use an electric mixer or a stand mixer to make the cheesecake.
Pin the image below if you like this Basque Burnt Cheesecake recipe!
Doneness: Creamy vs.
Dense
Basque Burnt Cheesecake
Basque Burnt Cheesecake's unique feature is its doneness. It can be made creamy or creamy with a 'raw' center. Or it can have a firm texture like regular cheesecake.
After letting cool to room temperature, the texture will be creamy (left), whereas it will become firmer after cooling in the fridge (right).
For a cream texture, use:
Bake for a normal baking time in the oven

As the cheesecake cools, the cheesecake filling will set up to form a firm texture.

It can be served at room temperature.

Chill for 30 minutes before serving.
For a firmer texture, use:
Bake for a longer time in the oven

Keep it in the refrigerator for longer periods of time.

Serve it chilled or leave it out for 10 minutes.
To get a "raw" cream texture
Bake the cheesecake in a shorter time.

Let cool overnight.

Refrigeration is required to cut a cake perfectly.
FAQs
The top won't burn well. So, what can you do to get your cake's top to burn as it should?
You are not alone. I have struggled with my oven for years. These were the things that helped me:
As I said earlier, you can use the convection oven.

Pre-heat at a higher temperature.

Preheating the oven to 550°F (290°C) for a while worked well.

Bake at a higher heat

As heat rises, bake at a higher oven rack.

If your oven has top heating, ensure that the parchment paper does not touch the heating element/ceiling.
How to mix the batter?
Do not overmix the batter. It is easy to accidentally whip some air into cheesecake batter when the ingredients are being mixed too fast or too long.

Mix each ingredient until it is fully incorporated. Then, move on to the next step as instructed.
Can I use a larger cake pan?
To make a 7-inch deep round pan of 3 inches, you can either multiply the recipe by 1.5 or 2 to make it 3 inches deep.

The baking time will need to be increased, but I have never tried it.

If you would like to make a larger serving, I recommend the 6-inch cake. You can also bake two cakes pans, as I have mentioned.

Because you have multiple pans, it will take slightly longer to bake.
My cake crumbles on top.
What can I do to fix this?
I noticed that the cake batter rose higher than usual, sometimes unevenly. The batter then fell apart, creating cracks.

As more air bubbles were trapped in the batter, it seemed to be inevitable.

I tried taping the pan to pop the air bubbles and resting the batter before baking. This seemed to work a bit.
I have had no issues with cracking since I stopped using a spatula. Mixing/blending the ingredients is easy for me. If you have any issues with cracks, you might want to use a spatula.
How do I get a shiny, smooth surface?
Mine looks bubbly.
There were tiny bubbles in the cheesecakes I've baked before. Your batter must have had tiny bubbles in it before baking, or they may have risen while baking. The same process I used in the Q&A was applied.
What gives my cheesecake its gooey, raw texture at the center?
The cake will retain its gooey texture after it has been chilled. Next time, bake the cake for a bit longer. Your oven may not work in the same way, so I cannot give you a suggested baking time or temperature.
Sparkling Sake is a great pairing for the Cheesecake
Sparkling sake is one of our favorite celebratory drinks that we love to introduce to our friends. It is very popular in Japan and slowly becoming more popular in the USA.
Sparkling sake is a different kind of sake than traditional sake. It is sweet and fruity with a mild taste. It has a lower ABV than traditional sake (5% ABV, similar to beer).
This cheesecake is best enjoyed with sweet wine. We paired it with the Sho Chiku Bai Shirakabegura's favorite Mio Sparkling Sake. The cheesecake's caramel and sweet flavors were perfectly complemented by the sparkling sake's bright notes and sweetness. As you sip this delicious drink, the tiny bubbles add just a little texture to enhance the creamy texture.
Many of our friends were surprised at how fun and delicious Mio Sparkling Sake was when we introduced it to them. Mio sparkling sake is a great choice for anyone looking to celebrate and enjoy the depth of flavor that sake offers.
Mio Sparkling Sake can be found in Asian supermarkets and wine shops. They can also be purchased from Takara Sake (21 and older only).
Are you a fan of cheesecakes?
These recipes will be a hit!
If you liked this Basque Burnt Cheesecake recipe, get the newsletter for free delivered straight to your inbox. Stay connected with me on Pinterest for the most recent updates.