Creamy Shrimp Salad is perfect for a classy appetizer that's simple to throw together and may be served in phyllo cups or endive leaves, with crackers, or on toast points or baguet slices.
I'm sharing my creamy shrimp dish today, that is ideal for a super fast and simple last-minute appetizer. It takes only 10 minutes to throw together, and it looks sophisticated! It can even be prepared if you're planning a celebration and wish to prepare the appetizer the day before. Less stress is often smart if you're having people over.
A few notes for this Creamy Shrimp Salad
I like to use the little pink shrimp, generally known as salad shrimp, for this recipe. You may also substitute a pair of (5-6 oz) cans of cooked small shrimp. Make sure to drain them very well, and after, pat the shrimp dry.
You can also use small and cooked frozen shrimp (such that have 70-90 counts). Thaw them overnight or under cold water, pat dry, chop and proceed with the recipe.
You can chop the shrimp yourself or pulse them a couple of times in your food processor.
I like to serve this shrimp dish in small phyllo shells for an appetizer; however, you may also serve it with crackers, toast points, baguette slices, wonton cups or on endive leaves.
If you wish to add some toppings, fresh onions or shredded fresh parsley work excellently. You may even add some additional pimientos on top. I know that crumbled, saute bacon would be delicious too!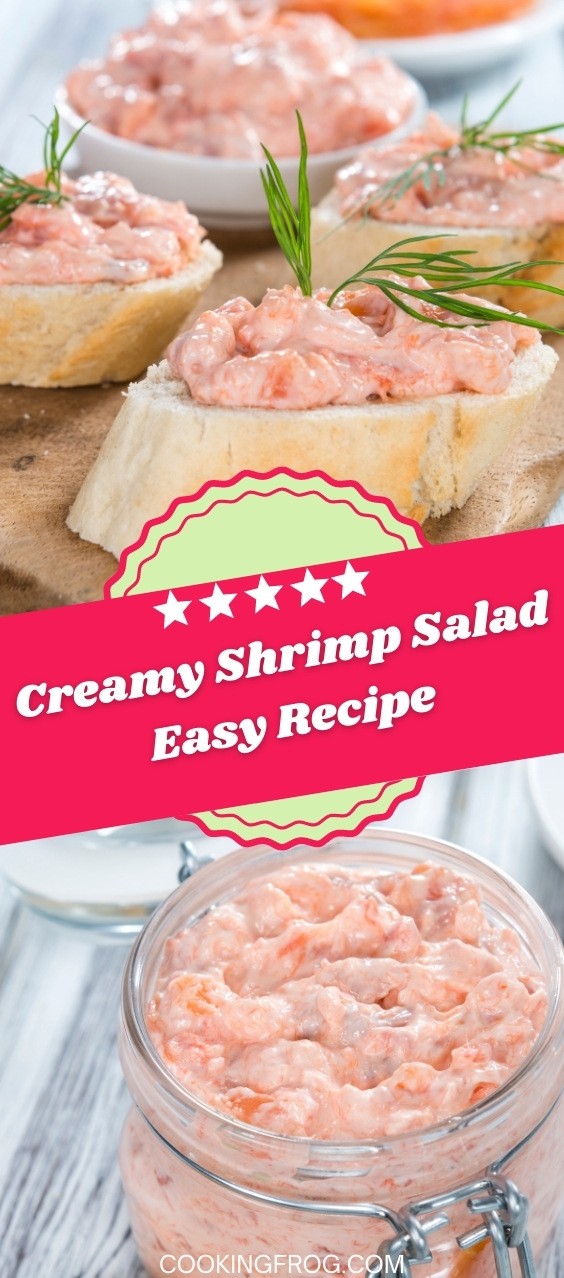 Ingredients
4 oz. 1/3 low-fat cream cheese, softened
1/4 cup low fat mayonnaise
1-2 tablespoons lemon juice
1/2 teaspoon of Worcestershire sauce
3 fresh green onions, sliced thinly
1 (2 oz.) jar pimientos, well drained . If you like
A pound of small pink shrimp, cooked, shelled and deveined and nicely chopped
Salt and black pepper
Hot sauce (optional)
How to make Creamy Shrimp Salad:
Combine cream cheese and mayonnaise and mix in a medium bowl and stir till smooth.
Add one tablespoon of lemon juice with the Worcestershire sauce and blend well.
Stir in the fresh onions, pimientos and cooked shredded shrimp. combine well then taste and adjust seasonings – add additional lemon juice, salt or pepper, or if you like hot sauce.
Use the shrimp salad straight away or cover and chill for up to no more than 2 days till ready to serve.
Nutrition Facts
Serving Size
Amount Per Serving
As Served
Calories 76 kcal Calories from fat 46
% Daily Value
Total Fat 5g
Saturated Fat 2g
Cholesterol 56mg
Carbohydrate 1g
Dietary Fiber 0g
Sugars 1g
Protein 6g