Let me just say that this amazing Chicken Recipe with Coconut Milk and Curry is here to change your nights off. It's ready in just 30 minutes. A spicy sauce of red curry paste, coconut milk, garlic, and lime juice is used to cook tender pieces of chicken. With aromatic rice that soaks up the curry, you can have a tasty meal on the table in less than 30 minutes.
There are recipes that I've been wanting to cook for the blog for ages. And then they're gone so quickly each time that a proper shoot is out of the question.
Chicken curry is a perfect example of culinary excellence. During our time in Thailand, we ate a lot of curries, and Thai Chicken Soup was one of our favorites. But a really authentic chicken curry never made it onto our cooking list. Well, that's about to change, my dear friends, because now is the perfect time to embrace this delicious dish!
What you need for Chicken Recipe with Coconut Milk and Curry
Gradually add everything to the pan, sear the ingredients, and let them simmer until they're done. Served with a generous amount of rice, you'll be fulfilled and extra thrilled with this scrumptious meal.
Difference between Indian and Thai curry.
Indian curries are often thick and creamy, like the chickpea curry with coconut milk or the coconut curry with spinach and tomatoes. Thai curries are more reminiscent of soup in consistency and consist of a super tasty and usually quite hot sauce with inserts.
Why you'll love this recipe
Wonderfully spicy: This recipe delivers a pleasant kick of heat, perfect for those who enjoy bold flavors and an extra spice in their meal.
Intense flavor: The blend of fragrant curry spices and rich coconut milk makes a highly satisfying and unique flavor profile that you'll want again and again.
Hot and coconutty: The perfect combination of warm curry spices and creamy coconut milk makes for a comforting, well-balanced plate that will leave a lasting impression.
Packed with juicy chicken pieces: Tender, juicy chicken pieces are the star of this dish, bathing up the lovely sauce and delivering a satisfying protein component.
On your table in 30 minutes: This recipe is ideal for dynamic weeknights or any time you want a scrumptious meal without spending hours in the kitchen.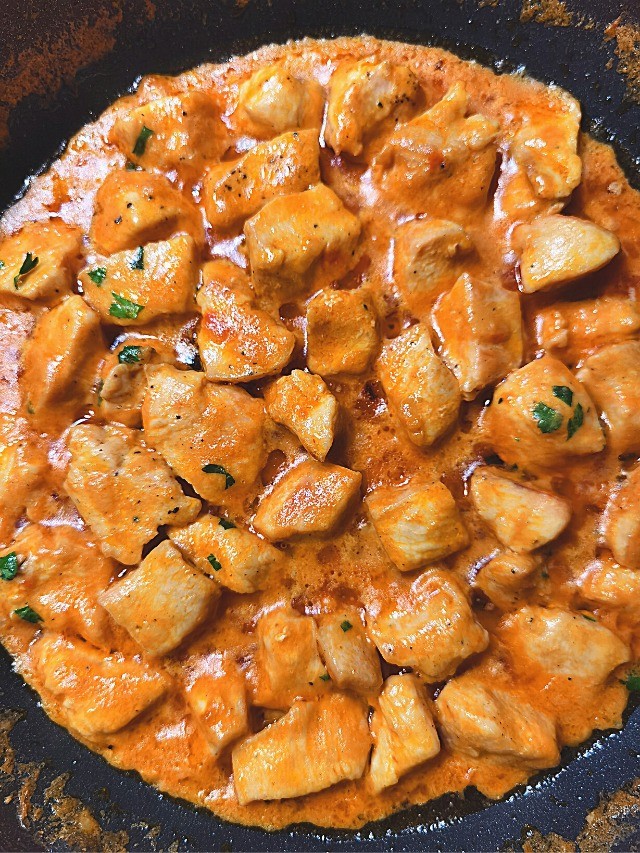 Chicken Curry with Coconut Milk Tips
The curry can be perfectly prepared and reheated, and It will keep in the refrigerator for 2 – 4 days.
Instead of the red curry paste, you can also go for a yellow or green one. This only changes the sharpness a little bit.
You want some delicious veggies? No problem, add paprika, mushrooms, zucchini, spinach, or whatever else you can think of to the pan.
Chicken Curry with Coconut Milk Recipe
This delicious recipe for Chicken Curry with Coconut Milk is a culinary treat. Experience how rich, creamy coconut milk and warm, fragrant curry spices go together to make an irresistible meal that's sure to please everyone.
Ingredients
1.1 Lbs of chicken breast fillet
1 garlic clove
1 onion
2 tablespoons of coconut oil
17 oz of coconut milk
1-3 large tablespoons of red curry paste, depending on spiciness
1/2 lime pressed
salt, pepper, and chili
Rice to serve with
Instructions
Prepare the chicken: Cut the chicken breast into bite-sized cubes.
Prepare the aromatics: Peel and finely chop both the onion and the garlic, which will add to the dish's flavor base.
Sear the chicken: Heat the coconut oil in a large pan, season the chicken with salt, and sear it on all sides for about 10 minutes, turning it often to get an even browning.
Cook the aromatics: Add the finely chopped onion and garlic to the pan and cook for another 2 to 3 minutes, letting their flavors blend with the chicken.
Add the sauce ingredients: Pour in the coconut milk, curry paste, and lime juice, and stir well to combine and make a smooth, flavorful sauce.
Simmer and season: Let the mixture simmer for 10 minutes to let the aromas blend and the chicken cook through. Add salt, pepper, and chili for more heat.
Serve the dish with fluffy rice to soak up the flavorful sauce and relish a mouthwatering meal.
Greetings, curry lovers! If this delicious recipe for Chicken Curry with Coconut Milk made your mouth water, don't be shy! Pin the picture below to your Pinterest board. Sharing is caring, and your followers will appreciate you for introducing them to this tasty party.
Video Instructions