Make this Jamaican curry chicken recipe if you're planning to experience any Jamaican cuisine. Well-seasoned and simmered in a flavorful curry sauce. This mouthwatering recipe is one for chicken foodies and is bursting with flavor.
If you've ever eaten Jamaican food in general, you already know how important taste and spice are. For this authentic Jamaican curry chicken, you can enjoy the heat. It's cooked in a sauce of spicy peppers, garlic, chicken stock, and coconut milk, with a few more spices and vegetables to give it some additional punch.
One of many Jamaicans' favorite comfort foods from their youth. Including a gluten-free alternative and no dairy at all. I'm ecstatic to share my Jamaican curry chicken dish with you all at last. It has taken a very long time; however, I needed to make sure that I was presenting something that was both tested and proven to the food that I ate growing up.
Friends, we're talking Jamaican curry chicken! Did you know that curry is popular throughout the Caribbean? Curry dishes may be found all around the world. The taste composition of Jamaican curries differs from Indian curries in terms of the general flavors used.
The amount of turmeric and other ingredients will be increased, creating an irresistible taste basis that might make this one of your favorite new meals. There are many other Jamaican curry chicken recipes out there, but I swear that this one is the most authentic.
Don't worry; you may modify the hot tastes to suit your taste buds.
What is Jamaican Curry?
Jamaican curry does not have a standard recipe because each family has its own customs. It is often a combination of seasonings that may be obtained nearby. You may season your curry yourself using a variety of flavorings or purchase pre-made mixtures.
I had to use Scotch bonnet peppers in my sauce because they are a common ingredient in Jamaican cuisine. They give things a sweet-spicy kick, but be careful! For people with a low tolerance for heat, these guys may be rather hot. My curry's coconut milk provides just the right amount of cooling. Consequently, you won't pass away from heat stroke.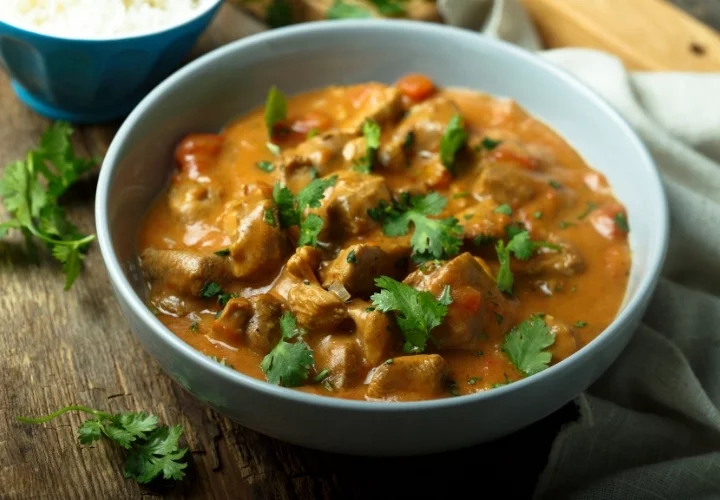 Every cook has a different curry recipe.
Jamaican curries vary from restaurant to restaurant and from cook to cook, with each chef passionately arguing whether or not to add particular ingredients, tomatoes or no tomatoes, and coconut milk or not. Since this is ultimately your meal, you may make any necessary adjustments.
Although this is how I enjoy it, I have included other alternatives in the ingredients. Jamaican curry chicken is really simple to cook and has a ton of flavor.
What's the point of burning the curry?
Because Jamaican curry powder is so potent, it's vital to burn it first when using it to prevent stomach problems for certain people. Additionally, richer flavor and color are released during the "burning" process.
Can I use Sweet Potatoes Foe Jamaican Curry Chicken?
Sure, you can use sweet potato in your Jamaican Chicken curry without a doubt. For two reasons: first, it gives the sauce some good "body" or thickness while it cooks with the chicken; second, it provides some great flavor when you eat the chicken with your preferred side dish.
Since I love to try new things, I would absolutely substitute sweet potatoes to mix things up. I won't be harmed.
Serving suggestions for Jamaican chicken curry
Typically, Jamaican curry chicken is served with a plate of white rice, sautéed vegetables, and either fried plantains or plantain chips. For a healthy twist, I've loved the curry chicken with a plate of brown Basmati rice, sautéed vegetables, mashed potatoes, etc.
It's really up to you; you could even serve it with a side of orzo. Just enjoy yourself—neutral positions are great!
Share the image below to your Pinterest board if you like this Jamaican Curry Chicken Recipe!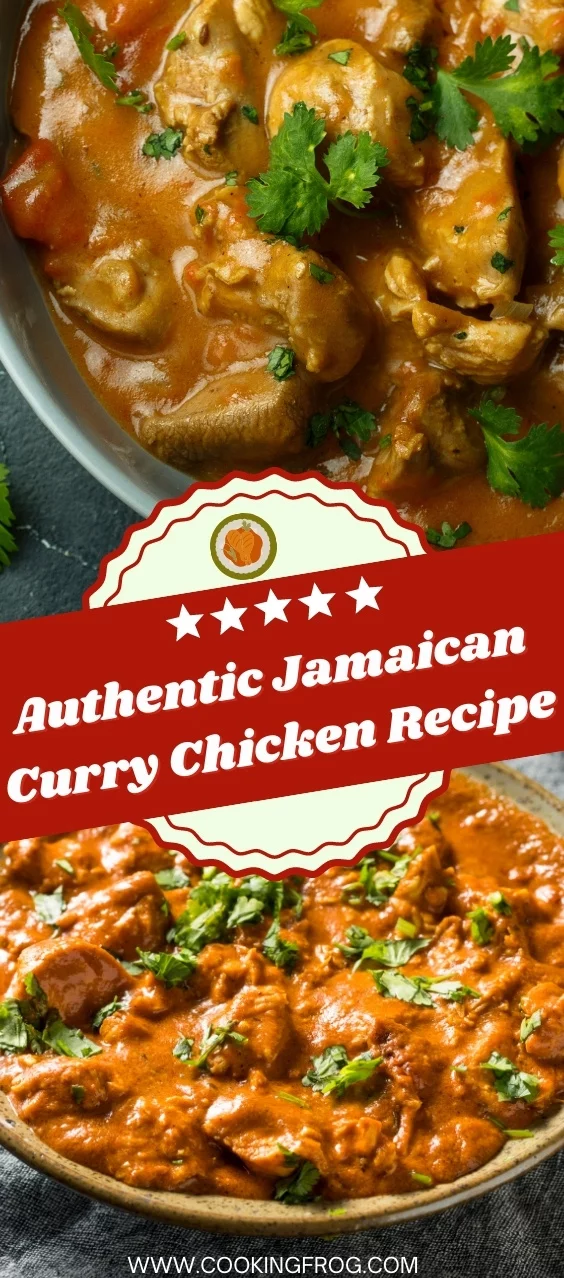 Ingredients
For the Chicken and Marinade:
3-4 of Chicken Drumsticks
2 TBSP of Jamaican curry powder
1 tsp of sea salt
1-2 tsp Flavo Rice or all-purpose seasoning (optional)
1-1/2 tsp of black pepper
1 tsp of garlic powder
1-2 tsp of onion powder
1 tsp of dried parsley
1/2 tsp of smoked paprika
2 TBSP of browning (optional)
For Jamaican Curry Sauce
2 TBSP of olive oil, Extra virgin
14 oz. of full-fat coconut milk, 1 can
2 peeled and cubed russet potatoes
2 peeled and chopped carrots
1 chopped bell pepper
3-4 minced garlic cloves
1 tsp of sea salt
1 tsp of black pepper
2 TBSP of minced ginger, fresh
2 chopped green onions
1-2thyme sprigs, fresh
8 TBSP of low sodium chicken stock
2-3 scotch bonnet peppers(Use habanero peppers if you prefer)
1 TBSP of low sodium soy sauce
3 TBSP of Jamaican curry powder
1 TBSP of Jamaican hot sauce(Or any other brand you prefer)
1 tsp of ground allspice
Instructions
For the Chicken Marinade:
Add the freshly cleaned and washed chicken to a large bowl, including the salt, pepper, browning, garlic powder, smoked paprika, onion powder, parsley, All-purpose or Flavo Rice, and curry powder, and stir to coat the chicken thoroughly.
Place the coated chicken in an air-tight bag that is firmly sealed, then put it in the fridge for around three hours. Overnight marinating is preferred because it really needs to be marinated for at least 3 hours. Allow chicken to rest at room temp for 15 to 20 minutes before using.
To Burn The Curry Powder:
It's crucial to "burn" your curry powder before using it if you want to make true Jamaican curry.
Heat the curry powder with the olive oil in a large saucepan or skillet over medium-high heat. Curry powder should be stirred with oil and let to rest for two to three minutes or until it turns dark brown and becomes aromatic.
For The Chicken:
Add the garlic, ginger, bonnet or habanero peppers, onions, and bell peppers, and sauté until aromatic and golden. Stir in the nutmeg, salt, and black pepper, allspice into the mixture and mix well. Add the chicken that has been marinated now, and cook for 3–4 minutes on each side or until it is seared.
Add the soy sauce, chicken stock, spicy sauce, and coconut milk and stir to incorporate. Add the diced potatoes and carrots after the mixture has boiled for about a minute. Throw them into the sauce, add the thyme sprigs, and lower the heat to simmer for 20 around mins, stirring regularly, or until the sauce thickens and also the chicken is cooked thru and is tender. Once finished, turn off the heat.
To serve, plate the curry chicken and a side of your choice (veggies, rice, or whatever you like). If preferred, garnish with a little dried parsley and a few dashes of red pepper flakes.