Are you ready for one of the best burritos ever? California Burritos with Spicy Mexican French Fries, carne asada, and all the other ingredients are in my top 10 street foods list!
California Burritos is undoubtedly one the best burritos anywhere in the world. These burritos are filled with Mexican French Fries, tender, marinated Carne Asada, cheese, and salsa.! These California Burritos can also be frozen for a quick and easy dinner. I'm going to include the recipes both for Mexican French Fries and Carne Asada, so you don't have to go elsewhere for these recipes. 🙂
What are California Burritos, you ask?
California Burrito is made with a large tortilla, which is then topped with juicy, marinated, and spice-rubbed, grilled Carne Asada beef. Then, it's piled high with Mexican Street Fries and filled with cheese, sour cream, and Guacamole. Imagine fiesta, cheesy steak, and potatoes with all the goodies!
I knew I had to make California Burritos as soon as I perfected my favorite carne asada recipe.
Everyone loves Burritos with carne asada, but this variation with Mexican Fries is the most popular version of California Burritos. These burritos are considered the best in San Diego and are an essential part of San Diego's food culture.
Who is the inventor of the California Burrito?
Even if you reside in California, you're not alone if you've never heard of a California Burrito. California burritos emerged in San Diego in the 1980s at one of -Berto's diners and are distinctly San Diego. The Fresh MXN (previously Santana's) franchise also claims to be the inventor of the California Burrito, but I'm sticking with -Berto's.
You can make your own California Burrito recipe at home, regardless of who invented the original California Burrito. It will make your family and friends adore you.
What kind of tortilla to use for California Burrito?
This California Burrito recipe works well with a large to an extra-large flour tortilla. In a smaller shell, you won't be able to fit everything. I favor extra big tortillas, but unless I order in bulk, I can typically only find large tortillas.
The tortilla size for the burrito range from 10′inch to 12inch in diameter; those are large to extra large ones. When cooking burritos, flour shells are significantly better than corn shells. They're a lot more durable and therefore hold everything together better.
Which cut of beef to use for California Burritos?
Skirt steak is most commonly used in California Burrito recipes; however, If you can't find skirt steak, you can use flank steak instead. For carne asada, these are the two most popular steak selections. If neither of those is available, ribeye would be my third option. It has a lot of texture and is delicious.
It'd be a delectable, flavorful, and juicy choice. When slicing skirt steak, flank steak, or ribeye steak, keep in mind that you should cut against the grain. This dish asks for raw beef cubes to be sliced before cooking. You can cook a skirt or flank whole, but to make it soft, you'll need to slice it against the grain.
Ingredients you'll need for California Burritos.
Tortillas: For the complete California Burrito experience, use large flour burrito-sized tortillas. For lesser amounts, you can always divide these burritos in half. Tortilla Land, for example, has raw/uncooked tortillas in the refrigerated section, which I like (I buy mine at a local store). They crisp up beautifully since they are lighter!
Carne asada: Carne asada is one of the main ingredients for California burritos. I've included the recipe for the best Carne Asada in this recipe, so you don't have to look elsewhere! You could use skirt or flank steak, which is marinated in lime juice, orange juice, soy sauce, and a drop of liquid smoke before being rubbed with chili powder, cumin, smoked paprika, garlic, and onions for a delicious, buttered, and dissolve in your mouth feel.
Cheese: Add around 3 cups of cheese, perhaps more, if you want to experiment; I don't think you'll go wrong with a bit more. I love to use a blend of pepper Jack and the sharpness of cheddar cheese, but if you don't have either, use only cheddar.
French fries: seasoned with garlic powder, ground cumin, chipotle pepper, salt, and pepper; the French fries are addictive on their own.
Salsa: For California Burritos, it is almost unimaginable to make without salsa. You can make your salsa with my recipe here or use a store-bought one.
Avocado crème: I make a wonderful Avocado crema with avocados, sour cream, mayonnaise, lime juice, cumin, salt, and garlic powder rather than sour cream and guacamole. It's one of my all-time favorite sauces. You can substitute guacamole or sour cream if you don't want to use cream.
How to make the best California Burritos
There are several parts to these California Burritos, but they are all simple to prepare. While the carne asada is marinating, you may make the avocado crema, French fries, and any other preferred toppings.
First, marinate the carne asada
Ground cumin, smoked paprika, garlic powder salt, onion powder, chili powder, pepper, and cayenne pepper are mixed in a bowl. Add around 3-4 Tablespoons to a freezer bag, and save the rest for late use.
Next, Low sodium soy sauce, olive oil, orange juice, lime juice, brown sugar, and liquid smoke are mixed in a bowl. Seal the bag after adding the steak and eliminating any excess air. Refrigerate for 5 to 12 hours to marinate.
Make the avocado cream.
Next, make the avocado cream. Blend together 2 avocados, mayonnaise, sour cream, lime juice, salt, cumin, and garlic powder until smooth and creamy, and Keep it chilled in the fridge until you're ready to use it.
3rd step: prepare the french fries
Combine sliced potatoes, cornstarch, olive oil, and seasonings in a mixing bowl. Distribute potatoes equally on a prepared baking sheet and bake for twenty minutes, and toss, stir, and rearrange fries in a single layer on a baking sheet and bake for another ten min. Broil the French fries till brown and crispy if you prefer crispier fries.
Prepare pineapple and carne asada on the grill.
Grill the pineapple until lightly browned and caramelized; it should take 7-8 minutes. Remove the cores from the pineapple and chop it up. (Grill pineapple alongside carne asada if you have room on your grill.) Next, grill previously marinated and rubbed Carne asada for 6-7 minutes on each side or until an internal temperature reads 135-140 F for medium and around 130F for medium-rare.
The length of time on the grill depends depend on the thickness of your steak and the amount of doneness you desire. Wrap your extra-large tortillas in foil and put them in a preheated oven (350F) for ten minutes to make them warm and flexible (this is just a recommendation).
Finally, assemble your California Burritos.
To assemble your California Burrito, start with the carne asada in the middle of each burrito, then add fries, cheese, avocado crème, salsa, and finally, pineapple. The top and bottom folds are folded in, and the burrito is rolled securely.
Optional: Lightly coat a skillet with olive oil and cook over medium-high heat to brown burritos. One at a time, add burritos, rotating as each side goes golden.
To taste, top tortillas with more salsa, avocado cream, and hot sauce if you like.
Tips for making the Best California Burritos
Make California Burritos ahead: If you transfer the crème to an airtight container and place a piece of plastic wrap directly on the surface of the crème before applying the lid, the avocado crema may be made and stored in the refrigerator for up to 3-4 days. The oxidation/browning that occurs when the surface of the dip/avocado comes into touch with air will be delayed as a result of this.
Also, French Fries can be cooked ahead of time and preserved in an airtight container in the fridge, but they will lose their crispiness; however, they could be reheated in the air fryer.
Don't marinate for too long: Because the carne asada marinade is so acidic, you won't want to leave the steak in it for as long as you would in a marinade with less citrus. If you leave the meat to marinade for more than 12 hours, the muscle fibers will break down and become gooey.
On the other hand, be sure to marinate carne asada enough; this will bring an explosion of flavors to your taste buds.
What Is the Best Way to Freeze California Burritos?
Cool the filling: If you don't let the carne asada and French fries cool, the tortillas will become soggy. Assemble the burritos according to the instructions. Wrap individual burritos in foil to keep them warm—freeze burritos on a baking sheet in a single layer.
This will allow them to freeze more quickly and avoid being squashed. Fill a big freezer-friendly bag halfway with frozen burritos, remove any excess air, and seal—freeze burritos for up to three months in advance.
Share the image below to your Pinterest board if you like this California Burrito Recipe!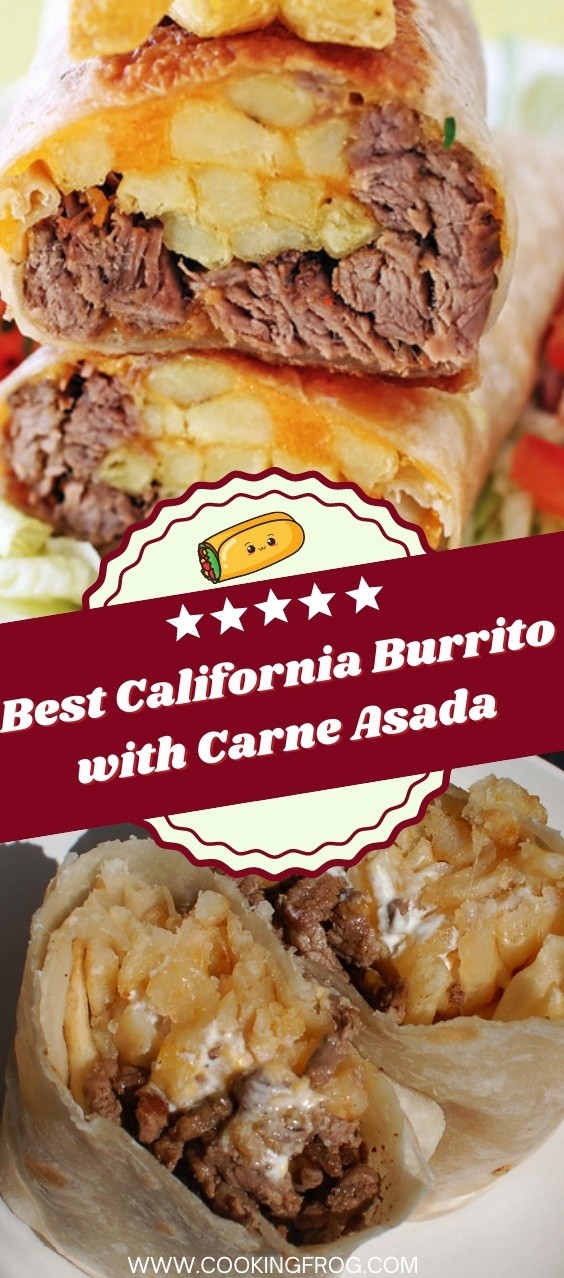 Ingredients
8-10large size tortillas
Carne Asada
3 cups Pepper Jack Sharp cheddar per burrito
French Fries
Salsa (to your liking)
1peeled and sliced pineapple
For Carne Asada
Carne Asada Marinade
2 TBSP of olive oil
1/4cup of soy sauce
1/4cup of orange juice
2 TBSP of lime juice
1 TBSP of brown sugar
1 tsp of liquid smoke
Carne Asada Spice Mix
1 TBSP of ground cumin
1 TBSP of garlic powder
2 tsp of smoked paprika
1 tsp of salt, chili powder, and onion powder, each
½ tsp of pepper, cayenne pepper, each
For the Avocado Cream
2 avocados
1 cup of sour cream
1/4 cup of mayonnaise
2 TBSP of lime juice
1/2tsp of salt
Directions
For Carne Asada
Mix the Spice Mix using a small plastic bag (or another sealed container). Place aside.
Whisk the marinade ingredients together before adding them to a large ziplock bag.
Whisk 3 TBSP of the Spice Mix into the Marinade. Steak should be placed in the bag, and air removed completely.
Chill the marinade for at least 3 and a maximum of 12 hours.
When it's time to cook, create a Spice Rub by combining the leftover Spice Mix with 2 teaspoons of olive oil.
Take out the marinade and pat the steaks dry using a paper towel (only to prevent wetness, not to eliminate the marinade or seasonings).
Spice Rub the steak evenly all over, then let it rest for 30 to 50 minutes at room temperature.
The outdoor grill should be greased and heated to medium-high.
For medium-rare or medium, grill steak for 5 to 6 minutes on each side or until an internal temperature registers 130 to 135 degrees F.
The length of time needed to grill a steak depends depend on its thickness and desired degree of doneness. *If you prefer your steaks rare, utilize HIGH heat to achieve the charred exterior in less time.
After removing the steak, give it 10 minutes to rest before slicing it thinly and diagonally across the grain.
Carne Asada on the Stove
You can pan-sear carne asada, but your steak won't fit unless you have a huge grill pan, in which case you'll need to chop it in half and cook it in two batches.
In a large cast-iron pan set over medium-high heat, warm 1 tbsp of olive oil. Fry for 6 to 9 minutes on each side, or until the desired temperature is reached.
For California Burrito
Blend the ingredients for Avocado Crème until they are completely smooth. Keep Avocado Crème chilled in the fridge until you're ready to use.
Prepare the French fries and leave them aside. Heat the grill to medium after greasing it.
Grill the pineapple for 7 to 9 minutes on each side or until it is slightly browned and caramelized. Remove the pineapple's cores before chopping.
Cook the carne asada that has been marinated or rubbed as directed in the recipe above (also grill pineapple if there is space on your grill).
To get the tortillas warm and flexible, wrap them in foil and bake them for 10 minutes at 350 degrees F. (this is just my recommendation, this step is optional).
Assemble the California Burrito
Each burrito should start with carne asada in the middle, accompanied by fries, cheese, avocado crème, salsa, and pineapple. Wrap tightly in a burrito fashion by folding the top and bottom in.
Optional: Use a small amount of olive oil to gently coat a skillet and heat it over medium-high heat before browning the burritos, just a little bit on both sides, until they turn golden brown. Add more hot sauce, avocado cream, and salsa as desired to the burritos as a garnish.