After being marinated in a liquid combination with spices and seasoning, London Broil is a wonderfully soft piece of beef that is broiled in the oven. A sumptuous supper that's simple to prepare!
London Broil is a quick, budget-friendly, hands-off supper that's excellent for weekday evenings or holidays. It has a little prep time and yields enormous, tender, juicy rewards. This flavorful London Broil recipe includes a simple tenderizing marinade as well as cooking suggestions and ideas for this less costly cut of beef. Expect to have your taste senses titillated as your wallet stays full.
What is London Broil?
Don't be fooled by the name; London Broil isn't a type of steak, and it wasn't even invented in London! Instead, this American cuisine refers to a steak-cooking procedure or a steak cooked in that manner.
The London Broil is a tough piece of beef (often a flank steak or top round) that has been marinated until delicious and tender before being broiled to medium rare. The steak is left to rest after being grilled before being thinly cut across the grain. Isn't that impressive? Yes, it is. It is, however, exceedingly simple to prepare.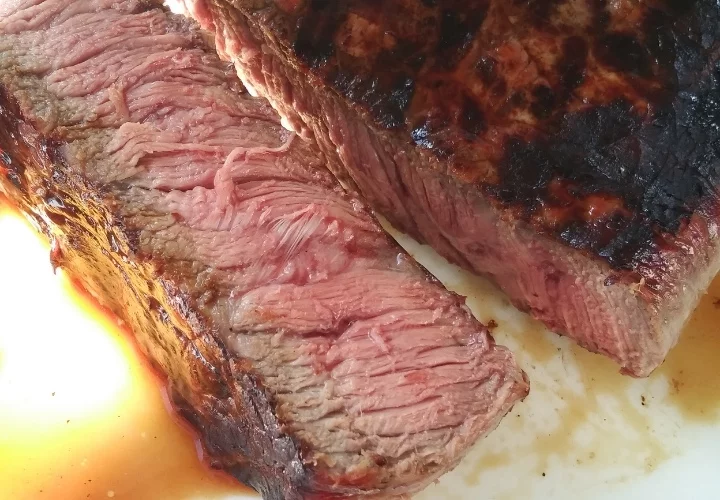 What is the flavor of London Broil?
In the 1950s and 1960s, London Broil became immensely popular in the United States. The American taste enjoyed higher levels of acidity during the time, and vinegar and lemon juice were used on almost everything! The London Broil is no different.
According to conventional recipes, the marinade comprises lemon juice and balsamic vinegar, but I've toned it with soy sauce and complemented it with brown sugar. The outcome is a tangy, flavorful London Broil with a hint of sweetness.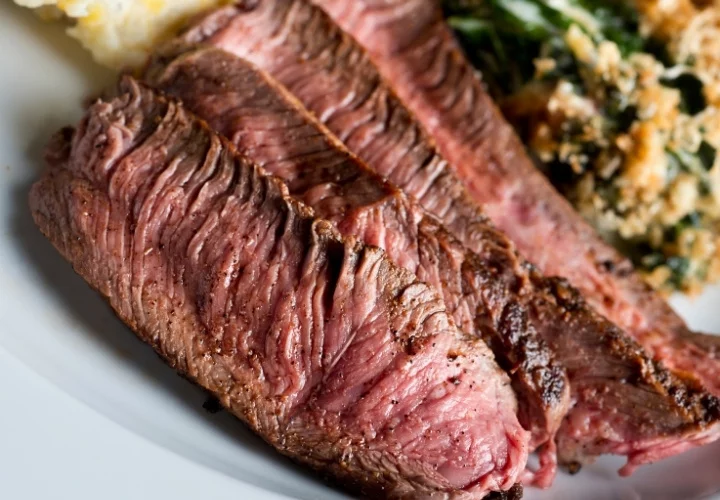 London Broil at its Finest
This tasty, delicate, and comforting London Broil will amaze your friends and family. You simply won't make a mistake with this amazingly marinated and cook steak cut. The meat is broken down and heavily flavored after being marinated in a sauce that is sweet, salty, and spicy. In addition, this London Broil is really easy to prepare and cook.
Despite being known for being broiled, London Broil is not normally the type of beef. Ask your local butcher or look for a London Broil round steak label when buying your London Broil. This steak will appear tough at first, but it will soften as it marinates.
After marinating the steak, broil it in the oven on high for a couple of minutes at a time, turning it halfway through. Allow it to rest before cutting, then slice across the grain to make it simpler.
This London Broil dish is quick and easy to prepare, taking only a few minutes on each side to cook. To prepare a whole dinner, add potatoes and green beans. Your guests will fall in love with this lavish, stunningly delicate London Broil from the first bite. It's a tried-and-true classic!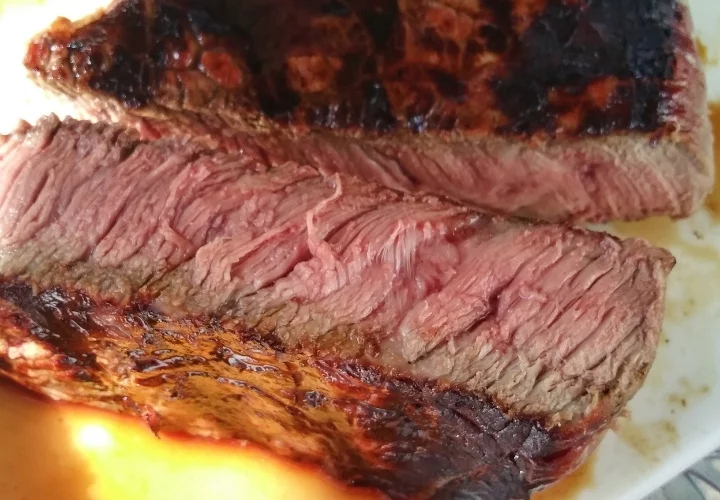 Frequently Asked Questions
What Meat Cut Should I Use for a London Broil Dish?
London Broil is not about a type of beef but rather a cooking technique. It's commonly referred to as flank or top round steak, and it's marinated overnight before being grilled at a high temperature. The flank or top round steak is a harder cut of beef, but then when marinated and broiled over high heat, it becomes soft and properly cooked.
Where can I get London Broil steak?
Flank steak and top round are commonly available and should be easy to get at any supermarket. Both cuts may be found in the beef aisle of the supermarket or at the butcher counter. Flank steak is frequently packed with a marinade, so double-check the label — we just want the beef for this flank steak dish.
When buying London Broil, what should you check for?
Look for a flank steak or top round that is uniformly dark red in color and has a good quantity of thin fat down the length of the muscle. Look for steak that is smooth rather than meat that has been improperly cut and has nicks or gouges from the skin being forcibly removed. Lastly, to minimize overcooking narrow ends, choose the steak with the most consistent thickness.
What is the best way to store raw steak?
Uncooked steak should be kept in its original container until ready to marinade or moved to a freezer bag with all air squeezed out—store for up to three days in its original container.
What is the best way to store cooked London Broil?
London Broil may be kept in a container in the fridge for up to five days. Then, to avoid freezer burn, London Broil can be frozen in a sealed container with extra air pushed out or vacuum-sealed. Frozen steak may last up to three months in the freezer.
What is the approximate amount of London Broil per person?
Allocate 4-8 oz. of steak per person as a basic rule of thumb. Therefore a typical flank steak will feed 4-8 people. You'll need to assess the appetites of your diners (adults and children) as well as what else you'll be offering alongside the flank steak.
How Long Should London Broil Marinate?
The London Broil must be marinated for a minimum of 4 hours to take advantage of the benefits of the tenderizing characteristics. But marinate for 12 hours for the best results. However, if you marinate the steak for more than 12 hours, the acid in the marinade may start to damage the integrity of the flesh, making it mushy.
Ingredients for a London Broil
For this steak broiled dish, all the ingredients are mixed together into one sauce to marinade.
Soy Sauce: A sweet and salty liquid sauce that gives this dish a lot of flavors.
Lemon Juice: A tangy and sweet addition.
Olive Oil: Not only does it give taste to the steak, but it also soaks it up.
Worcestershire Sauce: A vinegar-based sauce flavored with a variety of ingredients.
Minced garlic
Italian Seasoning: marjoram, oregano, basil, rosemary, and thyme
Just a touch of pepper and salt!
Red pepper: Toss in a pinch of heat to your marinade.
Round London Broil Steak: A harder cut of beef that will be marinated and tenderized before being broiled.
How to Prepare the Tenderest London Broil
Make the steak marinade in a large gallon bag by whisking together soy sauce, lemon juice, olive oil, Worcestershire sauce, garlic, Italian seasoning, and salt and pepper. Place the steak in the marinade and leave it for 4 hours or overnight.
Set your broiler to high. Place the steak on a baking dish after removing it from the marinade. Broil for 5-6 minutes on one side, then rotate and broil for 3-4 minutes on the other until the internal temperature reaches 130-140 degrees for medium-rare.
Let it stand for 10 minutes before slicing: Allow the steak to rest for ten min prior to actually cutting.
What is the ideal temperature for cooking a London Broil Round Steak?
A London broil should be cooked to an internal temperature of 130-140 degrees for medium-rare and 140-150 degrees for medium to well done. Allow for a 5- to 10-minute rest period before chopping the meat into pieces. It will be able to absorb the flavors and cut more easily as a result of this.
Share the image below to your Pinterest board if you like this London Broil Recipe!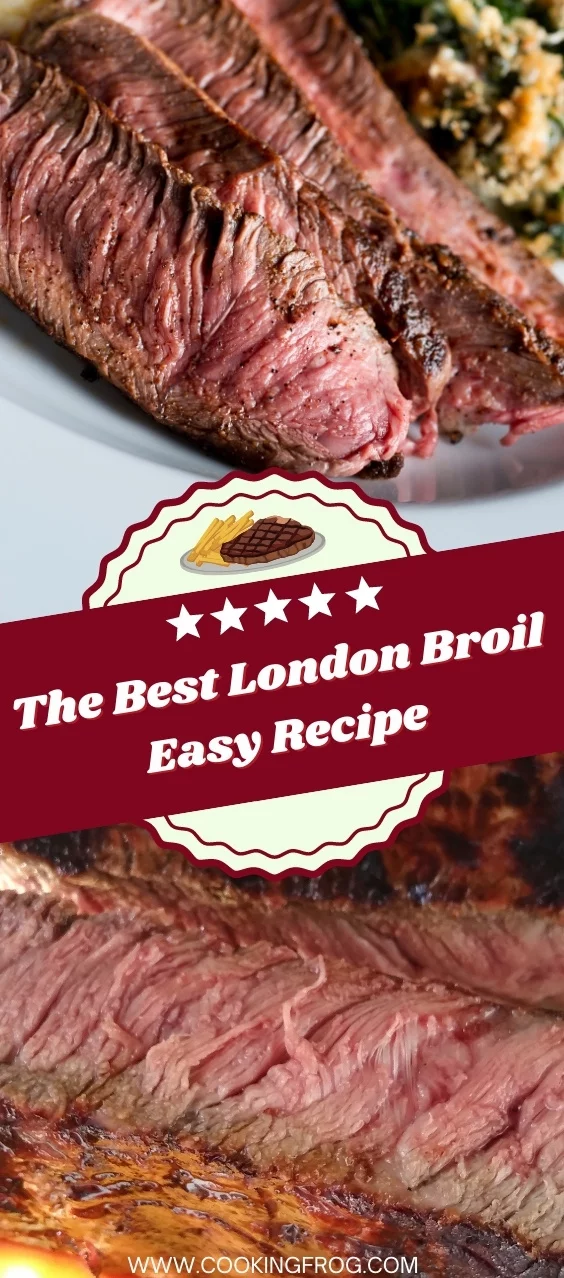 List of Ingredients
pinch of red pepper
1/2 tsp salt
1 tsp pepper
1 tbsp minced garlic
2 tbsp Italian seasoning
1/4 cup Worcestershire sauce
1/3 cup soy sauce
1/3 cup lemon juice
1/2 cup olive oil
2-pound London Broil Round Steak (Sirlion or Flank Steak)
Directions
Begin by pounding the steak using a meat mallet's ridged side. This will cause the connective tissue to break down and become more sensitive.
In a large bag, combine the soy sauce, lemon juice, olive oil, Worcestershire sauce, garlic, Italian seasoning, and salt and pepper for the steak marinade. Allow 2 hours or overnight to marinate the meat.
Preheat the oven broiler to high.
Take the beef from the refrigerator, remove it from the bag (throwing away the remaining marinade), and set it on a chopping board when ready to cook.
Allow the steak to come to room temperature before drying it well with paper towels.
Broil for 5-6 minutes on one side, then turn and broil for 3-4 minutes on the other until the internal temperature reaches 130-140 degrees for medium-rare.
Allow 10 minutes for the steak to rest before slicing.