Hello It's Sarah again and today i will show you how to make the perfect Pancakes Without Eggs. I am sure you will never add eggs to your pancakes after you make this recipe.
I certainly never thought it's even possible to create juicy, delicious, homemade pancakes without eggs or milk! The best part? You don't need eggs ever again to make the best pancakes ever! I'll explain to you several substitutes and my personal favorite recipe for crispy on the exterior, fluffy internal pancakes!
Egg-Free and Dairy-Free Pancakes Recipe
Actually, I'm going to show you the steps to make pancakes without eggs or milk! So go and buy some maple syrup and your favorite pancake toppings and let's get started!
My opinion is: "they're the very best eggless pancakes you'll ever taste. I haven't eaten a typical pancake with eggs for a long time now… So I cannot compare it with this, but I'm confident that these pancakes are just like the typical ones.
My close friends Marry and John have tried my eggless pancakes because they ran out of eggs, and they're all very pleased because of it. Meaning that these pancakes are certainly good.
The main question I was asked when trying this recipe is, is it feasible to make pancakes without eggs? Well, I soon realized that not just is it feasible to make pancakes from scratch without eggs, it's really easy.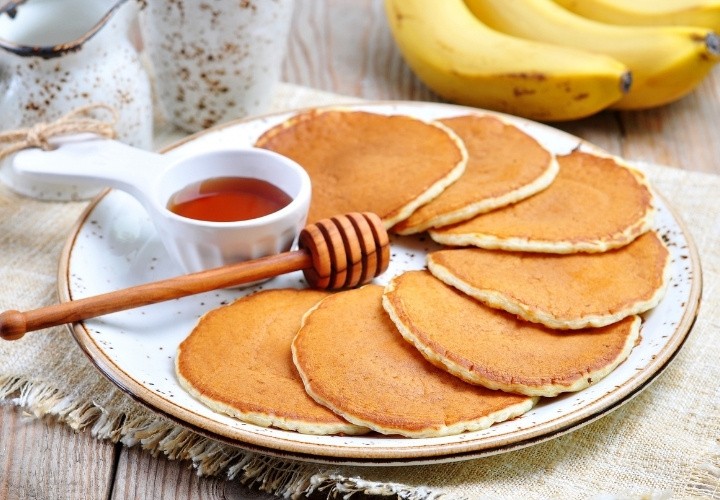 With no eggs, you can enjoy pancakes without any cholesterol. Honestly, I've never been a huge lover of eggs. Because sometimes I experience some stomach aches after eating eggs. Needless to say, I took things an action further and made pancakes without milk and eggs, so you can choose however you like.
Anyway, I do believe I've made my case that, for me personally, making pancakes without eggs or milk is really a natural preference.
What is the Purpose of Eggs in Pancakes?
Eggs are present in so many recipes, and one of many key functions would be to serve as a binding ingredient, holding the end product together nicely. With the pancakes recipe, you'll need your pancake light and fluffy, but not too much fluffy, so much that you can't move it from the skillet to a dish without the pancake falling to pieces.
They are a great binding ingredient that helps make a fluffy pancake but one that stays together, not falling apart. The good thing is you can find a lot of ingredients, not only eggs, that will produce that much-needed binding effect, like bananas, flax seed, and more.
What is the Best Substitute for Eggs in Pancakes?
There are numerous great substitutes for egg-free pancakes, such as bananas. Listed below are my favorite egg substitutes for pancakes:
mashed bananas
chia seeds
whipped tofu
ground flax seeds
apple sauce
egg replacers you can buy at store (such as Ener-G)
In the egg-free pancakes recipe below, you'll see I used a mix of both applesauce and chia seeds. However, all of the above substitutes will work in the same way.
Can I make pancake mixture without eggs with store-bought mix?
Yes, however, you have to make sure you read the labels and instructions on it carefully. Just to be sure the mix is 100% egg-free. Then follow the steps written on the package of the mixture and substitute with chia, flax or other binding ingredients.
If the steps on the package asks for 2 eggs for the recipe, than you need to use 1 chia or flax egg and 1 / 4 cup apple sauce for the optimal results of your pancake.
Health Benefits of Egg-Free Pancakes
You'll like that pancakes with no eggs may be made out of whole wheat pastry flour and therefore add much more fiber to your diet. Furthermore, I used chia seeds in this recipes and chia adds healthy Omega-3 to your diet.
Actually, there are many other health benefits health advantages it is additionally vital to take notice of. Listed below are a number of the health benefits from today's recipe:
Fiber
Protein
Iron
Magnesium
Omega-3's
Folate
Calcium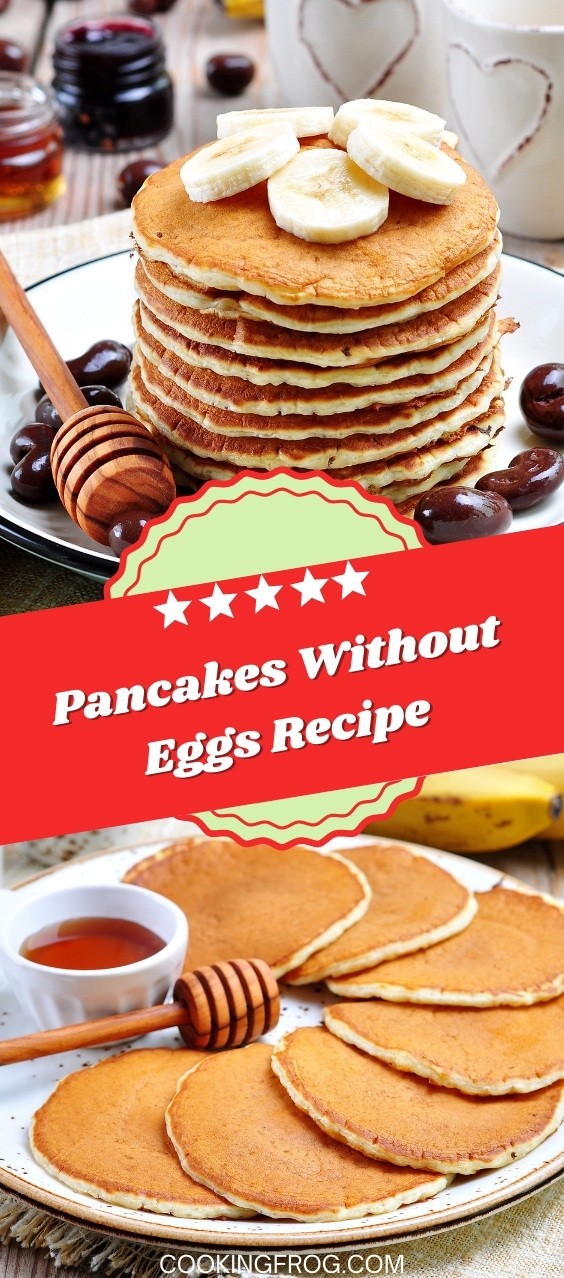 Ingredients
2 Tbsp of vegan butter
1 Tbsp of Chia seeds
1 ¼ cup of plant-based milk
¼ cup of apple sauce
2 Tbsp of agave nectar
1 tsp of vanilla extract
1 ¼ of cup whole wheat flour
2 tsp of baking powder
½ tsp of baking soda
¼ tsp of salt
How to make Pancakes Without Eggs Recipe
Take vegan butter and put it in a microwave-safe bowl, and heat for about 30 seconds.
Add in the apple sauce, milk, chia seeds, vanilla, and agave. Stir to mix nicely and leave aside.
Using a different bowl, mix the flour, baking soda, baking powder and salt, and stir to combine nicely.
Heat a skillet on medium-high heat.
Oil the pan with vegetable oil (of your choice), or you can work with about half teaspoon of butter ( vegan ) to nicely coat the skillet.
Pour the milk (plant-based) in with the dry ingredients and stir well. If you see any lumps in your mixture at this stage, it's fine, don't worry about that.
After the skillet is hot enough, pour the pancake batter, with a 1/4 cup measuring cup in to the pan.
Cook until bubbles form at the top side of the pancakes. Work with a spatula to flip the pancakes and cook on the other side until the color is golden brown.
Place cooked pancakes on a dish and repeat this method with the rest of the batter.
Serve the pancakes warm with maple syrup, vegan butter, fruit jam, and or with fresh fruit.
Nutrition
Calories 129
Fat 3,1g (5%)
Potassium 229 mg (6%)
Sodium 181 mg (8%)
Carbohydrates 21 g (7%)
If you've liked this egg-free recipe, be sure to check How to make Burgers Without Eggs