Want to give a Ghirardelli chocolate twist to your Classic brownies? Then look no further! I am here with another fun and exciting recipe that will be quite special for the ones who love sweets and desserts. By the way, who doesn't love classic brownies?
Everyone loves to have those soft, tasty, and fudgy brownies with a nice crackled top. This recipe is gonna give your classic brownies an enriched flavor of Ghirardelli chocolate and take it to the next level of taste and chocolaty richness.
This Ghirardelli Brownie Mix Recipe can be a game-changer for you. Once you try it, you are surely gonna fall in love with them. This recipe is going to replace all of your previous brownie recipes. These brownies are best for casual events, holidays, and for special events like Christmas as well. Your kids will become a fan of these soft, chocolaty brownies in no time.
These brownies have everything you want, chocolaty richness, great flavor, and beautiful chocolaty texture. You can make them crunchy by adding chopped walnuts to the batter. So make these recipes to earn appreciation from everyone and be ready to be asked for the recipe.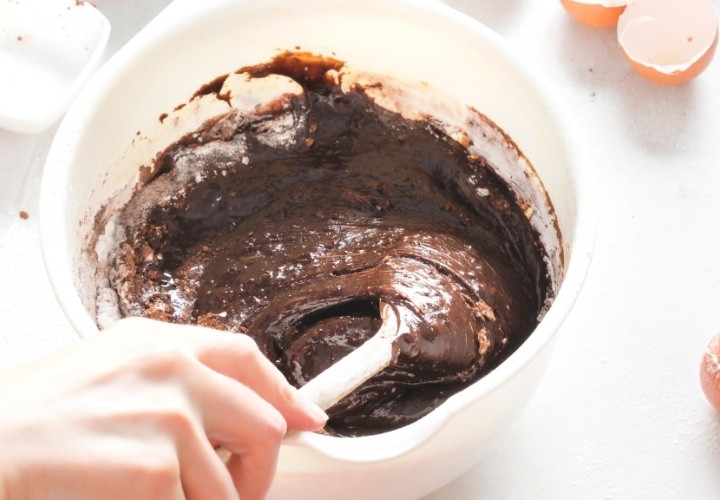 Some Important Tips for Ghirardelli Chocolate brownies:

The brownies are best baked in a 9×9 pan. You can also use an 8 × 8 pan. It also gives you the best brownies.
You can make brownies in a 9 × 9 pan but the brownies would be a bit. The Baking time of brownies in a 9×13 pan is about 30 – 35 mins.
To check if your brownies are done, pierce them with a toothpick. If it comes out clean, the brownies are done. But if it comes out a little moist, bake the brownies for 3 – 5 more minutes and check again.
To make the brownies even better, you can make their double batch in a 9×9 pan. A double batch of brownies gets more caky, soft, and delicious.
If you're making a double batch of brownies, you will have to add 2 – 3 eggs into the batter instead of only one.
You can also top up the brownies with Ghirardelli chocolate squares to make them even more chocolaty.
You can also add chocolate chips into the batter if your brownie mix doesn't have them already.
The best Ghirardelli mixes the double or the triple chocolate mix. They are loaded with small chocolate chunks. So you don't have to add chocolate chips separately.
You can add one more egg into the brownie batter to make it more fudgy and caky
Top up the brownies with some fun topping, like berries, ice cream, whipped cream, candy chunks, chocolate syrup, or any other topping you like, to enhance their flavor.
You can also mix M&Ms into the brownie batter to take them to another level of taste and chocolaty richness.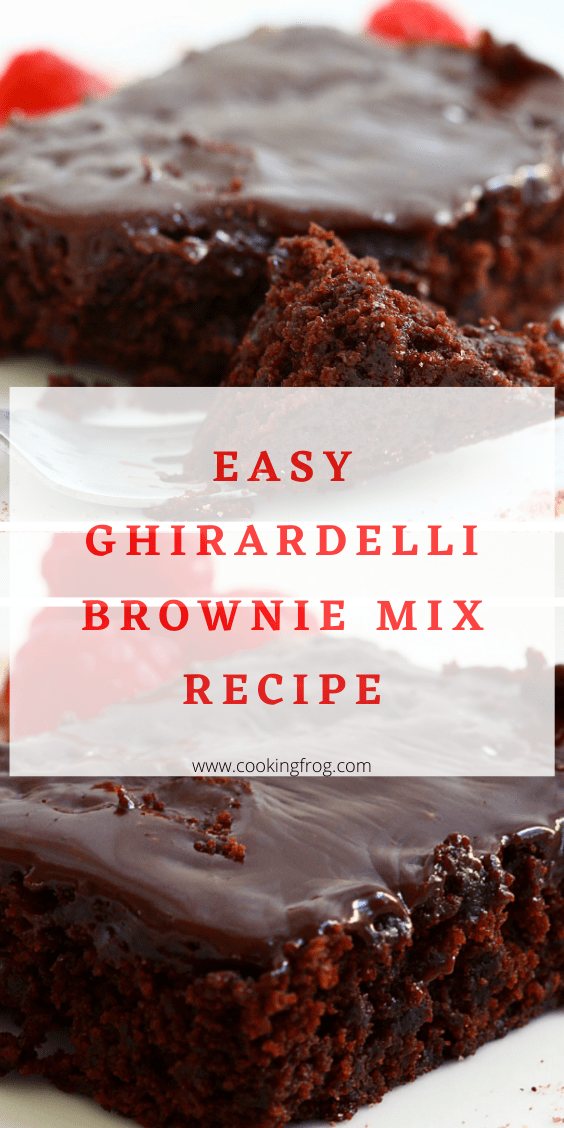 How to store Ghirardelli Chocolate brownies?
To store the brownies overnight, just wrap them up in aluminum foil, butter paper, or place them in an airtight container. If they are not properly covered, they will lose their moisture and will become hard. You can store them in a zip lock bag as well.
So let's move to this amazing recipe… Pin the image below if you like this recipe
Ghirardelli Brownie Mix Easy Recipe
Ok, it's time to make these amazing Brownies using Ghirardelli Brownie mix and some other ingredients. Just follow the instructions and you'll make the best brownies ever, and I vouch for that. Also, be sure to check the recipe on how to make the most amazing cookies using Ghirardelli brownie mix below
Ingredients
1 box of Ghirardelli brownie mix of choice
A pinch of Salt
1 tsp. of Instant Espresso Powder
1 large Egg
1/3 Cup of Oil or Unsalted Butter
1/4 Cup of Water
2 tsp. of Vanilla Extract
3/4 Cup of Walnuts Chunks (Optional)
Ghirardelli Chocolate Squares (Optional)
1 Cup of Chocolate Chips (Optional)
Instructions
Preheat the oven to 325°F.
Grease your baking dish with butter or oil. You can also use butter paper instead. It is recommended to use a 9″ x 9″ square brownie pan.
Take a medium-sized mixing bowl. Add the egg, oil, water, vanilla essence, and espresso water into it and whisk them well until there are no lumps of espresso powder in the mixture.
Now add the powdered Ghirardelli mix into the bowl. Also, add a pinch of salt at this point. You can also add chocolate chips if you're using them. Mix them well until a smooth batter is formed.
Put the mixture into the baking pan and bake as per packet instructions.
Once they are baked, take them out and let them cool for some time.
Now cut them into equal-sized square pieces.
Top the brownie squares with Ghirardelli Chocolate squares to enhance their chocolaty flavor. But that's optional. If you don't want your brownies to be that much chocolaty, then skip the chocolate squares. You can use powdered sugar, whipped cream, berries, or ice cream instead.
Ghirardelli Cookies Recipe:
Good News!!!! You can also use the Ghirardelli brownie mix to make cookies as well. So follow the recipe below and surprise your kids with the best Ghirardelli cookies at home.
Ingredients:
3 tbsp. of All-purpose Flour
2 large Eggs
1/3 cup of Oil
1 cup of Chocolate Chips/Butterscotch Chips
Directions:
Add flour, eggs, oil, and chocolate chips or butterscotch chips into a bowl.
Mix them well until a thick cookie batter is formed.
Line the baking sheet with butter paper or parchment paper.
Add spoonsful of cookie batter to the baking sheet with 2 inches distance between each.
Place them into the baking oven and bake them at 350°F for 10 mins.
Tada!! Your cookies are ready. Enjoy them