Chocolate Banana Bread Easy Recipe is so simple to prepare. This chocolatey concoction should be called a chocolate cake instead of Chocolate Banana Bread. However you want to call it, I challenge you to find something more appealing.
This simple to make, quick bread recipe is the ultimate blend of chocolate and banana.
Banana bread knows no season, and that's what i like about it. It may be the day before Christmas, or the middle of a heat wave in Juli, once I get the yearning for a banana loaf, i am going to make it.
It really doesn't even matter if I've got ripe bananas, I'll use them straight from the market if I have to. However it just so happens that middle October or early November is the good time to make this chocolate version, trust me on this. And it's an excellent way to flex your, and warm-up baking muscles just a touch bit before the starter bell rings and holiday madness begins.
How to make the Sliced Banana Topping for Chocolate Banana Bread ?
One whole banana is sliced down to its whole length, into three planks.
The secret for this recipe isn't to use one of those soft blackened bananas, save those for the batter, instead use a bright yellow one that is firm enough.
Use a small kitchen knife, and slice it slowly. It'll slice like butter.
Just in case be sure to have a spare banana handy, in case things don't go well.
Pin the image below if you like this chocolate banana recipe!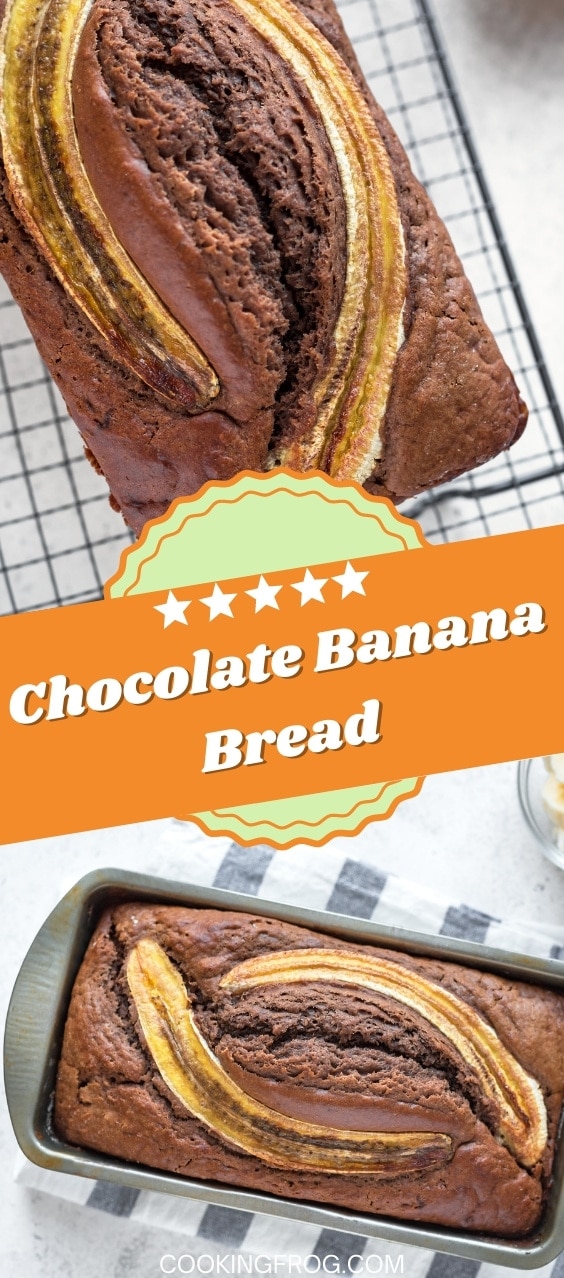 Dry ingredients
1 1/4 cups of flour, all purpose
1/3 cup of unsweetened cocoa powder
3/4 tsp of baking powder
1 1/4 tsp of baking soda
1 tsp of salt
Wet ingredients
4 mashed ripe bananas
1 cup and 2 Tbsp of brown sugar
6 Tbsp of butter, unsalted
2 whole eggs
1/3 cup of sour cream
1 tsp of vanilla extract
4oz of dark chocolate
For the topping
1 banana, bright yellow and firm
1 Tbsp of raw or demerara sugar
How to make Chocolate Banana Bread Easy Recipe Instructions
Heat the oven to 350F
Take a 9×5 loaf pan and spray it nicely with cooking spray
Place the dry ingredients along in a bowl, whisk and put aside.
Cream the sugar and butter for around four minutes till nice and fluffy.
Scrape the edges of the bowl a couple of times to get all the sugar and butter mixed nicely.
Beat the eggs in, one at a time, and mix in the mashed bananas, vanilla and sour cream. (The mixture might look coagulated at this stage, however don't worry, it's going to be just fine.)
Fold in the dry ingredients till just barely blended, then fold in the chocolate chips, combining till everything is just mixed and there's no dry flour left.
Pour batter into your pan and even it out nicely.
Slice the banana lengthwise into three slices, and arrange on the top.
Sprinkle Banana bread with sugar and bake for 60-70 minutes, or till a toothpick comes out clean, without batter on it.
If you like this recipe, I'm sure you'll also love this Strawberry Banana Bread recipe.