Ever had a dessert that evokes memories of laughter-filled brunches or cozy mornings? Enter Monkey Bread. Beyond its playful name lies a symphony of flavors and textures that beckon you to take just one more piece.
Ditching the convenience of store-bought dough, this recipe embraces the art of baking from scratch, infusing every bite with genuine care and warmth. As we delve deeper into crafting this heartwarming treat, we'll also explore exciting variations, from seasonal spice twists to indulgent fillings, ensuring a Monkey Bread experience tailored to every palate and occasion.
The Origin of Monkey Bread
The name "monkey bread" might sound peculiar, but its origin is even more intriguing. Some believe that the act of pulling apart the sticky dough balls and eating them mimics the grooming behavior of monkeys. Regardless of its name, one thing is certain: this bread is a delightful treat that's both fun to make and eat.
Why Homemade Monkey Bread Stands Out
There's something incredibly satisfying about making your own dough. The enriched dough used in this recipe, combined with the sweet cinnamon sugar coating, ensures every bite is soft, fluffy, and utterly delicious. It's not just a festive treat; it's a year-round delight that's perfect for sharing.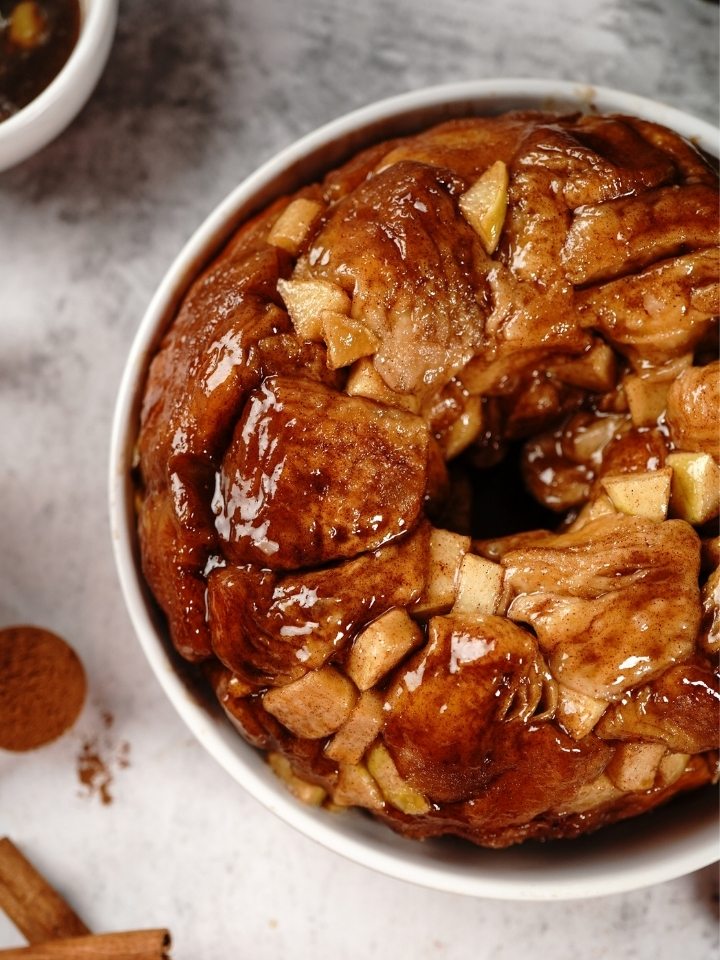 Monkey Bread Recipe
Ingredients:
Dough:
½ cup (120 ml) water, warm
2 ½ teaspoon active yeast
3 ½ cups (420 g) all-purpose flour
1 teaspoon salt
½ teaspoon pure vanilla extract
3 tablespoons (35 g) granulated sugar
1 tablespoon (12 g) light brown sugar
1 large egg, room temperature
2 tablespoons (28 g) unsalted butter, melted
¾ cup (180 ml) whole milk, warm
Coating:
1 ½ cups (180 g) brown sugar
1 ½ teaspoons ground cinnamon
½ cup (113 g) unsalted butter, melted
½ cup chopped walnuts (optional)
Detailed Instructions:
Yeast Activation: In a small bowl, combine warm water with yeast and a teaspoon of sugar. Allow it to sit for about 5 minutes until it becomes frothy, indicating the yeast is active.
Dough Preparation: In a large mixing bowl or stand mixer, combine flour, salt, sugars, vanilla, egg, milk, and melted butter. Gradually add the yeast mixture and knead until you achieve a smooth, elastic dough. This should take about 10 minutes.
First Rise: Place your dough in a lightly oiled bowl, covering it with a damp cloth. Allow it to rest in a warm area until it doubles in size, approximately 1 hour.
Preparation for Coating: In a separate bowl, mix together brown sugar, cinnamon, and chopped walnuts. Melt the butter in another bowl.
Forming Dough Balls: Once the dough has risen, turn it out onto a floured surface. Divide the dough into small-medium balls (around 32 pieces or as per your preference).
Coating the Balls: Dip each dough ball into the melted butter, ensuring it's fully coated. Roll them in the sugar-cinnamon-walnut mixture.
Arranging in Pan: Place the coated dough balls in a greased Bundt pan, layering them evenly.
Second Rise: Cover the Bundt pan with a damp cloth and let the dough balls rise again, approximately 30-40 minutes, or until they've expanded in size.
Baking: Preheat your oven to 350°F/180°C. Place the Bundt pan in the oven and bake for about 35 minutes or until the top is golden brown.
Cooling and Serving: Once baked, remove the monkey bread from the oven and allow it to cool in the pan for about 10-15 minutes. Invert it onto a serving plate, and it's ready to be enjoyed!
Whipped up some Monkey Bread marvel? Don't monkey around! Give your Pinterest pals a chuckle and a craving by pinning the image below. Because good food and a giggle are meant to be shared! 🙂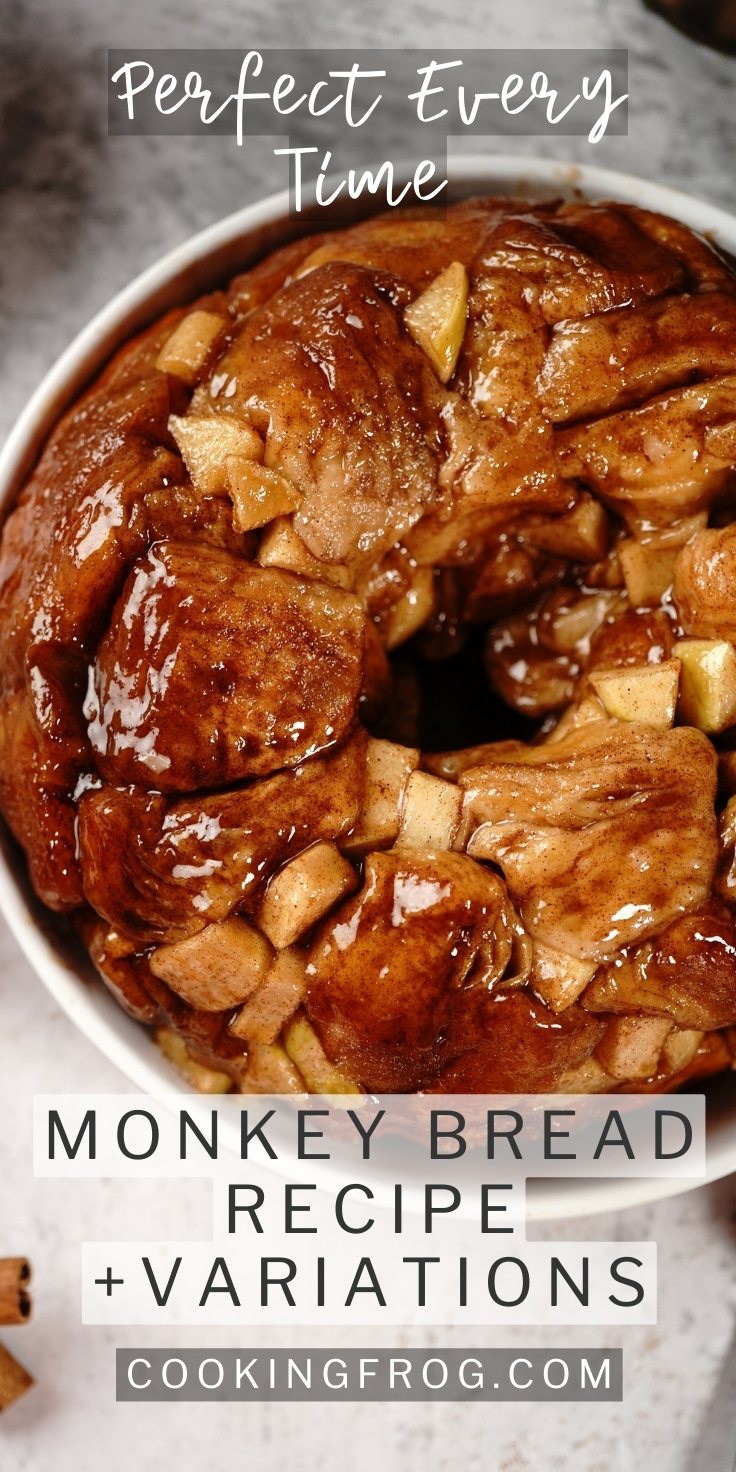 Monkey Bread Variations:
1. Chocolate and Walnut Fusion: Enhance the classic recipe by adding chocolate chips or chunks along with chopped walnuts. As you layer the dough balls in the Bundt pan, sprinkle a mix of chocolate and walnuts between each layer. This combination ensures a gooey chocolate walnut delight in every bite!
2. Cream Cheese Stuffed Monkey Bread: For a creamy surprise, consider stuffing each dough ball with a cube of softened cream cheese. As you bite into the monkey bread, you'll be greeted with a luscious cream cheese center that perfectly complements the sugary exterior.
3. Caramel Drizzle: After baking the bread, drizzle it generously with homemade or store-bought caramel sauce. The sticky, sweet caramel takes the monkey bread to a whole new level of indulgence. You can also use this homemade vanilla-infused condensed milk sauce.
4. Tropical Monkey-Bread: Add a tropical flair by incorporating shredded coconut and dried pineapple bits in the sugar-cinnamon coating mixture.
5. Coffee Glaze Monkey Bread: For those who love a hint of coffee, prepare a simple glaze using powdered sugar, a touch of milk, and instant coffee granules. Drizzle this over the baked bread for a delightful coffee-infused treat.
6. Seasonal Spice Twist: While the traditional cinnamon essence is undeniably delightful, there's room to experiment with a medley of spices tailored to different seasons or festivities. Consider infusing pumpkin pie spice for an autumnal touch, or embrace the festive spirit of December mornings with hints of gingerbread spices. These aromatic additions not only elevate the flavor but also make each bite resonate with the essence of the season.