Sweet and Spicy Chicken Bites with Bacon are perfect appetizers when you host a party or have a family gathering. You will be the most wanted person, with a plate these delicious chicken bites in your hand.
The best thing is that this recipe is so easy to make. Easy, with simple ingredients and incredible flavor of all the spices combined. The brown sugar will give it a sweet touch, while the spices kick it just enough. The mix of sweet and spicy work amazing together. And of course, everything tastes so much better wit crusty bacon on the top.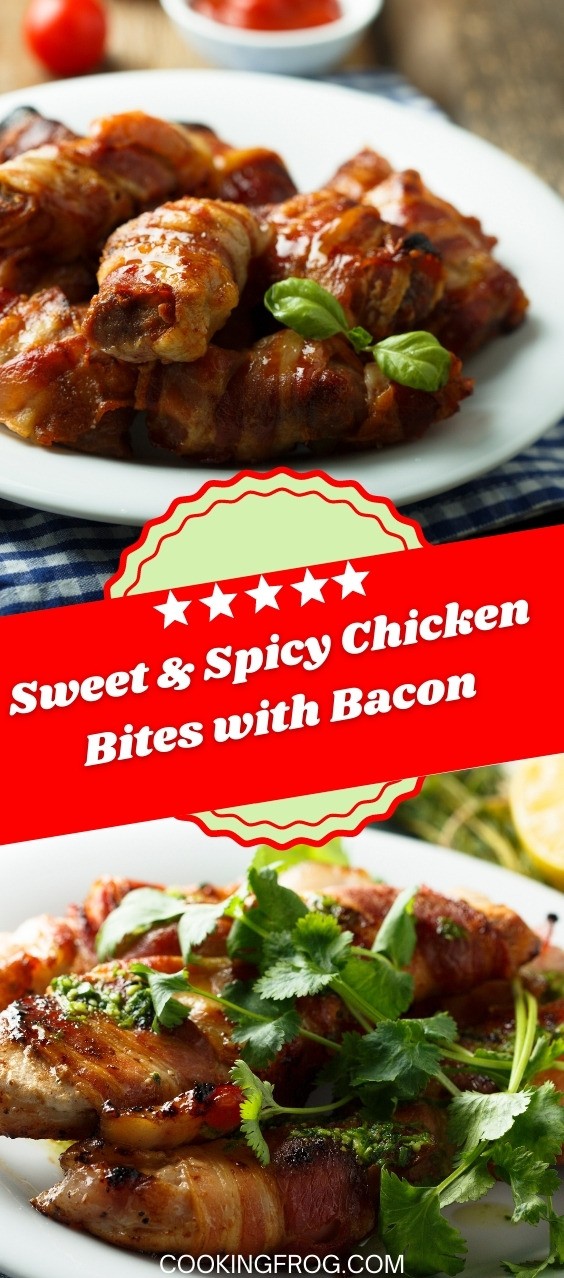 Ingredients
3 pieces of chicken breasts
8-10 slices of bacon
4 tablespoons of brown sugar
One tablespoon of chili powder
A teaspoon of paprika
Half teaspoon of garlic powder
salt and pepper
sliced green onions for garnish, optional
How to make Sweet and Spicy Chicken Bites with Bacon?
There are a lot of ways of making Chicken Bites with Bacon, i choose to make them spicy with a little sweetness. Instead of rolling bacon wrapped chicken in one bowl, for this recipe we'll need two separate bowls. The reason for this is they need to be rolled in spices first, so the brown sugar can caramelize the chicken and bacon entirely as it cooks.
Heat the oven to 350 degrees Fahrenheit. Spray the baking sheet with a cooking spray and line it with aluminum foil. Cut the bacon in thirds, or in halves, depending on the chicken thickness. Wrap the chicken pieces nicely with the bacon.
Add paprika, chili pepper and garlic powder in a small bowl. Add the sugar in another small bowl.
First roll the chicken bites into the spices bowl and after in the bowl with brown sugar and order them nicely on the baking sheet.
If you have any sugar left you can sprinkle the bites. Season with salt and pepper according to your taste, but don't overdo it.
Bake until the bacon is crispy, it should take around 35-40 minutes.