A Vietnamese Banh Bao is the Ultimate morning or afternoon treat for everyone. You'll enjoy how quickly they reheat from the freezer, making them ideal for packed lunches. So what's the greatest part? Each one tastes equally as good as the first!
What exactly is a Banh Bao?
Bánh bao literally translates to "bun cake." The Vietnamese Banh bao, like the Chinese bao zi, is a delicate and airy steamed bun with a flavorful pork stuffing. However, although both are nearly identical, Banh bao uses fish sauce, whereas bao zi uses Chinese five-spice. Furthermore, Banh Baos are distinguished by incorporating Chinese sausage and quail eggs.
The original Banh Bao is a dish that every Vietnamese kid is familiar with when it comes to a breakfast of champions.
When I was a kid, I used to have frozen store-bought Baos steamed for us by my Aunt while I was getting ready for school.
Each bun was substantial enough to last the whole morning and was filled with a delectably meaty mince stuffing. If you grabbed it right out of the steamer, it was simply fantastic!
While these were a quick and simple way to begin a day, everything changed when we began preparing our own.
Homemade Banh Bao is nice and airy, with just enough grip to wrap around the meatball tightly.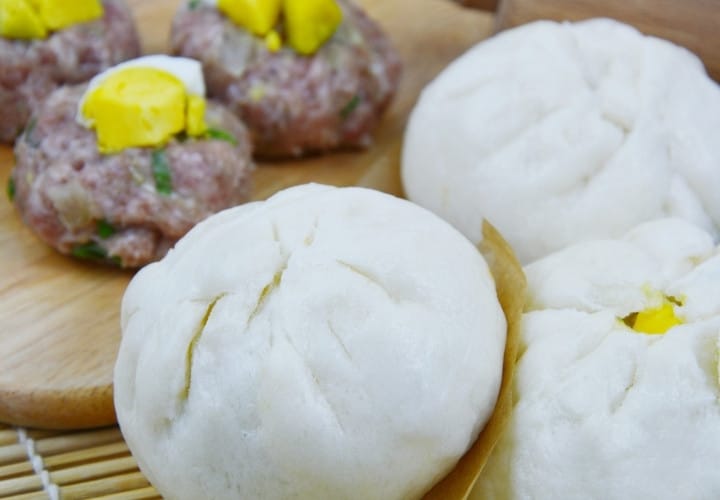 The interior is springy and gushing porky flavors, and it's delightfully moist. So when you chomp into a velvety quail egg and a delicious Chinese sausage slice, you'll be transported back in time.
This Banh Bao dish may take a little longer than some others, but it is well worth the wait. When you pull them out from the steamer, and each bun is boiling hot with steam, you'll understand what I mean.
The Vietnamese Banh Bao goes by several other names, including Steamed pork bun, Vietnamese pork bun, steamed meat buns, Vietnamese Bao, and Vietnamese steamed buns Banh bao.
If you like Vietnamese Banh Bao, you are definitely going to love this German stuffed Bierocks recipe!
Why is this recipe so successful?
The dough has ample time to rest and perform its magic, resulting in a smooth, kneadable dough.
Adding whole cream milk and lemon juice makes the bread whiter naturally.
Incorporating water chestnuts into the stuffing gives the meatballs a hint of sweetness as well as a fantastic crunch.
Banh Bao FAQ
What does the term "banh bao" mean?
Banh bao translates to "wrapped cake." It's inspired by the Cantonese dim sum dai bao, which translates as "large bun."
What are the ingredients in Vietnamese buns?
Vietnamese Banh bao is a flour-based pastry filled with minced pork, wood ear mushroom, and Chinese sausage.
What is the best way to eat Vietnamese Banh bao?
Banh bao is best when hot! The bun is usually presented on a platter and consumed with one hand, with no dipping sauces. Bite after bite; you consume it while holding it in your hands.
Is Banh bao the same as a dumpling?
It's around the size of a Vietnamese dumpling.
Share the image below to your Pinterest board if you like this Vietnamese Banh bao recipe!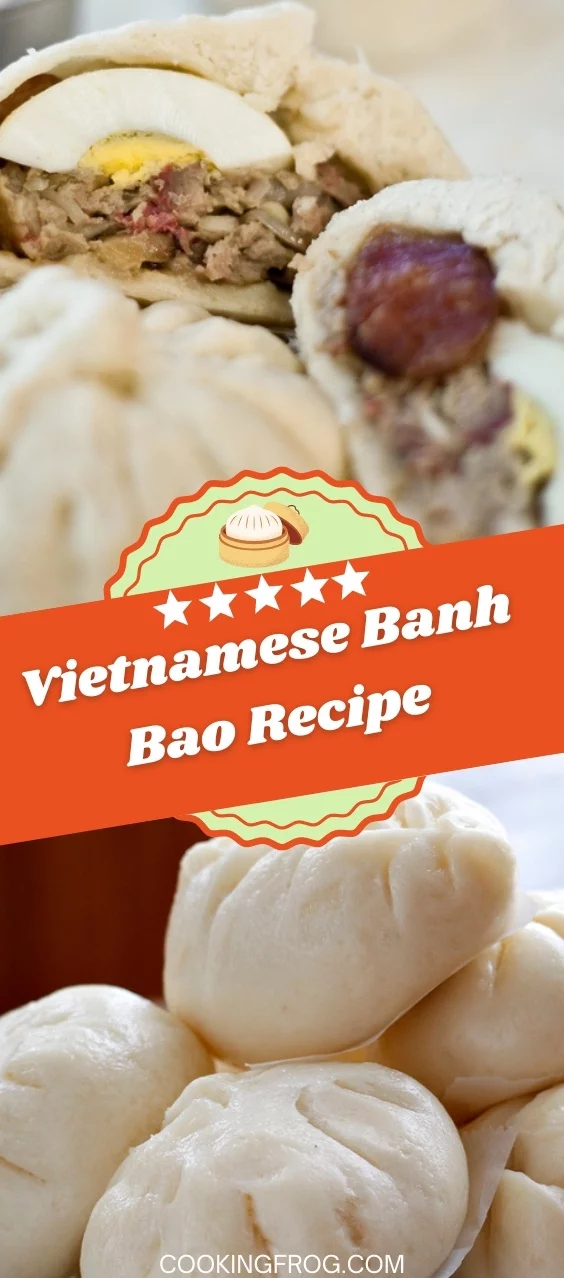 Ingredients
To Activate the Yeast
1/2 tsp instant yeast
1 tsp sugar
1/3 cup milk
1/3 cup water
1 1/2 cup all-purpose flour
The Dough Ball
1/2 tbsp lemon juice
1 1/2 tbsp vegetable oil
1/2 egg white
1/8 cup self-raising flour
1/4 cup sugar
1 1/2 cup all-purpose flour
The Stuffing
1/4 tsp oyster sauce
1/4 tsp salt (or to taste)
1/3 tsp fish sauce
1/3 tsp pepper
1/2 tsp chicken bouillon powder
1/2 tsp sugar (or to taste)
1 tsp rehydrated woodear mushroom (finely chopped)
1 tbsp spring onion (finely chopped)
1 tbsp fried onion
1 red shallot (finely chopped)
2 water chestnuts (finely chopped)
1/3 cup pork paste
½ cup pork mince
1/2 Chinese sausage sliced thin
quail eggs (fresh or canned in Asian supermarkets)
Directions
Making the Bao
In a mixing bowl, stir to combine the flour, yeast, and sugar, then add the water and milk. Mix it in thoroughly, then set it aside for 3 hours to allow the yeast to react.
Keep in mind: Depending on your elevation/location, you might have to wait another 1-2 hours for it to cool. This is because the yeast will bloom faster in a warmer environment.
Knead the resulting mixture with the leftover AP flour, self-rising flour, sugar, lemon juice, egg white, and oil until a homogeneous dough emerges.
Cover the dough with a towel or happy wrap and set aside for 30 minutes.
The Stuffing
Combine the pork mince and pork paste with the pepper, chicken bouillon powder, salt, sugar, oyster sauce, and fish sauce in a mixing bowl.
Tip: Puree the contents with a pestle and mortar to achieve a finer consistency.
Combine the wood ear mushroom, water chestnuts, shallots, fried onions, and spring onions in a large mixing bowl.
Form a ball out of roughly 1/4 cup pork mixture, press it flat in your hand, and add a quail egg in the middle.
Roll the dough around the quail egg to make a spherical, then place a slice of Chinese sausage on top.
Put each completed one on a plate as you roll the rest. Depending on how much dough you used for each, you'll get roughly six balls.
Putting the Baos Together
Cut baking paper into 15 cm × 15 cm (6′′ x 6′′) squares.
Roll the Banh Bao dough into balls by dividing it into equal parts. Then, to avoid drying, cover the finished balls with a towel while you work on the others.
Then use a rolling pin or a smooth cup and compress each ball into a 20 cm (8′′) diameter circle.
In the middle of the flat dough, insert a meatball.
Fold the top and bottom portions of the Banh Bao dough over the meatball, pinching them together.
Continue with the left and right sides of the rolled dough in the same manner.
Press the points of each corner into the holes to make a heart shape. You'll have four hearts at the end.
Pinch the points of each heart to seal the holes.
Pull one pinched tip to the middle, crimping it with the material in the center to make it stay. Rep with the remaining pinched ends.
Seal the dough in the center with one last pinch.
Put the bun covered in plastic wrap on a baking tray.
Preheat the steamer and steam the baos for 30 minutes, or until the meatballs are cooked.
Note: Or steam the meatballs prior to wrapping them in the bao, then steam the entire bao for 10 minutes.
Serve immediately, either plain or with a sprinkling of Siracha!
End Notes
Don't over-knead the dough for the Banh Bao. Instead, knead rapidly until everything comes together for a light and fluffy bao. A rough and hard bun will come from overstretching the dough.
Set aside the dough to rest. Resting the dough (particularly after kneading) is crucial because it allows the gluten to release, making it simpler to roll and shape.
The more fat in the pork, the tastier the flavor!
For a whiter dough, we use whole cream milk, but you can use simply water instead.
In the preserved ingredients aisle of Asian shops, you may get canned quail eggs and canned water chestnuts.