Death by Chocolate Cheesecake Easy Recipe is full of creamy chocolate and has an Oreo crust topped with dark chocolate ganache. So chocolate lovers, can it get better than this? This chocolate-rich cheesecake is a chocolate lover's dream come true.
How do I make death by chocolate cheesecake?
First, you make the crust using Oreo cookies. Press the Oreo cookies until they're small fine crumbs. Add butter and press it on the bottom of a springform pan. Bake it for about 5 minutes and leave it to cool while you're preparing the filling for the cheesecake.
For the filling, you'll need about ten ounces of melted bittersweet chocolate. Beat together cocoa powder, cream cheese, and sugar in a small bowl. Mix until they're smooth. Add in the melted chocolate and eggs and mix. Pour the filling into the Oreo crust and bake. Use dark chocolate ganache for the topping.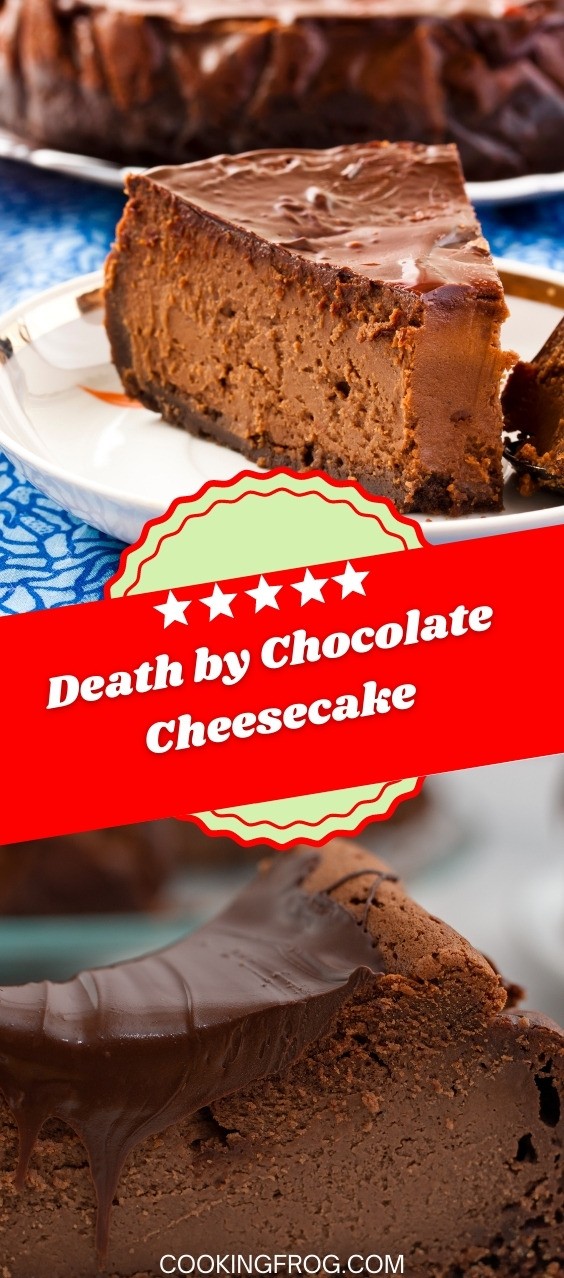 10 ounces of Oreo cookies
3 ounces of melted butter
Cheesecake Filling
10 ounces of melted bittersweet chocolate
8 ounces of cream cheese
1/4 cup of sugar
1/2 cup of cocoa powder
4 whole eggs
For the Chocolate Ganache
6 ounces of chocolate, semi sweat
6 ounces of whipping cream
1 tablespoon of sugar
Instructions
Heat the oven to 350 degrees F to make the Oreo crust. Pulse the Oreo cookies in a food processor until they are small and fine crumbs. Combine them with butter in a small bowl, and stir until they're mixed well. Take a 9-inch springform pan and grease it. Press the crust mixture to the bottom of the pan and bake for 5 minutes. Leave it to cool while you're making the filling.
For the filling: Melt about 10 ounces of bittersweet chocolate; you can do this using the microwave. Mix the cocoa powder, sugar, and cream cheese using a stand mixer, and beat until smooth. Pour in the eggs and melted chocolate and fold until combined well. Pour the mixture over the already prepared Oreo crust and bake for about one hour. Leave it to cool of on room temperature. Take it out of the springform pan and place it in the refrigerator, covered with plastic wrap. Leave it to refrigerate all night.
For the chocolate ganache: Melt together whipping cream, chocolate, and sugar in a microwave oven using a small bowl. Pour over the top of the cheesecake and spread evenly.