These mouthwatering, soft, tender, and juicy baked BBQ pork riblets, coated with delicious homemade BBQ sauce give you an unforgettable taste and are very easy to cook!
I am a fan of anything baked in sauce, whether chicken, fish, beef, or pork. Of all the items baked in homemade BBQ sauce, Pork is the only thing I would go for first. I am a sucker for pork dishes. I would always prefer pork of any cut over the expensive beef cut.
What are Riblets?
Pork riblets are the special cut of Pork prepared by the butcher. The butcher removes the ribs from the rib cut to get flat, rectangular pieces of meat that are then sold as Pork Riblets. They are way more delicious, cheaper, and easy to cook as compared to a rack of ribs. I recently bought a packet of riblets for $6 that served 6 persons and I got some leftovers too. That's the best deal anyone can look for!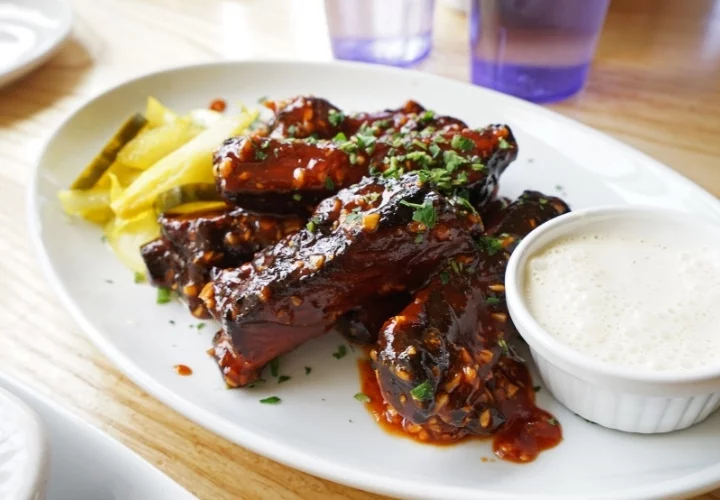 Ribs vs Riblets
I added pork riblets in this recipe, which are 1-inch-long pieces of Pork Ribs. Some butchers trim the ribs' sides to give them a uniform shape and structure and then sell them as riblets packages.
If you don't find riblets in your nearby stores, just buy a ribs rack. Use a knife to place cuts between the rib bones. Now cut these ribs into small, 1-inch rectangular pieces. If you don't want to do this by yourself, you can indeed find a butcher to do this for you. An Asian market is always the best place to find pork riblets. Riblets are commonly used in Asian cuisine.
Always remember to wash the riblets under cold running water before cooking because, after cutting, there may be small bone fragments left behind on the riblets. Of course, you don't want to hurt yourself by chewing these small pieces of bones. They are really sharp!
Once washed thoroughly, these riblets are ready to be baked slowly in a delicious sauce. I always cook them in my homemade BBQ sauce anyways! Now enjoy these delightful and fork-tender riblets. And, that's the best thing to do with them!
My Inspiration behind this BBQ Pork Riblets Recipe
These Baked BBQ Pork Riblets give me the nostalgic taste of a dish that I used to love in my childhood. My mom used to bake Pork riblets that have a taste pretty much like this recipe. My mom used a black-enameled roasting pan to bake the riblets, but I don't have one.
Moreover, you don't have to cook the riblets on the stovetop to get the best browning on the riblets. Rather, put them into a large baking sheet, make sure that the riblets don't overlap. Now bake them until the riblets get a beautiful brown color, and don't forget to glaze them with the delicious BBQ sauce to get an unforgettable taste!
To get a fall-off-the-bone texture, that we all love and crave, you'll just need to have a little patience. This dish takes some time to be perfectly cooked. It will take more than two hours to be cooked thoroughly. It isn't that bad! Right? A little bit of time can get you a delicious, mouthwatering, and nostalgic taste that you'll instantly become a fan of!
After all, instant things don't always satisfy your taste buds. Right things take time. Cooking the riblets slowly enhances their taste and gives them a beautiful brownish texture. And, meat always tastes the best when it is roasted or braised slowly.
Share the image below to your Pinterest board if you like these Pork Riblets!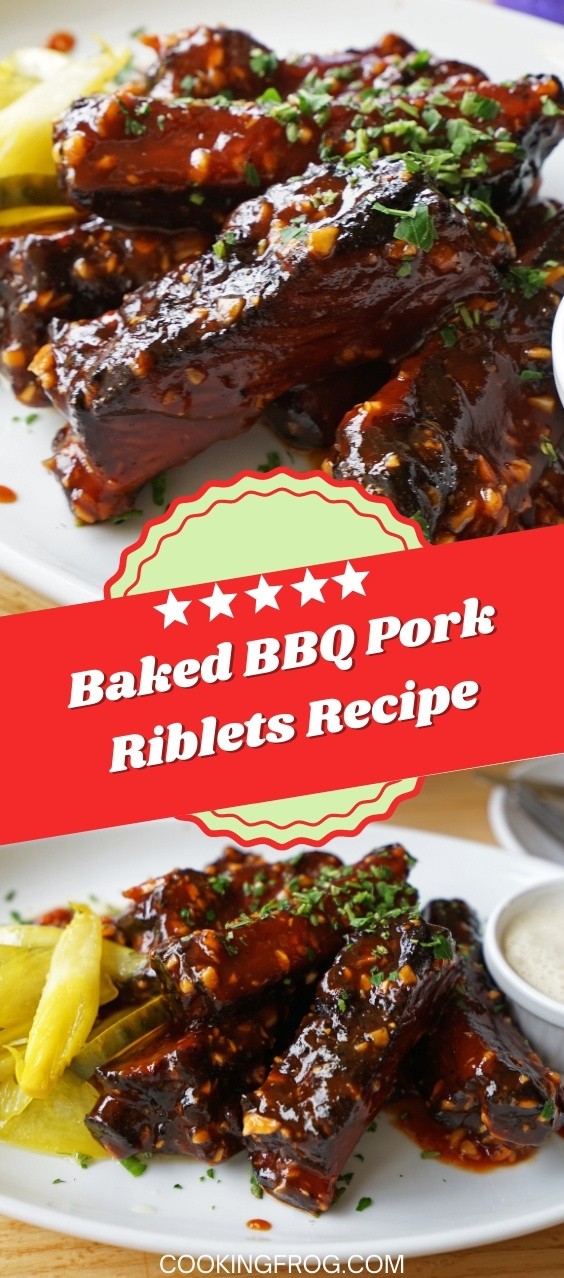 Ingredients
3 lbs. Pork Riblets
2 Tbsp of Paprika Powder
2 tsp of Mustard Powder
1 Tbsp of Red Chili Powder
2 cups Brown Sugar
1/2 cup White Vinegar
1/4 cup Worcestershire Sauce
1&1/2 cups Ketchup
1/4 tsp of Salt
1/2 tsp of crushed Black Pepper
1 cup Water
How to make Baked BBQ Pork Riblets Steps
Preheat the oven to 450 F . Place parchment paper on a large baking sheet and set it aside.
Wash the riblets with cold water to remove the small pieces of bones that may be present on the riblets. Use a paper towel to pat dry the riblets and place them in a line in the prepared baking sheet. Don't overlap the riblets.
Place the baking sheet in a baking oven and bake them for 45 minutes. Turn the side of the riblets after 25 minutes.
Meanwhile, whisk all the remaining ingredients to mix them thoroughly and set the mixture aside.
Once the riblets are cooked and have gained a brown texture, get them out of the baking oven.
Now pour the sauce mixture over the riblets and turn the sides of the riblets to coat them well in the sauce.
Now set the oven temperature to 350 F and put the riblets again into the oven.
Bake them for 90minutes and turn the side of the riblets after every 30 minutes.
Once baked thoroughly, remove them from the oven and serve immediately.
If you liked this recipe, be sure to check:
Dr.Pepper Short Ribs (Braised)