This was a must! Recipes here on Cooking Frog needed to include a traditional Pakistani Chicken Tikka recipe. There are some recipes that have become so popular that there's no right or wrong way to do them anymore. Chicken Tikka falls into that category. Even though I disagree with those who make chicken tikka masala west, it doesn't contain cream, and that's a fact! But that's another debate.
Chicken Tikka is a South Asian dish that has become a very popular choice. Tikka is a South Asian cuisine that I'm sure you have tried at least once. This one is what I've learned from my Pakistani friend. There are a million versions online. I'm about to share the authentic one.
The original version of Chicken Tikka calls for marinating chicken pieces in a spicy sauce and then grilling them over the hot coals, which are called Angethi, in Urdu. This is usually served with a Tarmarind Chutney or Mint Chutney, along with lemons and sliced onion. Yummy!
There have been many versions of this famous dish. There are many versions of this popular dish, including a boneless, a biryani, a curry, and even a crispy version. Today, I thought I'd start by introducing the basics of Chicken Tikka. Although there are many spice blends that can be used to make Tikkas now, I prefer fresh spices. Sometimes, you want to feel like a true chef.
Here is a list of everything you will need to make this deliciousness. Now, I'm going to dive into the more important steps.
Chicken Tikka Marinade
Here I will show you everything you need to marinate your chicken. If you make the marinade for Chicken Tikka the right way, everything else is easy.
Okay, so it's pretty simple. Just add all the ingredients (spices, paste, and liquids) to the bowl and mix them together.
NOTE: Although the marinate will be slightly sour due to the lemon and heavy vinegar content, once cooked it will be mild and blend well with the rest of the spices.
Chicken Tikka's color is often due to the addition of orange-red color. Some restaurants are very heavy with this color, and I don't like my hands turning orange while eating. It's up to you how many colors you add. I prefer to add just enough color to give it a reddish hue but not too much. To achieve this effect, use a good-quality color. Some people also use beetroot juice to create a natural hue. This is something I haven't tried yet. Please let me know if you do.
DISCLAIMER – If you don't want to have your hands a bit orange after the quick chicken massage, use gloves to rub the spices on your chicken.
Can You Substitute Anything In This Marinade?
You can reduce or skip the red chili powder if you don't like your tikkas spicy. You can also reduce the amount of one spice, but it won't affect the flavor. Vinegar is essential in this instance. Vinegar will be used as a meat tenderizer in this recipe, so make sure you have it. The oil prevents the chicken from drying out in the refrigerator.
A single chicken will yield 4 Tikka pieces, two thighs, and two breast pieces. Double the recipe if you plan to make more than one chicken. You can use a knife to make cuts along the length of your chicken so it has deep places for the marinate.
Rub the marinade on the chicken. Give the chicken a little massage, just like you would in a spa. You will also need to book a spa day. Cover all the corners and crevices. Cover the chicken with foil, cling wrap, or a lid and place it in the refrigerator to marinate.
How Long To Marinate
Chicken Tikka
?
To get all the spices to really rub in, it takes at least 3-4 hours, but to get the best results I recommend 8 hours. You can cook the chicken immediately if you use boneless chicken. However, for chicken with bones, it is best to allow it to marinate overnight for 8 hours or at least 3-4 hours. This is because it gives vinegar time to react with chicken and tenderize. The top layer of the chicken becomes tough, and all the juices from the chicken are sealed within the chicken piece. This gives you tender Chicken tikka after it is cooked.
How To Cook Chicken Tikka
Tikka can be prepared in three ways
In the oven.

On the stove

Grill it outside.
It's easier to cook it on the stove than in the oven. You can either bake or cook on the stove. First, grill the chicken on high heat and then slow cook it.
This seals all the juices and gives you that charred look of an outdoor Tikka.
Outdoor grills can be used by placing the tikka directly on the grill. You can then continue to oil the grill every 5 minutes using a brush. Every time you oil the tikka, keep turning it. This will take approximately 20-25 minutes to cook your chicken.
You can freeze the chickens!
Let's suppose you like to prepare meals ahead of time. This recipe is perfect for you. You can marinate the chicken in butter and then freeze it. You can keep it in the freezer up to 60 days. Once you're ready to eat it, take it out of the freezer. Grill it once it has thawed.
LEFT-OVERS is a blessing
While it is easier to make tikka with other dishes, I still hope for some leftovers. Because spicy chicken goes well with many different things, to make the most of your leftovers, you can check out this Chicken Tikka Sandwich recipe.
Let me know if you make this chicken tikka, have any questions, or just want to say hello. Pin the image below if you like this recipe and want to support my effort! Enjoy a wonderful day!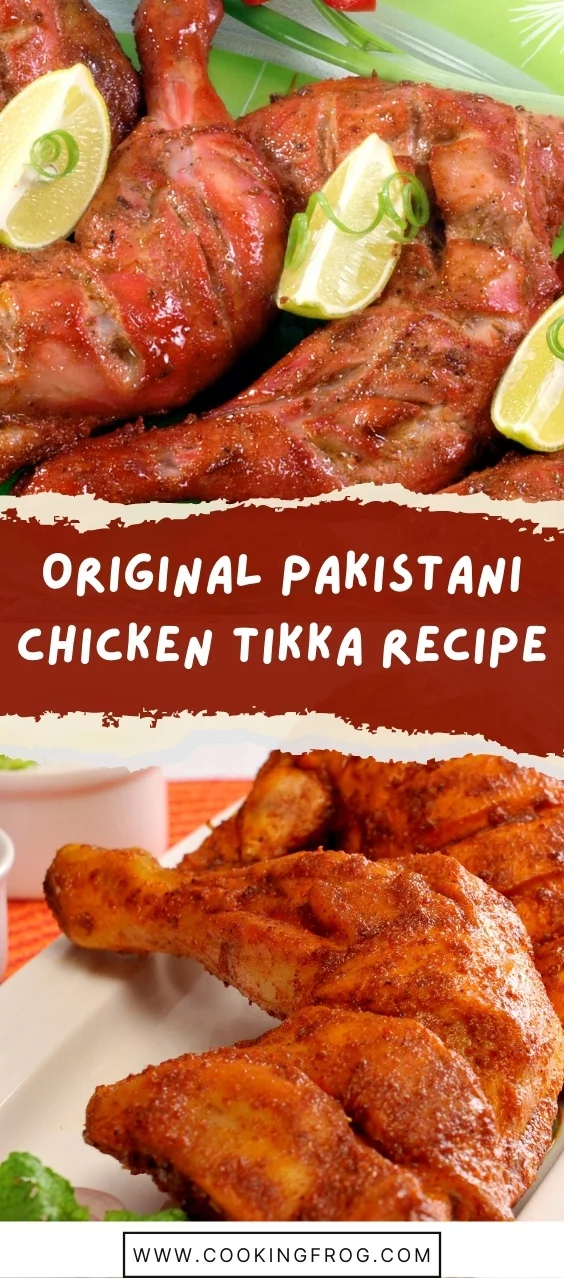 CHICKEN TIKKA RECIPE:
Ingredients
1 chicken (whole ), cut into thighs and legs

1 1/2 teaspoons of Salt

1 teaspoon Black pepper

2 teaspoons of Red chili powder

1/4 teaspoon of Turmeric powder

1 tsp of Cumin powder (zeera).

2 TBSP of Lemon Juice

2 TBSP of Vinegar

1/2 teaspoon of Garam masala powder

1 TBSP of Garlic ginger paste

1 tsp of Coriander Powder

3 teaspoons of orange food color

2 TBSP of vegetable oil
Instructions
To ensure that all the marinate is absorbed, make horizontal cuts in your chicken pieces.

Mix all ingredients in a bowl to create your marinade.

Place all the pieces of chicken in a flat dish and generously rub the marinade on them.

Cover all edges and cuts.

Cover the chicken with plastic wrap and let it rest for at least 8 hours.

Before cooking, remove the chicken from the oven.

You can cook chicken in one of these ways:
Chicken Tikka On Stove
To a frying pan or grill pan, add 1 tbsp oil.

Grill your chicken pieces on high heat for 3 minutes on each side. This will give the chicken juices a nice charred appearance.

Cover the pan with a lid, and cook the chicken on low heat for 8 minutes.

Turn the pieces over and continue cooking for 8 minutes.

Serve hot
Chicken Tikka In The Oven.
To a frying pan or grill pan, add 1 tbsp oil.

Grill your chicken pieces on high heat for 3 minutes on each side. This will give the chicken juices a nice charred appearance.

Place the chicken in foil, and bake at 190°C for 30 minutes.
Chicken Tikka On BBQ Grill
This one is pretty straightforward.

Grill it until you get a nice charred appearance.

To keep the juices from escaping, you should continue to coat the chicken with oil at least five times.

Every time you oil the chicken, flip it.

This will take approximately 20 minutes.
Notes
If you wish to give your chicken a coal-like aroma while it cooks indoors, you can smoke the chicken during marinating.
Nutrition Information:
Calories: 507 Total Fat: 32g Saturated Fat: 7g Unsaturated Fat: 22g Cholesterol: 176mg Sodium: 115mg Carbohydrates: 3g Fiber: 2g Protein: 50g