It's been a while since I posted a Greek recipe. Today I would like to share a deliciously healthy recipe for Greek dolmades (stuffed vine/grape leaves). I discovered this recipe on a recent trip to the beautiful island of Santorini, Greece (perhaps the most beautiful island in the world).
I found it in a local Greek restaurant called Fistikies, and I was in luck because the chef was willing to share his authentic recipe for Greek Dolmades. Here's the link to Fistikies Restaurant, and I strongly advise you to go there if you ever visit Santorini, Greece.
What are Greek Dolmades?
Greek Dolmades is one of the most popular appetizers in Greek cuisine. Greek Dolmades can be bought in your local store; however, they don't come even close to these homemade authentic ones. So I don't advise buying them.
Nothing can beat their unique taste, and they're straightforward to make. So, in this article, we will look at preparing Greek dolmades.
The recipe is a traditional mix of fresh herbs and vegans. Dolmades are not restricted to Greece and are cooked in many Asian countries.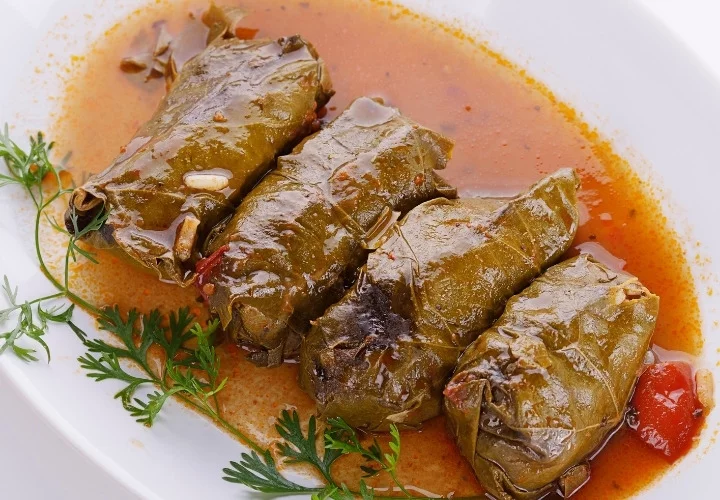 FAQs about Greek Dolmades
Can I Make Vegan Greek Dolmades?
Yes, and it is straightforward! In fact, the vegan version of Greek Dolmades also counts as authentic; it's just a matter of preference.
So, if you are a vegan, all you need is to make changes to the fillings. Replace the meat with half a cup of rice.
After the onions are cooked, add them to the rice, and then add spices, salt, and pepper. Also, add fresh herbs to it. Mix well and use it for stuffing the grape leaves.
Can I use fresh leaves instead of jar leaves?
If you've used fresh leaves instead of a jar, wash them well before using them. You can also run hot water from them. After taking them out of the hot water, cool them and drain them.
How to store the leftovers?
To store the remaining in the fridge, use airtight containers. You can store it for three to four days. It is up to you if you want to enjoy them cold or hot. If you want to reheat them, put them in the skillet and some liquid and cover it. Cook at medium flame until they are hot.
We hope you enjoy these delicious Greek recipes, and we invite you to return to our site to learn more about authentic Greek food. Thank you for your time and attention; we are always happy to serve our audience.
Don't forget to share the image below to your Pinterest board and save this Authentic Greek Dolmades Recipe!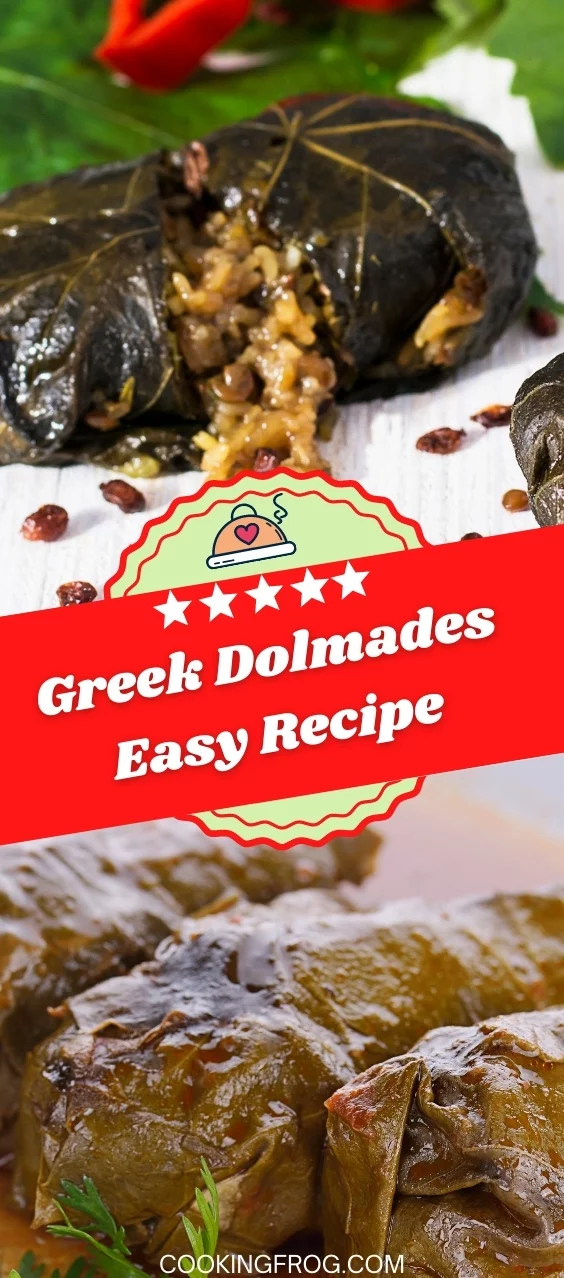 Preparation Time: 20 minutes
Cooking Time: 1 hour 25 minutes
Total Time: 1 hour 45 minutes
Calories: 205
Ingredients
Grape leaves in brine – 1 jar (16 oz)
Short grain rice – 1 ½ cup (soak in water for fifteen min and drain)
Extra virgin olive oil
Chopped Yellow onion – 1
Lean Ground Beef – 12 oz
Salt to taste
Black pepper
Allspice – 1 tsp
Cumin – ½ tsp
Chopped Parsley, fresh mint, and fresh dill – ½ cup each
Tomatoes – 1
Chicken broth – 4 cups ( I use low sodium one)
Lemon juice – 4 tsp
Directions
Instructions to prepare the grape leaves
Take out the grape leaves from the jar and waste the brine. Rinse the leaves and drain excess water.
Instructions to prepare the Stuffing
Take some water and soak in rice for fifteen minutes. Drain after 15 min.
Meanwhile, take a pan and pour 1 tbsp of olive oil. Add in onions and sauté them. Keep stirring until they turn translucent. Add meat and cook more. Keep cooking until it turns brown. You may flip the sides when needed. Drain out the extra fat and sprinkle salt, pepper, and all-spice. Stir the chicken to mix well. Transfer the pan to the cooling rack.
Take a bowl and add cooked meat, drained rice, and herbs. Sprinkle salt and pour 1 tbsp of oil. Mix well.
Instructions for stuffing grape leaves, assemble and cook
Take a skillet and grease it with olive oil. Layer the bottom with grape leaves. Now, add a layer of sliced tomatoes.
For stuffing the leaves, take one at a time. Take one leaf on the cutting board like the pattern is facing upwards. Pour 1 tbsp of filling in the center and fold the sides. Make a roll. Repeat the same with the remaining grape leaves or until you have no leftover fillings.
Now, in the skillet, layer the grape leaves around the circumference. Put a plate reciprocally on the top. Pour hot broth on the leaves until they are covered a little in it.
Close the lid of the skillet and cook over medium flame. Cook for half over or until all liquid is absorbed. Remove the lid and pour 4 tsp of lemon juice. Again, close the lid and cook for more than half an hour until they are cooked.
Instructions for Serving
Remove the skillet from heat and let the grapes cool for half an hour before serving. Keep it uncovered.
Again, drizzle olive oil and transfer the grape leaves to the serving plate.
Plain yogurt or lemon is the best side item to serve with grape leaves.
Cooking Tips & Variations
Don't skip soaking the rice as it later aids in cooking.
It is not advised to over-stuff the grape leaves as the filling contains rice that expands when cooked.
When rolling the grape leaves, ensure they are rolled tightly. Stay moderate, not less, or too tight for proper cooking.
Placing an inverted plate on the leaves will make them stay intact and prevent them from floating while being cooked. When the liquid is absorbed, you may bake out the plate.
After the grapes are cooked, the resting time allows them to absorb the extra liquid. It also adds to the taste.
Prepare dolmades ahead
Stuffings can be prepared one or two nights prior. You may store them in an air-tight container in the fridge.
You can roll the grape leaves with stuffings inside and then place them in the refrigerator overnight. Take them out of the fridge an hour before you need to cook.