This Hibachi Chicken with Fried Rice is a full chicken dinner that is delicious! With vegetables made restaurant-style, fried rice, and very tender chicken, this hibachi recipe is served with a mustard dipping that is a spicy sauce that teleports you to the Japanese kitchen!
If you've visited a Hibachi restaurant, you understand that you're set for both dinner and a presentation! Initially, I went with my family when I was a teen, and now it is a fun date-night restaurant we like to go to a couple of times a year.
If you're unfamiliar with Japanese Hibachi or teppanyaki, picture sitting around a sizable, hot hibachi grill in which a chef is standing in the middle, preparing a dinner comprised of meat or seafood, vegetables, and rice. While he makes it, he's entertaining people with food, knife tricks, and some jokes. It's fun, and the meals are delicious!
Many times, the terms teppanyaki and hibachi are used as the same, however, traditionally, hibachi is made on a barbecue-type grill using charcoal or gas, and teppanyaki is cooked on a griddle.
Some Tips For Making Hibachi Chicken
The originally fried rice was made from leftover rice. So you can use the rice you've made in advance rather than cook fresh rice. Use store-bought, precooked rice if the rice tastes similar to restaurant quality.
If you want the grain-free version, it is possible to substitute it with cauliflower rice. It still tastes great.
You don't need to toast sesame seeds for the spicy mustard sauce, but it will improve the flavor.
Pin the image below if you like this Japanese Hibachi Chicken Recipe!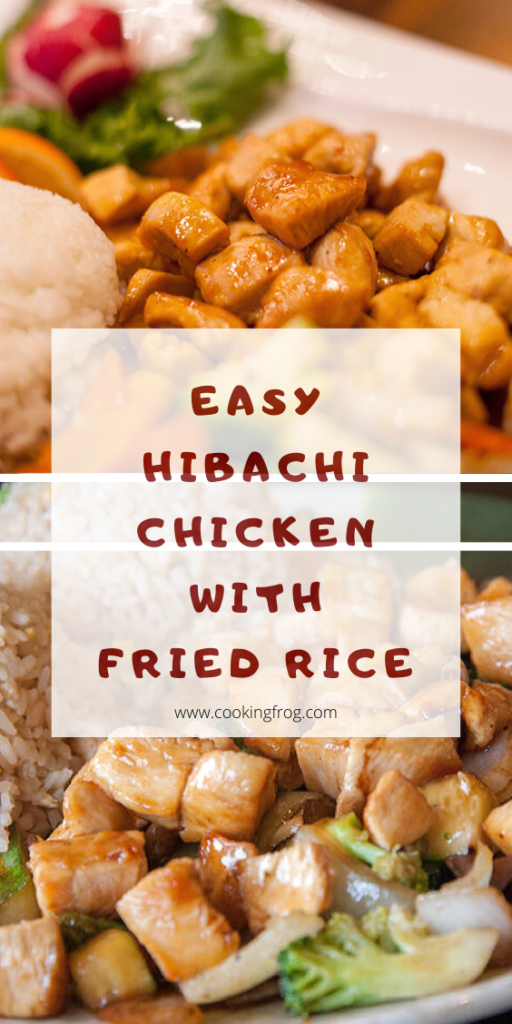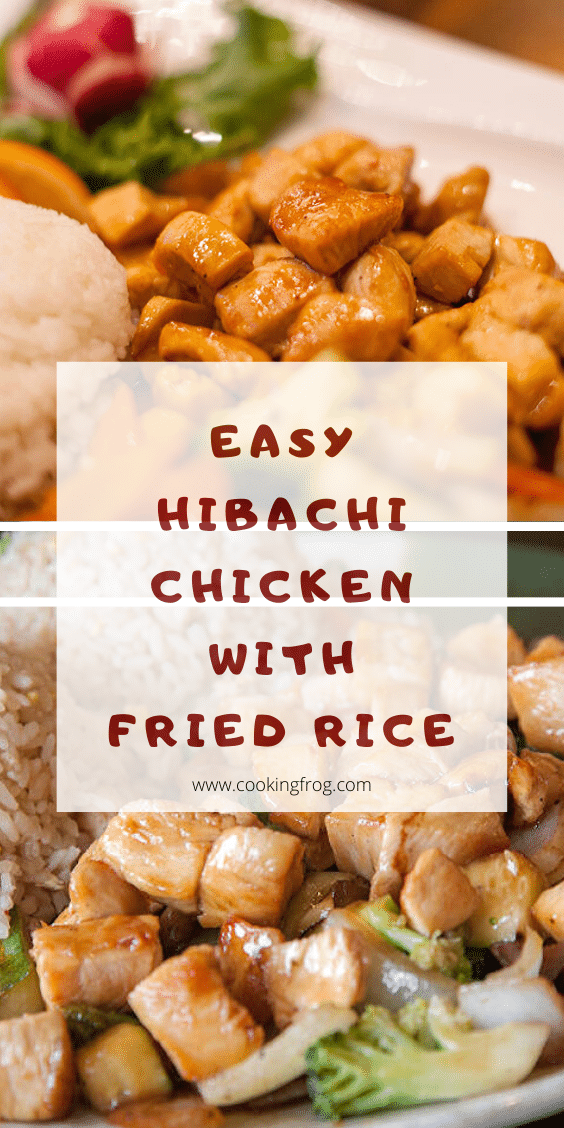 Ingredients
4 cup of rice cooked
4 Tbsp of avocado oil
3 tsp of sesame oil
1 cup of frozen vegetables
1/2 cup of diced onion
1 pound of chicken breast
1 large zucchini
2 cup of baby bella mushrooms
1 onion large, cut into slices
1 clove of minced garlic
6 Tbsp of butter
12 Tbsp of soy sauce
2 tsp of lemon juice
salt and pepper
2 Tbsp of dry mustard
2 tsp of honey
1/2 cup of half and half
1 Tbsp of hot water
1 Tbsp of sesame seeds
How to make Hibachi Chicken with Fried Rice Recipe
For the fried rice
Using a skillet or wok, heat the avocado oil on medium-high heat.
Add frozen veggies, and diced onions, and sauté for about 3 minutes or until onions are nearly translucent.
Push the veggies on the side of the pan.
Add in eggs, scrambling as you add them to the pan. Stir frequently and cook for about 5 minutes.
Add in 4 Tbsp of soy sauce, and cook for about one minute.
To keep the fried rice hot, pack in nicely and firmly into bowls.
For the chicken
Make it at the same time as veggies
Heat 1 Tbsp of avocado and 1 1/2 tsp of sesame oil using the same skillet used for the rice.
Place the chicken with 3 Tbsp soy sauce, lemon juice, 1 Tbsp butter, salt, and pepper.
Cook the chicken for about 5-6 minutes or till it's no longer pink in color. Don't stir to much, only a few times, so chicken can brown nicely.
For the veggies
Heat 1 1/2 tsp sesame oil and 1 Tbsp avocado oil on medium heat, using another skillet.
Add in sliced onion, zucchini, baby Bella mushrooms, 1 Tbsp butter, salt and pepper. Sauté for 6-7 minutes, or till veggies are tender.
For the Mustard sauce
Toast sesame seeds slightly.
Mix sesame seed, dry mustard, 2 tsp of honey, half and half, heated water, 1 / 4 cup of soy sauce, and garlic using blender.