So juicy and tender Dr.Pepper short ribs braised in the oven slowly on a low temp for a lovely, spicy, shredded beef dinner. A fast stovetop simmer and sear of the ingredients, then several hours within the oven, will break apart braised boneless short ribs into a fantastic sauce.
I really like braised meat. There's something special about slow-cooked meat, falling to pieces at the touch of your finger and soaked in a rich sauce. What surprises me is how costly an excellent braise may be when you eat in a restaurant. Boneless braised short ribs cost $25 or maybe more for a tiny portion. I can simply make precisely the same for a three times lower price.
Being good at braise is a vital skill for a home chef. It can make a lovely, upscale dinner for cheap! It also makes cheaper, tougher cuts of meat into something juicy and unique without the cost of premium rib cuts.
This specific braising recipe additionally uses a component you'd probably dispose of – and it's leftover cola! You've heard me right; with that which was left of a 2 liter, I made this meal Dr. Pepper short ribs, and it's swiftly become a favorite.
Check out these Oven-Baked Baby Back Ribs.
Dr. Pepper Braising Liquid
So just why cola, you ask? Well, for one significant factor, it's the one drink my family and I can't ever seem to give up on totally. From time to time, that craving for Dr. Pepper comes. So, we've seen that purchasing a case means we'll actually drink the entire case, so rather than that, we choose for an inexpensive 2-liter, knowing it'll go empty before we finish it and saving ourselves the money.
Also, I really don't like wasting any food—even leftover cola. I spent money on that, which adds up faster than one thinks. So instead, I began considering ways to make use of it. It's all things considered a sweet liquid with an enormous number of flavors in it. I knew those legendary 23 flavors In Dr.Peppers would be beautiful when enhanced and caramelized on a tender bit of beef.
Short Ribs Braising Ingredients
Regardless of boneless short ribs and Dr. Pepper, there are many other precisely chosen and tested ingredients that are necessary to make this excellent braise.
Beef Short Ribs (boneless). Cheap and delicious; stay with beef with this one. You are able to absolutely use the bone in short ribs, as well as another braising cut of beef if you'd wish.
Dr. Pepper. This recipe is made especially for the flavor of Dr. Pepper. However, that does not mean you won't make it if you choose to try out another. You may try Root beer, or perhaps a cherry cola could be excellent.
Stock. You can use homemade stock, but beef or chicken stock will work perfectly.
Soy Sauce. I take advantage of soy sauce in a number of recipes. It is salty, rich in flavor that may be hard to accomplish, and cheap.
Paprika. Dried sweet pepper powder, such as bell pepper, adds a delicate spice and a really lovely sweet note.
Molasses. One of many of the 23 flavors in Dr. Pepper, as I've mentioned before, only a little extra molasses is genuinely needed for the richness in flavor of the braising liquid.
Cloves. I personally use whole cloves and throw them into the liquid. But ground cloves can totally be utilized also. They are one among many flavors in Dr.Peppers, and they're a strong addition in a tiny amount.
Red Onions. I virtually never create a braise with no onions. Onions really help take this from sweet to savory, and it's amazing.
Garlic. Garlic really helps boost savoriness.
Carrots. One more classic ingredient for a braise, I also just enjoy bulking up the braise and having lovely carrots ready to consume once the meat is done.
Tomato Paste. This recipe needs some acid, and tomato paste is an ideal rich concentration.
Pepperoncini's. Merely a meager 1/4 cup provides the sauce with enough spicy and salt to be just ideal. In case you do not want it spicy, you are able to leave Pepperoncini's out.
Pepper, Salt and oil. This isn't included with the braising liquid. However, you will need it for the short ribs when searing.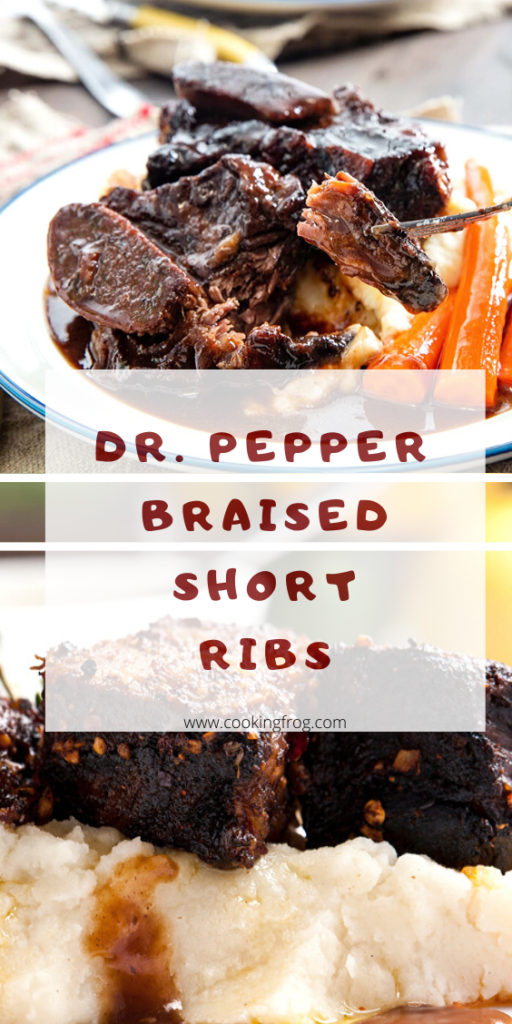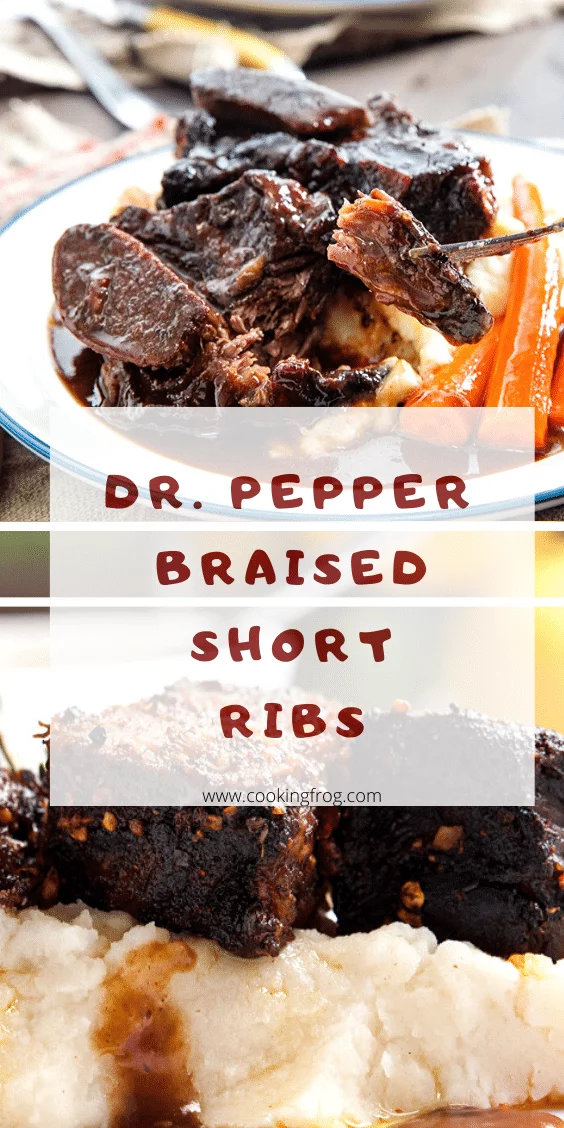 Steps to make Dr. Pepper Braised Short Ribs
The particular process of creating Dr. Pepper ribs is quite simple. The great part is that once you understand how exactly to braise, you are able to really apply the method to any cut of meat with any liquid.
Step 1 – Prepare the ingredients
Before you start the process, heat the oven to 300F. Then take an oven and a safe deep pan. I personally use my Dutch oven, which is ceramic; I totally like it, it is a Lodge 6 Quart Enameled Cast Iron Dutch Oven, and it's an infinitely more inexpensive option than plenty of Dutch ovens on the market.
Chop your carrots (washed); rounds are good for this cause they'll cook for a significant time whilst in within the liquid. Mince the garlic and chop onions, and get everything on the counter. I just like measuring ingredients in advance, but when you don't like the idea of additional cleanup, then, at the very least, have the right measuring cups and spoons prepared to use.
Step 2 – Searing the Short Ribs
It's important while braising any meat that you first sear it. Once you apply high temperature to the surface of meat it engages the Maillard reaction, or browning, which draws intense flavor in the crust and releases flavors.
To achieve this, heat your Dutch oven or pan of your preference over medium-high temperature till hot. Put in a Tbsp of high-temperature oil, like avocado, grapeseed, or canola oil. Salt and pepper the sides of your short ribs freely, then put in the hot oil. You ought to hear a sizzle, however, not crazy popping. Do not move it or press it; once the meat has the correct crust, it'll lift easily from the pan. Repeat this method on the other side.
Firstly searing also leaves a beautiful thing in the bottom of the pan that we call fond. That's what those delicious little brown things are at the bottom of the pan. While you add the rest of the ingredients, you'll pick those tasty parts, and they'll add incredible flavor to the braising liquid.
Step 3 – Adding Remaining Ingredients and Move to Oven
Following the sear, it's only a series of additions prior to transferring the short ribs to the oven and allowing it to finish the task for you.
As soon as your short ribs are browned nicely on both sides, remove them from the pan and put them aside on a dish to absorb all the juices. Add pepperoncini and chopped vegetables and stir; let them sauté for a couple of minutes, just before onions get a bit of color. After that, add the molasses, soy sauce, tomato paste, cloves, and paprika. Stir until all is mixed nicely.
Add in the stock and then a Dr. Pepper. Bring it to a boil and add the short ribs and any juices stacked on the dish back again to the pot. Boiling before moving to the oven helps the liquid keep the appropriate temperature in the oven. Therefore the meat will cook evenly without the oven being forced to work too much.
While you boil it, cover it and put the oven for 3.5 – 4 hours, the meat should really be partially submerged, although not totally covered in liquid.
Ingredients
1 lb of beef short ribs boneless
1 tsp of salt and pepper
2 Tbsp of grapeseed oil (or other oil that allows high heat)
1 diced red onion
4 cloves of minced garlic
2 sliced medium carrots
1/4 cup of pepperoncinis
2 Tbsp of tomato paste
1 Tbsp of molasses
1/4 cup of soy sauce
2 whole cloves and 1/4 tsp of ground
1 tsp of paprika
How to make Braised Dr. Pepper Short Ribs Instructions
Heat the oven to 300 F
Put a pan (oven safe), such as a Dutch oven, over medium-high temperature on the stove.
Add pepper and salt to the entire surface of the short ribs.
Add grapeseed oil (or other oil) and short ribs when the pan is warm enough.
Take away the short ribs from the pan and put them aside. Add onions, pepperoncini, and carrots.
Let it sauté, and stir till onions start to get some color, then add garlic and stir until nice and fragrant.
After that, add the tomato paste, paprika, molasses, and soy sauce, stirring till smooth, and coat the vegetables fairly equally.
Pour in Dr. Pepper and the stock. Add in cloves replace short ribs with the liquid, and bring to a boiling point. While boiling, cover the pan with a top or tight up with foil and put in the oven.
Braise the short ribs for 3.5 to 4 hours until tender.
Serve with liquid as you like.
And it's done! Allow it to cook, take out, and serve! Cooking longer in comparison to the 4 hours might need extra liquid and diluting the braise flavors, which explains why 3.5 hours is my ideal time. It will undoubtedly be tender and fall to pieces when it's taken out. Just spoon the meat, carrots, and some liquid over your chosen side dish. I like rice and grits and love it with polenta.
If you've liked this Dr.Pepper Braised Short Ribs recipe, help spread the word and share it on Pinterest and other social media.
Calories: 399kcal | Carbs: 34g | Protein: 24g | Fat: 18.5g | Saturated Fat: 5g | Cholesterol: 64mg | Sodium: 1825mg | Potassium: 780 mg | Fiber: 2.2g | Sugar: 25g | Vitamin A: 5700 I U | Vitamin C: 14mg | Calcium: 45mg | Iron: 3.8mg