Zucchini Crust Pizza is perfect if you want something delicious but with a low amount of carbs, but also so delicious that your friends and family will love it.
What you need for perfect Zucchini Crust Pica
The ingredients for the crust are eggs, Parmesan cheese, mozzarella cheese, flour, and of course, zucchini. There's no better way to sneak in healthy veggies for the kids than to make a pizza. The cheese and your favorite toppings will make them ask for more.
How do you make zucchini crust for the pizza?
Add flour, eggs, parmesan cheese, zucchini, mozzarella cheese, and a little salt to a bowl and mix it. Move to a pizza pan and spread equally to make a crust. The pan should be 12 inches in diameter. Bake for 14-15 minutes at 450 F, until the crust is lightly brown.
Add your favorite toppings, first pizza sauce, then cheese, and place it back in the oven, this time for 10-15 minutes at 400 F.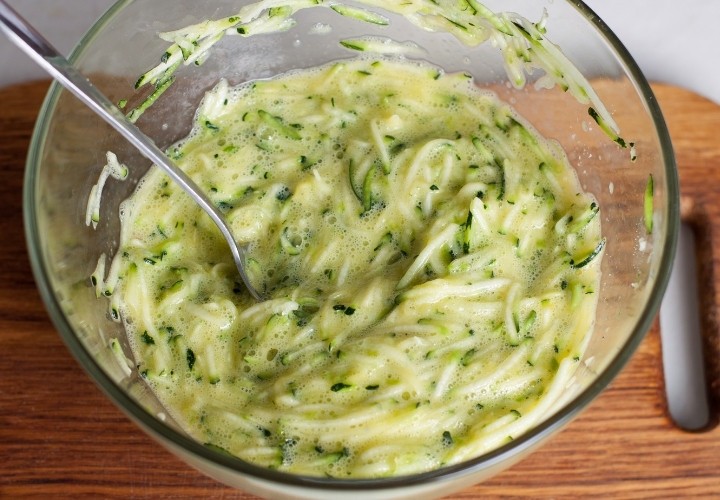 Tips to make the best zucchini crust pizza:
Dry up the zucchini by placing it in a colander. Put in a little salt and let it rest for about 20 minutes. Then dry it with a paper towel.
The color you should aim for the crust should be golden brown.

Topping ideas for zucchini pizza
Bacon
Black Olives
Mushrooms
Pineapple and Ham
Sausage
Canadian Bacon
Bell Peppers
Onion
The best melting cheeses for zucchini pizza
Provolone
Mozzarella
Gouda
Fontina
Asiago
Gruyere
Zucchini Crust Pizza Recipe
Ingredients
Zucchini crust
3 cups of zucchini
2 eggs
One teaspoon of salt (Or more, according to your taste)
1/4 cup of flour
1/4 cup of parmesan
1/2 cup of mozzarella cheese
1/2 cup of pizza sauce
1 cup of shredded mozzarella cheese
1/2 cup of shredded cheddar cheese
1/4 cup of pepperoni
Sliced olives, as much as you desire
Sliced mushrooms, according to your taste
1 teaspoon of oregano, dried
Instructions
Heat the oven to 450 degrees Fahrenheit. Add zucchini, flour, eggs, and salt to a large mixing bowl and mix. Add mozzarella and Parmesan cheese and mix until they are combined well. Take a 12-inch pizza pan and spread the zucchini crust in a circle about 10 inches in diameter. Bake until it's golden brown color, it should take about 14-15 minutes.
After that, remove it, and lower the oven temperature to 400 degrees Fahrenheit. Spread the pizza sauce on the zucchini crust and add cheese and all the toppings. Put oregano on the top also and bake until the cheese is bubbly; it should take around 10-15 minutes.
Pin the image below if you like this Zucchini Crust Pizza Recipe!