Chicken bog recipe is a Southern dish that combines rice and meat with influences from W. Africa and Spain. The element that makes chicken bog different from its ethnic relatives is suggested by its name: it's a boggy/wet dish and rice stew as opposed to fluffy and dry rice.
What is Chicken Bog?
This single-pot dish is a nice mix of chicken bits, smoky sausage, and rice. Its name comes from the fact that it has a boggy and soup-like texture where large chunks of meat are bogged down in the bounty stock. The rice is simmered slowly in the homemade broth and releases its starch to give the dish a nice creamy consistency that resembles risotto. But there is actually no dairy in this rich and creamy dish!
Some variations of this are chicken perlo, chicken pilau, and chicken pilaf. While these may refer to the same or a very similar chicken and rice dish, we have always known this as "chicken bog". This rustic and comforting chicken with rice and sausage is always satisfying.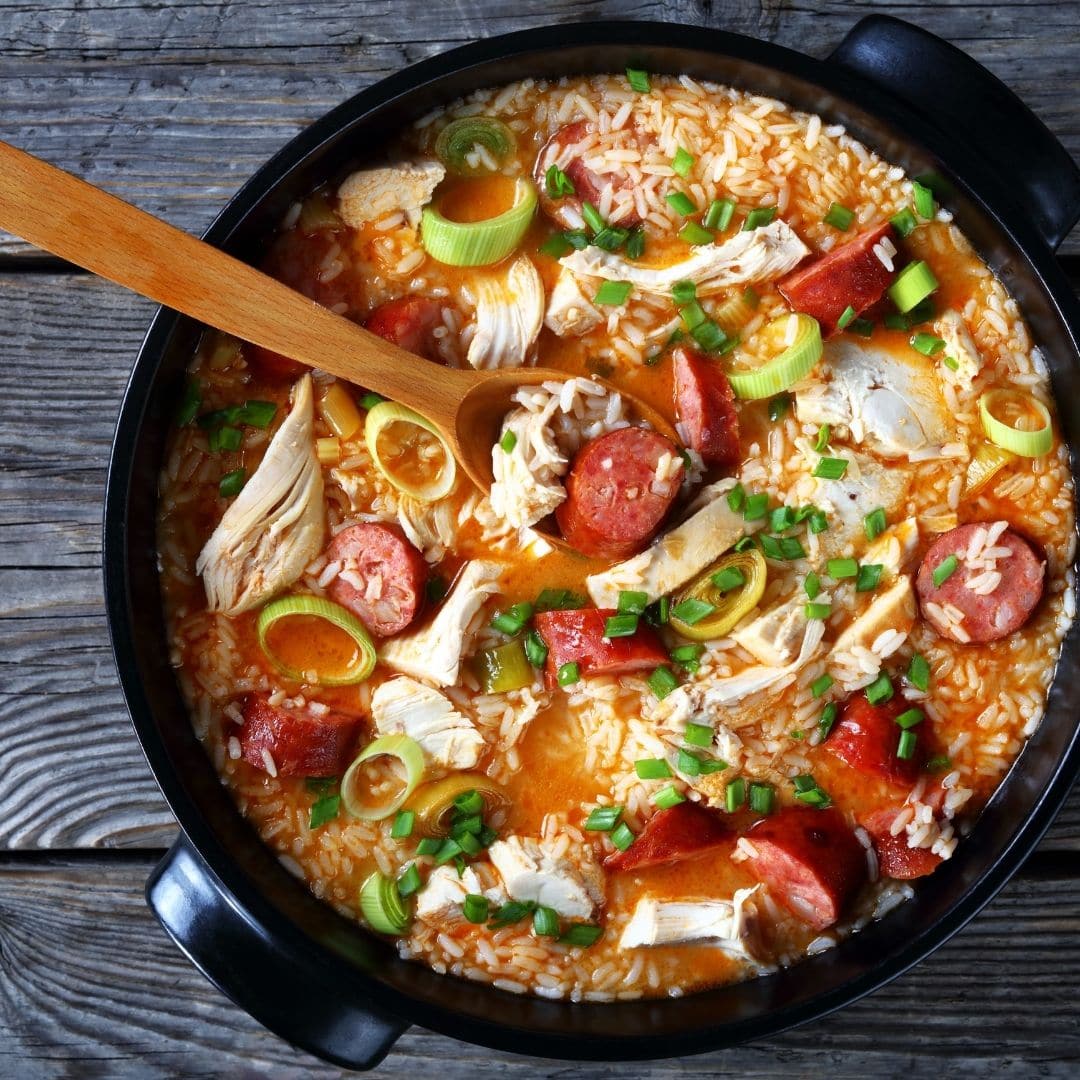 Chicken Bog Recipe
My chicken bog recipe involves a tad more ingredients than the basic recipe with chicken, rice and sausage (but not many more). The secret to making it right lies in the stock. You can prepare a delicious chicken stock at home, strain it and then use it later to cook the rice.
I also follow the extra steps of getting onions caramelized before I develop the last bog. This amplifies the flavor a tad without being excessive. After all, this chicken dish should be simple and comforting.
My broth recipe is optional and catered to my tastes but I promise, it tastes delicious.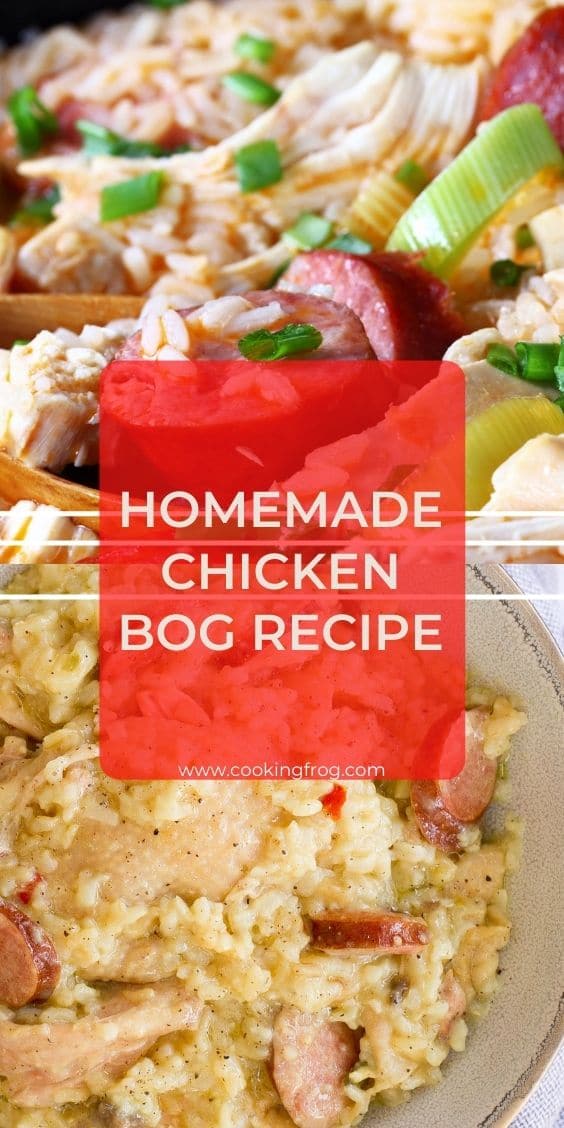 Homemade Chicken Bog Recipe
Ingredients
For the homemade stock (optional)
1 3-4 lbs. chicken (whole) or 2 pheasants birds
1 white onion, diced
2 stalks of celery, sliced
4 cloves garlic, minced
1 tsp smoked paprika (optional)
1 sprig of rosemary (optional)
1 sprig of thyme (optional)
For the Chicken Bog
2 cups long-grain rice
1 quart chicken stock (like the homemade version above)
1 lbs. smoked sausage, sliced into rounds
2 tbsp butter
1 big onion finely chopped
2 cloves garlic, minced
3 tbsp green onion, chopped
3 tbsp fresh parsley, chopped
Instructions
For the stock
To prepare the broth, you can either cut the poultry into serving chunks or leave them whole. In any case, cover the birds with the water and bring to a simmer. Remove any scum that gets to the surface. Season with salt to taste and add the rest of the stock ingredients. Allow to simmer for 2 hours.
Discard your poultry and split the bones from the meat. Keep aside.
Pass the stock through a strainer that comes with a paper towel part inside to strain out the scum and debris. Keep the broth aside.
For the Chicken Bog
Heat the butter in a bulky and deep pot with a lid (enough to cook all the rice) and add the onions. Seal the pot and let cook until onions are slightly charred, stirring occasionally, for around 10 minutes.
Place the shredded poultry, rice and garlic to the pot and mix well with a spatula. Let cook for a couple of minutes, stirring regularly. Mix well, cover with the lid and reduce the heat to low. Simmer until the rice is cooked.
Once the rice is cooked, stir in some of the prepared stock to add moisture to the dish and add the green onions and parsley.