Garlic Butter Steak and Shrimps is a juicy combination of tender steak and shrimps slathered in buttery herbs and garlic. When it comes to the stake and shrimp recipe, this one will be your favorite by far.
The time needed from cooking to serving is only about 10 minutes, and it's super easy. The reason I love this recipe so much is that there's something for everyone in this meal. One of the key things for steak and shrimp is garlic herb butter sauce, and I've perfected it.
The best pan for this steak
I recommend the cast iron pan, but be sure to oil it well and give it a nice seasoning.
Share the image below to your Pinterest board if you like this amazing steak and shrimp recipe!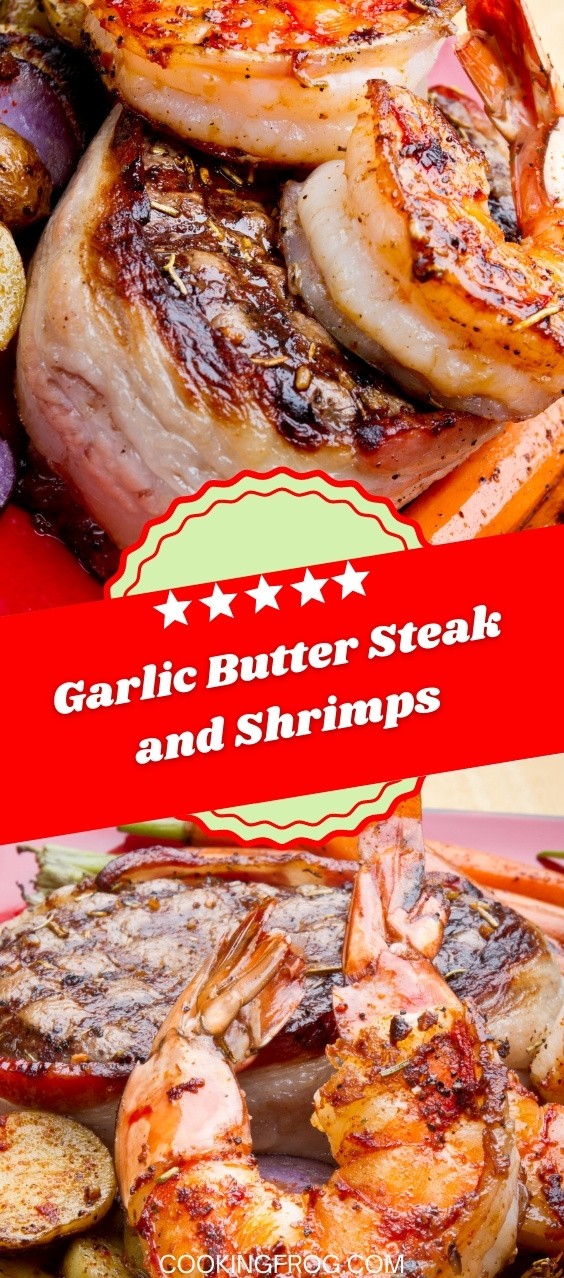 The best steak for this recipe list:
Rib-Eye Steak
Sirloin Steaks
New York Steak
Filet Steak
Rump Steak
How to make Garlic Butter Steak and Shrimps
Ingredients
2 pieces of steaks of your choice, I choose New York Steak strip steaks.
salt and pepper
1 tablespoon of olive oil
1 tablespoon of butter
1 pound of peeled and deveined shrimp
3 minced garlic cloves
Garlic Butter:
1/4 of soft butter
3 minced garlic cloves
1 teaspoon of chopped thyme
1 teaspoon of chopped rosemary
1 teaspoon of chopped oregano
Instructions
Take the medium size skillet and heat at high temperature. Add butter and olive oil, and wait until it gets warm enough. After that, add the steaks and fry both sides until they're browned; it takes about 3 minutes. Lower the temperature and cook to your preferred doneness. For my preferred medium stakes, it took about eight minutes. Move the stakes on a plate and let them rest for a while.
Lower the temperature to medium and add garlic and shrimp. Cook until opaque, about 2-3 minutes.
Now place the steaks back in the pan. Mix the herbs with butter and garlic to make a compound, and place it on top of the stakes. Serve right away. Enjoy!