Is there anything more comforting than a good ol; Beef Pot Pie recipe? We don't think so. Really great pot pies are a challenge to make but this foolproof recipe will yield great results every time. It will be the best beef pot pie you've made so far, I promise.
Can You Prepare The Filling for Beef Pot Pie In An Instant Pot Or A Slow Cooker?
Slow Cooker. You can make your own pie filling in a slow cooker set at high temp, for 6 hours or until the meat is nice and tender. The sauce may be too thin and liquidly
Instant Pot. Choose the meat cooking mode and cook the meat for 30-45 minutes for a natural release. Again, the sauce may not be thick enough so let it reduce and choose the saute mode then add a bit of flour mixed with a bit of water to thicken it.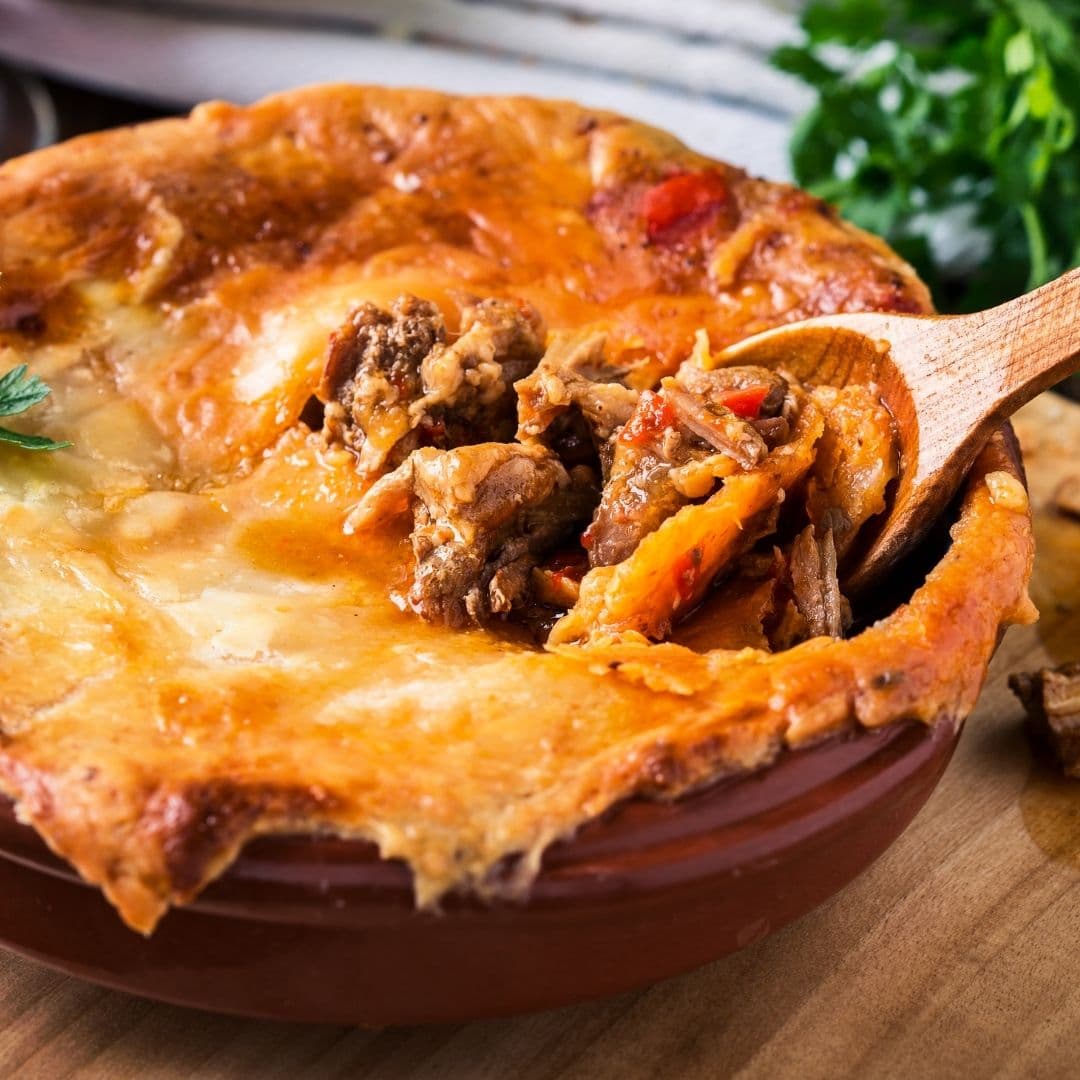 Meal Preparation & Freezing
Meal prep: You can make the pie filling 2 days in advance. The layered but unbaked pie could be made around a day before in the fridge until its baking time. You can keep the baked pie refrigerated for up to 3 days in a closed container you can leather reheat in the oven.
Freezing instructions: you can keep the unbaked pie in a sealed container inside a freezer for up to 6 months. Then, take off the wrapping or sealing and bake from chilled until the pie gains a golden brown hue and the filling inside is boiling hot.
Pin the image below if you like this beef pot pie recipe 🙂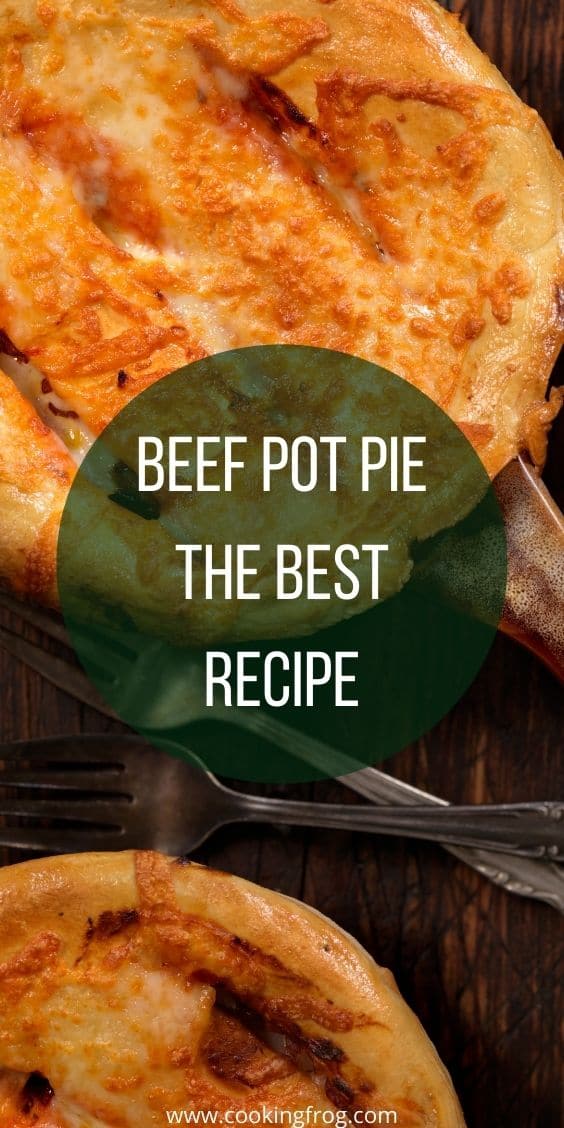 Ingredients
5 kg/3lbs beef chuck steak, cut into 1" square chunks
4 celery sticks, finely chopped
2 white onions, finely chopped
2 carrots, peeled and finely chopped
14 oz./400g chopped tomatoes (fresh or canned)
2 tsp mustard
1 tsp sugar
4 cloves of garlic, minced
2 tbsp white flour
1 spring of fresh rosemary
Salt-Pepper
PIE INGREDIENTS:
1 egg beaten
14 oz. frozen pie shell or puff pastry thawed
Instructions
Put a big pot over high heat and pour a few tablespoons of olive oil.
Use paper towels to remove any moisture from the meat and add it to the pot. Cook in multiple batches until all beef turns brown on all sides.
Add the onions, celery, and carrots into the same pot and cook for another 6-7 minutes or until the veggies begin to tenderize and become golden brown. Add in the rosemary and garlic and saute until they release their aromas.
Add the flour to the veggies and stir. Add the cooked meat back to the pot and mix well.
Pour in the beef broth, tomatoes, sugar and mustard. Add salt and pepper to taste, mix and cover with a lid.
Lower the heat and let everything simmer for 1 ½ hours or until the beef is tender. Take off the lid and let simmer for another half an hour until the beef has tenderized to the max and the sauce is nice and thick.
Preheat your oven to 350F/180C.
Transfer the beef filling to a deep casserole container. If you find the sauce too much, you can use half or a part of it.
Close your pie with a single sheet of puff pastry. Crimp the edges and make a few incisions into the upper surface of the pastry to allow some air to enter. Brush with a beaten egg.
Pop in the oven and cook for 20-25 minutes or until the pastry on top turns golden brown and has a puffy exterior.
Take off the oven and let the pie rest and set for 10 minutes before serving.