Snickers Bar Pie Recipe is the perfect dessert for the summer, because it's delicious and you don't have to bake it. You will enjoy every bite of this snickers bar pie.
Snickers Bar Pie
Although the chocolate was not my favorite when i was a kid, snickers changed my mind in that regard. When you combine peanut butter pie with Snickers, you get a delicious pie that is just amazing. And it's so easy to make.
The time to make this pie is only around 10 minutes. First you make the graham cracker crust and load it with chopped Snickers bars.
Mixed with nougat, chocolate, caramel and peanuts. What more could you ask? It's perfect for parties and gatherings, because it's so easy to make and everyone will ask for more.
How to make Snickers Bar Pie – No Bake Recipe?
Ingredients
8 ounces of heavy cream cheese
Half cup of peanut butter, chunky
Cup of sugar, powdered
Eight ounces of whip, cool
Six snicker bar chocolates, chopped
One graham cracker crust for the pie
Instructions
Mix the heavy cream cheese, peanut butter and powdered sugar in a large bowl. Pour in the whipping cream and snickers. Save some for the topping.
Place in graham cracker pie crust and spread equally. Let it rest for about 3 – 4 hours at least before serving.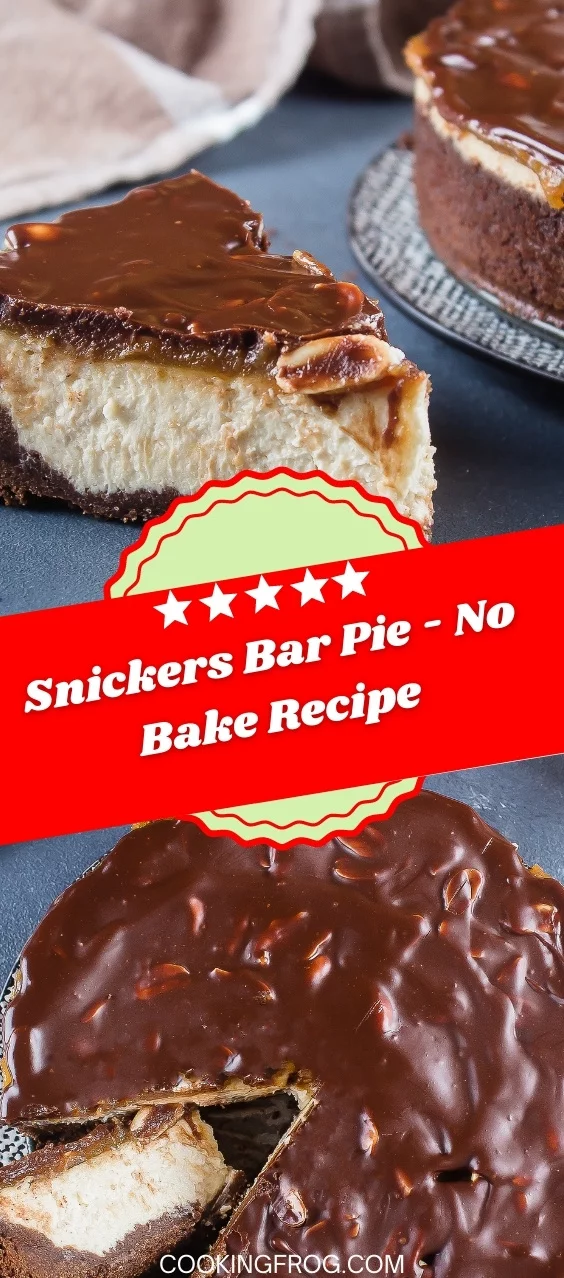 Prep time 10 minutes. Please leave your opinion below in the comments about this snickers bar pie. I love getting the feedback, and if you come up with some suggestions on what could be done differently. I love sharing my recipes as well as learning from other cooking masters. If you have your recipes to share with us, please contact us.
We'll be more than happy to get in touch with you. Cooking Frog is dedicated to sharing the best recipes with you.