A hot bowl of Pork and Fennel Spaghetti Bolognese tossed with pasta and topped with a mountain of parmesan cheese is one of life's greatest joys! This fennel and pork bolognese recipe is really simple to make, but does require a few hours of your time and a lot of love.
Fennel and pork bolognese is the perfect autumn to winter comfort food! It is a recipe that I make when I know I will be home for a few hours, and can keep an eye on it while it slowly simmers.
Pork and fennel are a fabulous match, whether it is fresh fennel or fennel seeds, it works, which is why this dish works really well. Along with the chilli flakes, a necessary addition, but you can use fresh chilli rather if desired and put it in before adding the meat.
Oh, and another good thing about this recipe is it is really cheap to make! The parmesan cheese will probably set you back over the pork, tomatoes, and pasta combined.
If you are not in the mood to do a ton Of chopping you can pulse the onion, fennel, pancetta, and garlic in a food processor until it's finely chopped.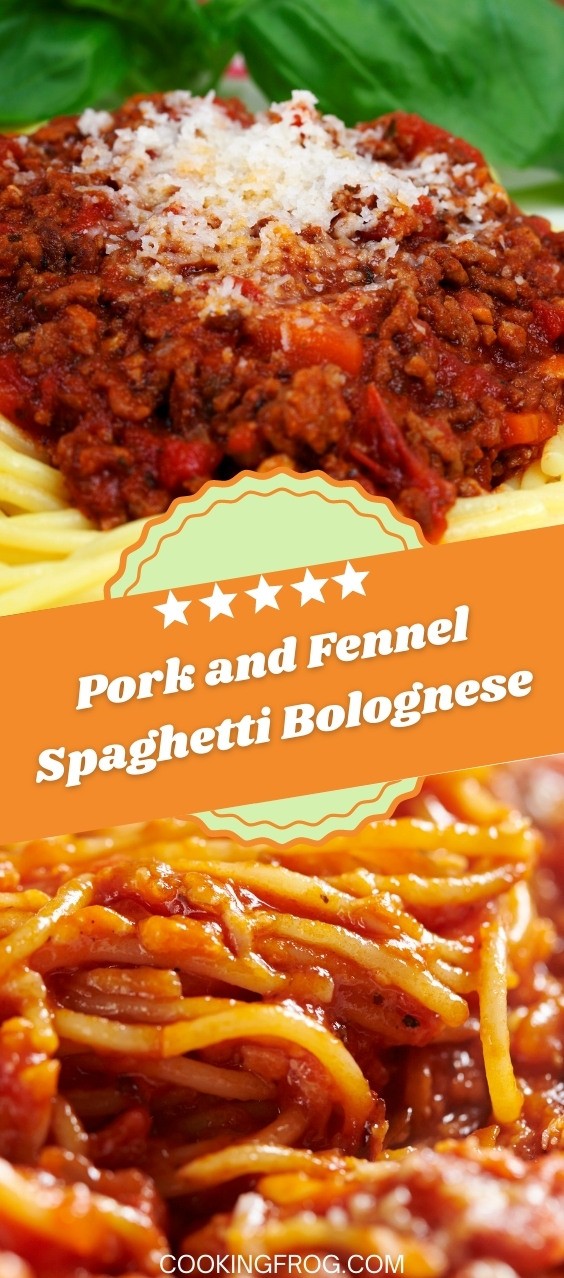 1 pound of spaghetti, or other pasta
1 lb ground pork
2 oz pancetta or bacon finely chopped
3-4 tbsp olive oil
1 bulb fennel, finely chopped reserve some of the green fronds for garnish
1 med onion finely chopped
4 large cloves of garlic finely chopped or grated
1 c red wine
24 oz tomato puree or crushed tomatoes
2 tsp fennel seeds salt and pepper parmesan cheese for serving about a cup
How to make Pork and Fennel Spaghetti Bolognese
In a large pot or dutch oven heat 2-3 tbsp olive oil over moderate heat. Sauté the pancetta, fennel, onion, and garlic together until they are soft and fragrant, but not browned. It should take around 5-8 minutes.
Turn the heat up to medium/high, add another splash of olive oil into the pot and then the ground pork along with a huge pinch of salt. Sauté the ground pork until it's almost fully cooked, then add back in the fennel and pancetta mixture. Add the wine and cook, stirring occasionally, until nearly evaporated then pour in the tomato puree.
Season with a big pinch of salt and pepper then bring to a simmer. Cover and cook over low heat for 1 hour, stirring occasionally.
Cook the pasta according to the bundle's instructions. Divide between plates and top with fresh green fennel fronds and lots of parmesan cheese! If you're not in the mood to do a ton of chopping you can pulse the onion, fennel, pancetta and garlic in a food processor until it is finely chopped.