Is it possible to make Low Carb Turkish Borek? Yes! This Turkish meal is one of my favorite. You can find a good traditional Borek in Turkey, middle east countries, and few other European countries, like Bosnia and Serbia. So I've decided to share with you this delicious, yet low-carb borek recipe.
Low Carb Turkish Borek
Borek is a traditional Turkish savory pastry filled with spinach and cheese but can also be made with minced meat, sausage and vegetables such as zucchini, and tomato sauce. Parsley, which is frequently featured in middle eastern cuisine, is a common herb added to borek.
This Borek is delicious with filling low-carb can be served for lunch or dinner. Savory Minced beef is nestled with very rich fillings and tangy feta cheese inside a soft grain-free, gluten-free and fermented dough, baked to perfection and soaked in yummy juices. You could easily make this beforehand and pop it in the oven when you're ready to cook it.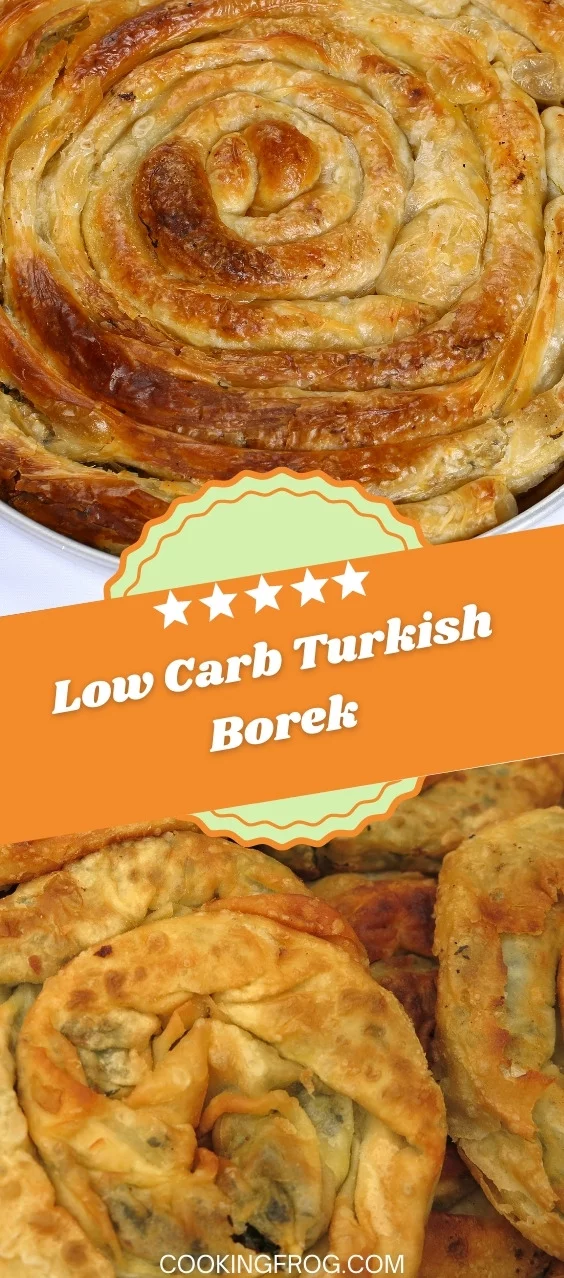 Ingredients
Dough:

1 1/2 cups shredded mozzarella ( 6 oz)
2 tbsp cream cheese (1.1 oz)
1 cup almond flour (3.5 oz)
1 whole egg
Filling:

minced beef (1.1 pound )
1/2 tsp onion powder
1 tsp garlic powder
1/2 tsp sea salt
1/4 tsp black pepper
One small yellow onion, diced ( 2.5 oz)
1 cup mushrooms, sliced (2.5 oz)
1 tablespoon ghee (15 ml)
2 cups fresh baby spinach, chopped ( 2.1 oz)
Feta or Börek cheese (8.8 oz)
How to Make Low Carb Turkish Borek
Put the minced beef, chopped mushrooms, seasonings, and onions into a large skillet.
Add a tbsp of ghee and cook till nicely browned.
Chop the spinach and add to the mince mixture, stirring until wilted. Remove from the heat and let it cool off.
When your mixture is cool, add the crumbled feta and stir nicely. Leave it to go completely cold (that is very important to prevent the dough from melting and stretching).
Heat the oven to 400 °F (with fan assisted), or 425 °F regular.
Place the mozzarella and cream cheese in a large microwave-safe bowl. Heat on high for 1 minute and then stir. Heat for a further 30 seconds.
Stir mixture until it is smooth then add the almond flour and egg, beating until a nice and smooth dough forms.
Lay a long line of paper on the bench. Set the dough in a tube along the paper and cover with an additional line of baking paper. Roll the dough out into a long and thin rectangle. You will need to work quite fast now as the dough gets fragile as it cools too much.
Spoon the filling down the long side of the dough then firmly roll it into one long log.
Beat the second Egg and brush over the top ( you could also add sesame seed if you wish)
Bake for 25 minutes then remove and sit for five minutes to let The juices to soak into the dough. Store, covered, in the fridge For no more than 5 days. Bur remember that Borek is best to consume fresh.
Nutrition
Total per serving, 1 slice
Carbs 6.7 g
protein .9 g
fat 45.7 g
577 kcal